Ogilvy Vodka is a Scottish potato vodka launched in January 2015 and made by the Jarron family from potatoes grown on their farm in Forfar Angus, Scotland. The family also distill and bottle the crystal clear vodka on site. The alcoholic drink is designed as a 'sipping' vodka with a complex flavour profile. This exceptional spirit has a nutty grassy aroma and an almost creamy taste with hints of walnuts, fresh grass, fudge. A pleasantly light peppery spice cleanses the palate in the aftertaste.
As Scotland's first producer of potato vodka , Ogilvy Spirits recently won two awards, a double gold medal for packaging and a silver for spirit, at the 2015 San Francisco World Spirits Competition. The product was up against more than 1,500 entrants at the highly regarded international competition.
Graeme Jarron, founder of Ogilvy Spirits explains how his company achieved its unusual characteristics: "We've worked tirelessly on our production techniques to come up with a unique offering. The result is a vodka which can be drunk on its own with a few cubes of ice and a slice of pear."
"In 2012 we commissioned Heriot-Watt University to do some initial research into the possibility of using Scottish potatoes to produce vodka. The results were positive and throughout the process we met our distiller, Abhishek Banik, who was studying a PhD at the university's International Centre of Brewing and Distilling. With his ingenuity and expertise we have cultivated a bespoke method of producing vodka.
"A number of factors contribute to the flavour profile of the spirit. We use Maris Piper potatoes for the fresh and nutty attributes they impart. We also involve a specific yeast to create further flavours and mouth feel. We take lots of fruity notes like apricots, green grass and vanilla by controlling fermentation conditions. There are also toffee and caramel notes, almost like a milkshake, achieved through specific distillation techniques. The spirit also has charcoal and pepper notes with a long black pepper finish that lingers on the tongue."
"After a one week resting period we use a slow and clean charcoal filtration process. We are very strict and precise with our filtering policy and never stretch the charcoal to reduce our costs. The process is long in comparison to other vodkas, taking three weeks from start to finish. Our raw material has so much flavour and the key is to preserve this throughout."
The team has also been awarded runner up prize for Business Diversification at the Scottish Rural Awards. Mr Jarron, continued: "I studied agriculture at the Scottish Agriculture College (SAC) near Aberdeen and I knew when I returned to work on the farm that I wanted to do something a bit different. "

"Our farm is a mixed enterprise growing predominantly potatoes and cereals with some cattle too. I wanted to produce something whereby we could take one of our crops and bring it right through to a final product."
"I did some research and realised producing a vodka from potatoes would not only be unique to Scotland but also a great example of ground to glass ideology. We grow the potatoes for our Ogilvy vodka on the farm so have one hundred per cent traceability. We also wash and cook, ferment and distil as well as bottle the product on site."
The farm traditionally sells its spuds to a packing house where they are destined for supermarket shelves. This continues but it is the potatoes with irregular shapes and sizes, often rejected by the major retailers, which are used to be transformed into the sought after spirit.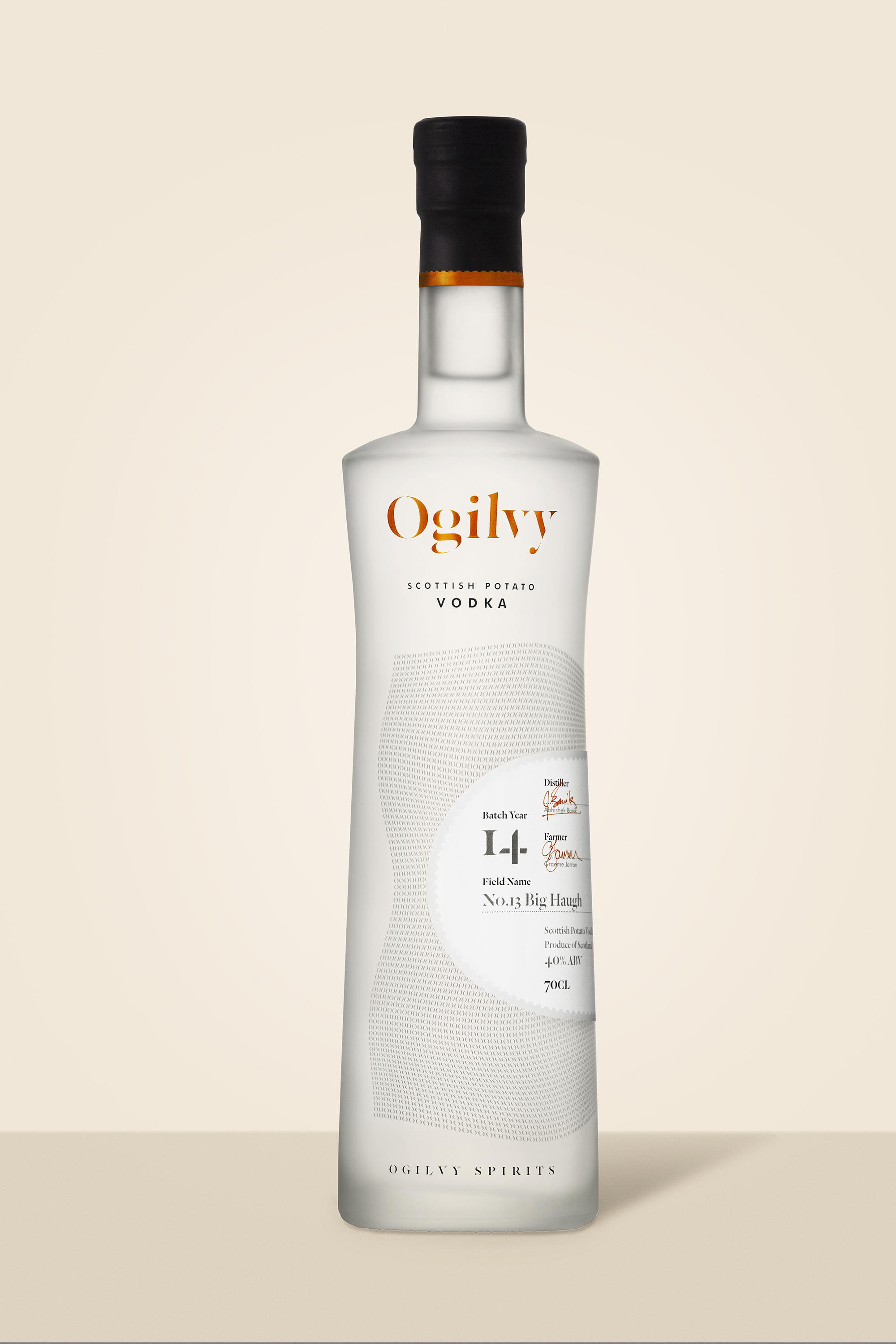 "The distillery we have built is fully integrated into our family farm. The water used in our processes is the same water we are using for the agriculture of our potatoes", he explained. "The aim was to build a future for further generations, to create something from our farm's produce starting small and sharing it worldwide. We are delighted with these accolades we have achieved, particularly at such an early stage of our development. The future is bright for Ogilvy Spirits and our Hatton of Ogilvy Farm."