Ogilvy's Raw Australian Jarrah Super Honey Total Activity 20+ is a very special monofloral honey, also known as Australia's healing honey, sourced by foraging Australian bees from a single species of Eucalyptus tree (Eucalyptus marginata) unique to Western Australia.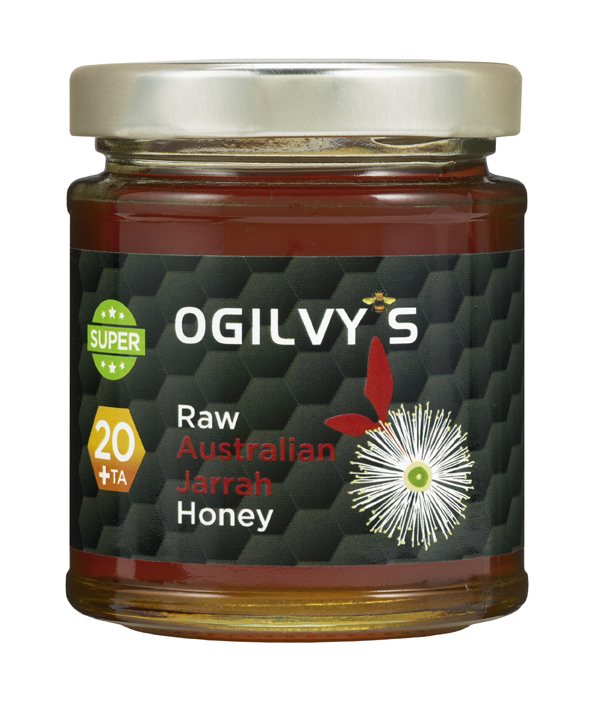 Ogilvy's Jarrah has one of the highest antioxidant levels due to the naturally occurring levels of hydrogen peroxide activity and has high antimicrobial properties measured by its Total Activity (TA) rating of 20+. Raw Jarrah honey has many uses and benefits and is a medicinal honey effective in the treatment of colds, sore throats, stomach bugs, burns, skin infections, yeast infections and ulcers. Jarrah can aid healing as it inhibits the growth of bacteria, making it an alternative therapy to fight infection.
Ogilvy's Jarrah super honey has a lower glucose level than other honeys and is higher in fructose giving it a low GI rating. A spoonful of Jarrah super honey is also one of your 5 a day.
It is a clear, thick runny honey, which is syrupy in flavour and medium in strength. Perfect to use as a natural sweetener and sugar substitute and ideal for both sweet and savoury dishes and delicious in dressings, marinades and desserts over the summer.
Jarrah honey is Australia's very own and unique answer to its more famous rival manuka honey. Like manuka honey, Jarrah has unusually strong antibacterial properties but jarrah honey is exceptional because it is 2 to 3 times higher in antioxidants than manuka. Demand for raw jarrah honey is increasing so rapidly that it is predicted that jarrah honey will soon overtake the position of manuka honey in many countries including China.
Ogilvy's Raw Jarrah Honey answers this growing customer demand because it is a high quality, natural product that is produced in a natural and pristine environment, and is sourced from trustworthy beekeepers. Ogilvy's Honey is also a recommended SLOAN! product as their raw honey range has consistently scored highly when reviewed by the SLOAN! team over the last 2 years.
Ogilvy's Raw Australian Jarrah Honey costs £24.99 for a 240g jar and is available from www.ogilvys.com