If you're feeling tired or run down, it could be due to mineral deficiencies or even heavy metal toxicity. But what do you do when you can't face a battery of endless blood tests and visits to doctors waiting rooms? The answer is waiting for you in Knightsbridge Mews at ClinicBe, a Belgravia based private clinic offering Dr-lead skincare and cosmetic solutions. The answer is Oligoscan.
ClinicBe is an exclusive and beautifully appointed clinic designed to offer a peaceful, relaxing environment yet are equipped with the latest technology for a wide range of treatments and medical procedures. The clinic offers a convenient location for patients living or working in Belgravia, Chelsea, and Mayfair. After training at the world-renowned College de International de Medicine Esthetique in Paris, Dr Barbara Kubicka established the ClinicBe brand as a unique concept in integrated skin and healthcare; offering a holistic approach to professional skin treatments.
OligoScan is a brand new assessment offered by ClinicBe which is a quick and easy way to assess the levels of microelements and heavy metals in your body. It is now known that an imbalance in microelements can be responsible for cravings e.g. deficiency of chromium causes chocolate craving and a slowdown in tissue metabolism can be caused by a deficiency of zinc. It is also known that some people can be susceptible to heavy metal build up from the aluminium in deodorants, canned drinks and even cooking with aluminium foil!
OligoScan advanced cellular testing uses spectrophotometry technology to measure mineral deficiencies, accumulation of heavy metals and anti-oxidant levels intracellularly within the patient's body. The cellular testing system requires no injections, nor does it need a blood or urine sample; making it highly convenient as well as pain-free. Results from the OligoScan cellular testing are more precise than a blood test and after processing by special software, the test results are delivered immediately to enable diagnosis and advice during the same consultation as the test.
I went to Dr Kubicka to experience the Oligoscan test for myself and I was surprised at how quick the test was and yet how detailed the analysis was in the report I received afterwards. After entering the necessary data, Dr Kubicka gently pressed the Oligoscan on four points of the palm of my hand. The light beam determined the intensity of the electromagnetic signals of 34 elements, after which the intelligent software calculated the results and delivered a comprehensive 3-page report which I took away with me at the end of my appointment. The results were both detailed and immediate which allowed me to start making changes to my diet, lifestyle and supplementation programme straight away.
Dr Barbara Kubicka told me: "Our philosophy at ClinicBe is about integrating skin and healthcare, working with a patient from the inside out. For years we've complemented our skin treatments with advice about nutrition and hydration but now we can go into much more detail and provide tailor-made programmes for our patients based on this extraordinarily valuable, personalised health data."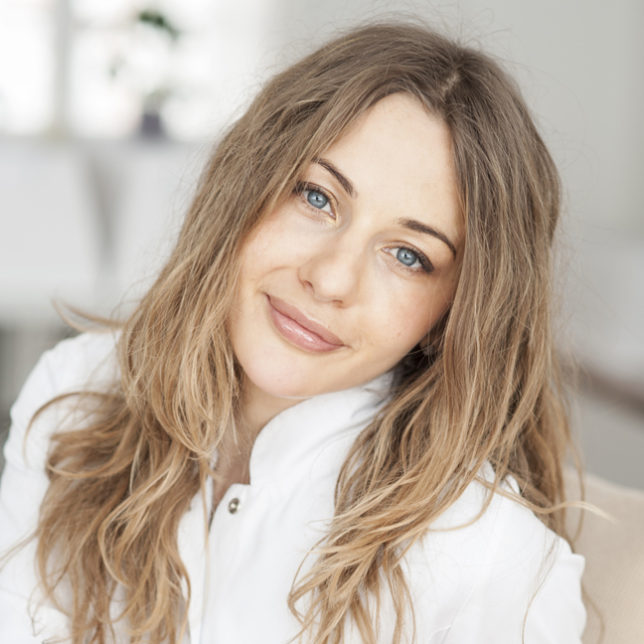 "The OligoScan gives us an unprecedented level of detail in testing a patient's cellular health. Having accurate and precise information on aspects such as anti-oxidants, heavy metal accumulation and mineral deficiencies is a real insight into what issues could be influencing a person's wellbeing. Everyday symptoms such as tiredness, insomnia or build-up of stress can often be better understood in the light of this data."
"With a true understanding of a person's health on a cellular level, we are able to recommend treatment programmes with supplements, lifestyle changes or even medication in order to improve their wellbeing."
Patients are pleased to find that the procedure is entirely pain-free and surprisingly quick. Reports can be printed at the clinic and emailed straight to the patient for their reference and further consideration. The OligoScan report provides 3 pages of comprehensive information on the intracellular levels of 20 minerals and trace elements, 14 toxic heavy metals and other issues including acidity, predisposition to allergies and diabetes, enzyme activity and cardiovascular function.
OligoScan measures mineral deficiencies due to diet and food choices, the accumulation of heavy metals in the body and levels of anti-oxidants in the body – all at cellular levels which means the test gives the most direct and immediate information possible on a patient's health. It is significantly faster and more accurate than assessing urine or blood samples. The human body keeps the blood levels balanced for much longer than cellular, therefore the deficiency is first seen in the cells rather than in the blood itself. That's why OligoScan can highlight issues that a normal blood test cannot.
OligoScan requires no injections or blood taking, it is pain-free providing instant results which are more precise than a standard blood test. The most common use of OligoScan data is to look at what supplements would benefit the patient in order to boost their health, vitality and immunity.
Where the test identifies concerns about heavy metal toxicity or anti-oxidant levels, this can be very helpful in understanding symptoms that a patient might have been experiencing, such as tiredness, insomnia or stress. Understanding an advanced blood test allows the doctor unusual visibility of what could be influencing a person's health and enables them to prescribe the appropriate treatment, supplement or lifestyle changes.
For more information about Oligoscan and the other treatments offered by Dr Kubicka at ClinicBe, please visit their website www.clinicbe.com or call 0207 125 0521.