The 26th September 2016 marked the 140th anniversary of The Bailey's Hotel London, a stunning Victorian-era boutique townhouse hotel in the heart of Kensington that houses 212 luxury guest rooms, Olives Restaurant and Bar and a host of original historic features including the world's first 'ascending room', or as we now know it now, a lift.
Built and opened in 1876 by Sir James Bailey, a butler turned hotelier who came to London in the early 1800s, the hotel has survived two World Wars and the threat of demolition. It stands today much as it did when it was opened with an iconic red brick exterior and white dressings of Bath Stone, the first building to have this design feature in the Kensington area at the time.
Following an extensive £7.5m refurbishment the interior of the hotel has been rejuvenated and its Victorian heritage brought back to life, providing British style and contemporary character. Guests are invited by a doorman into the light and bright reception area that has been sympathetically restored to accent the original cornicing and decoration. From here one can climb the impressive winding staircase at the heart of the building to the five floors above, each with their own unique historical theme that links back to the hotel's London ancestry: City Gent, Henley Regatta & The Thames, Kensington & The Great Exhibition, and Kew Gardens.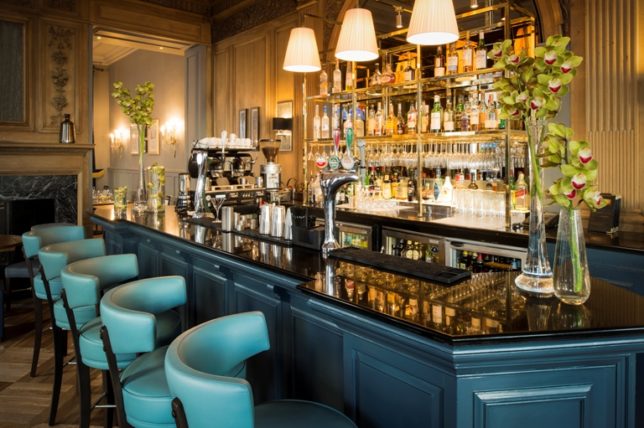 Olives Restaurant and Bar offers classic Italian cuisine in a warm and charming atmosphere. The sophisticated neighborhood eatery is headed up by head chef Davide di Croce who cooks authentically Italian dishes such as Lasagna Di Manzo, Tagliatelle with Lobster, Garlic & Chili, Saffron Risotto with Braised Veal & Bone Marrow, a Mixed Fish Grill and Lamb Rump served with Vegetable Caponata and Red Wine Jus, created with fresh and seasonal produce.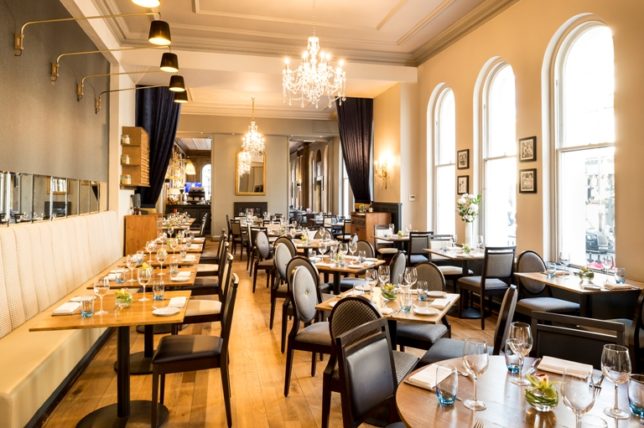 The restaurant also offers a range of quick and delicious menus including the lunch menu that is available all week, priced at £9.50 for two courses and £13.50 for three courses, and the Pre-Theatre menu that is also available throughout the week, priced at £16 for two courses and £19 for three courses. The pasta and gnocchi is hand-made by the Italian kitchen team.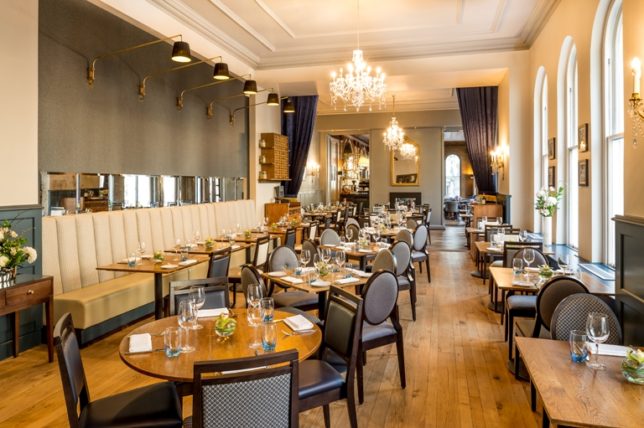 The Olives bar offers a selection of premium drinks, cocktails and snacks. A special Grappa menu is also available in the restaurant and bar, creating the perfect authentic Italian end to a meal.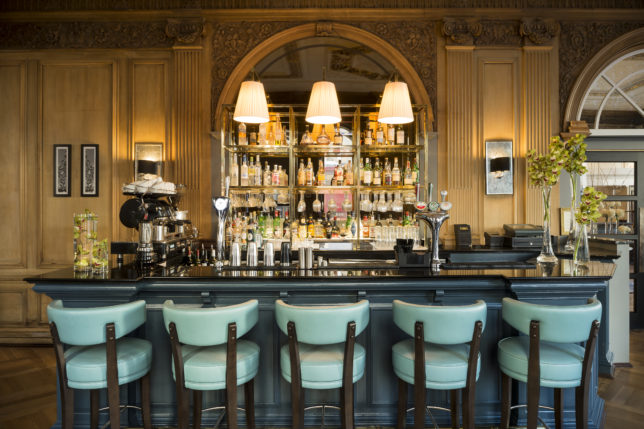 Located on the corner of Gloucester Road, guests are within easy reach of Oxford Street and Knightsbridge and the West End. The Natural History Museum, Victoria and Albert Museum, and Royal Albert Hall are all within walking distance of the hotel.
A true Kensington icon, The Bailey's Hotel London masters the art of being timeless, offering guests a unique combination of fascinating history and legendary hospitality.
SLOAN! Review
It is often stated that the bread basket on offer can make or break a meal but when paired with the restaurant's namesake – a bowl of olives (nocellara & taggiasca) who could resist.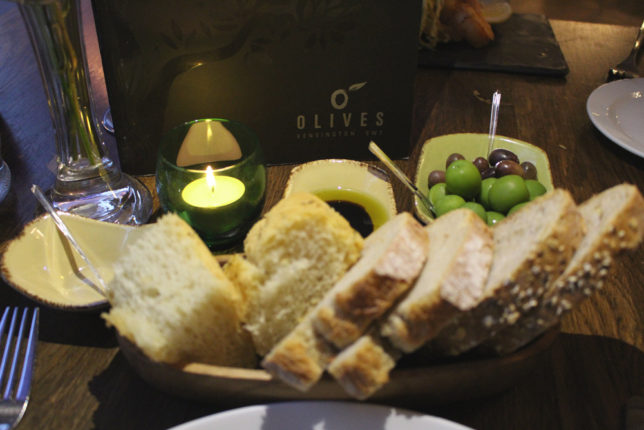 It might not have been an anniversary for us but the ambience and the friendliness of the staff made it feel like a special occasion right from the very first sip of an exquisite Old Fashioned blended with just the right combination of Bourbon, Angostura bitters, orange and sugar together with a Chilli and Ginger martini with fresh ginger, chilli, dry gin, vermouth, honey, apple juice which has enough kick to start off an evening but not too much heat to make you regret your choice! The meal began with a delightful but rather large portion of Carpaccio di manzo scottato al tartufo.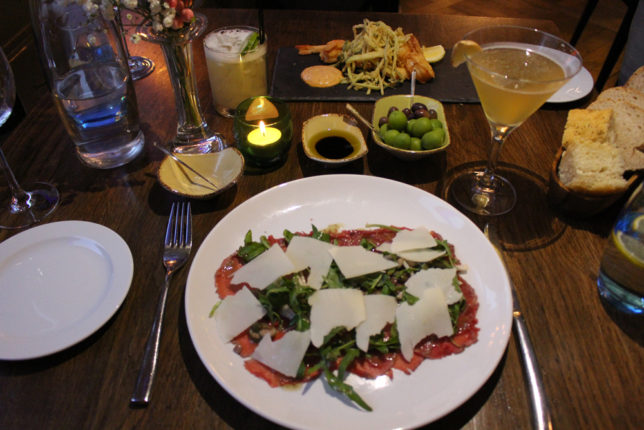 Come in for a closer look – don't be shy! Seared beef carpaccio served with celeriac, capers, rocket leaves, Grana Padano shavings, lemon and truffle dressing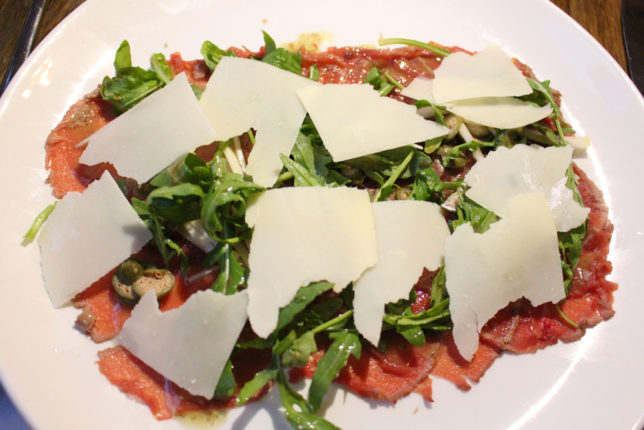 My dining companion was tempted by the Insalata di polipo con patate allo zafferano, olive e gazpacho which for those of you who do not speak Italian is an octopus salad with saffron infused potatoes, black olives and gazpacho dressing but he then asked our friendly waitress if she would recommend anything and she did , so he promptly took her advice and ordered the Frittura di gamberi e zucchine – deep-fried prawns and courgettes with Mediterranean aioli and by all accounts it was a fantastic suggestion although the baby octopus on the neighbouring table looked rather inviting too.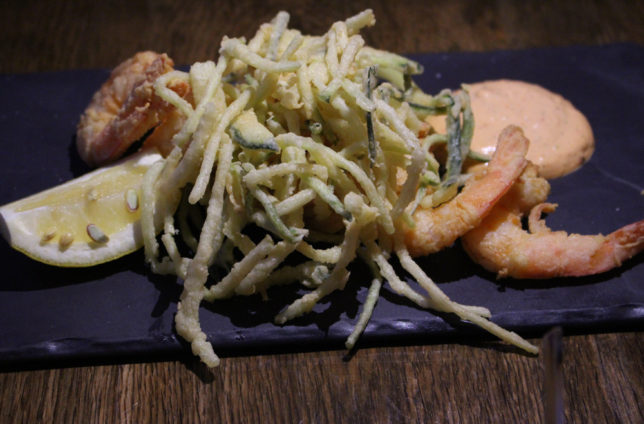 He followed the offering from the sea with a dish from the land… a mixed grilled meat special that included duck breast, lamb chop, pork belly and a rib eye steak.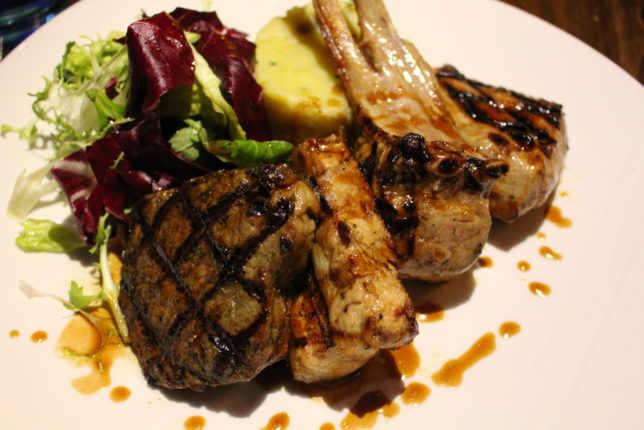 And if that wasn't enough it was complimented by a side portion of chips.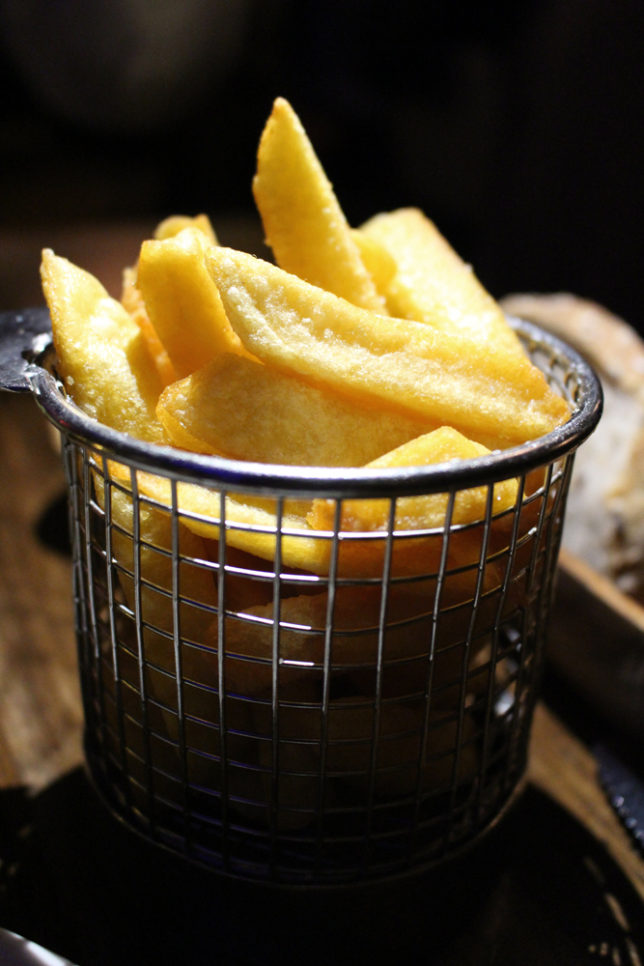 I kept it light with the grilled fish option better known in Italy as Grigliata mista di pesce. The mixed grilled fish comes served with grilled seasonal vegetables – do ask your waiter about the selection of the day as it is ever changing to complement the time of year.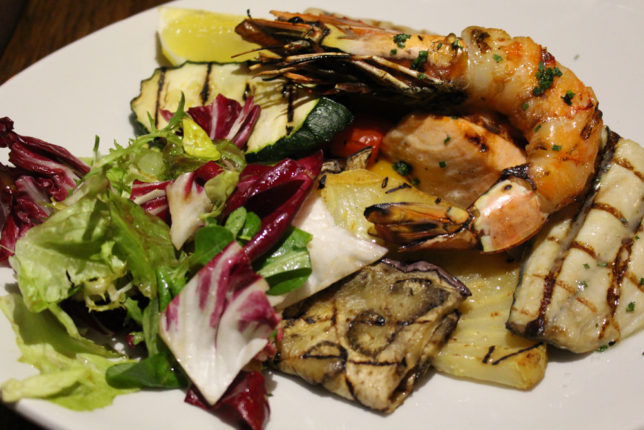 The martinis were so delicious it was hard to resist another cocktail so used up those extra calories on just one more tasty tipple. I was tempted by the Chocolate Orange Martini made with dark rum, Glayva, chocolate liqueur, orange juice and the Gingerbread Martini. I choose the more festive theme to get in the mood for the Christmas gift guide we are compiling back at the office.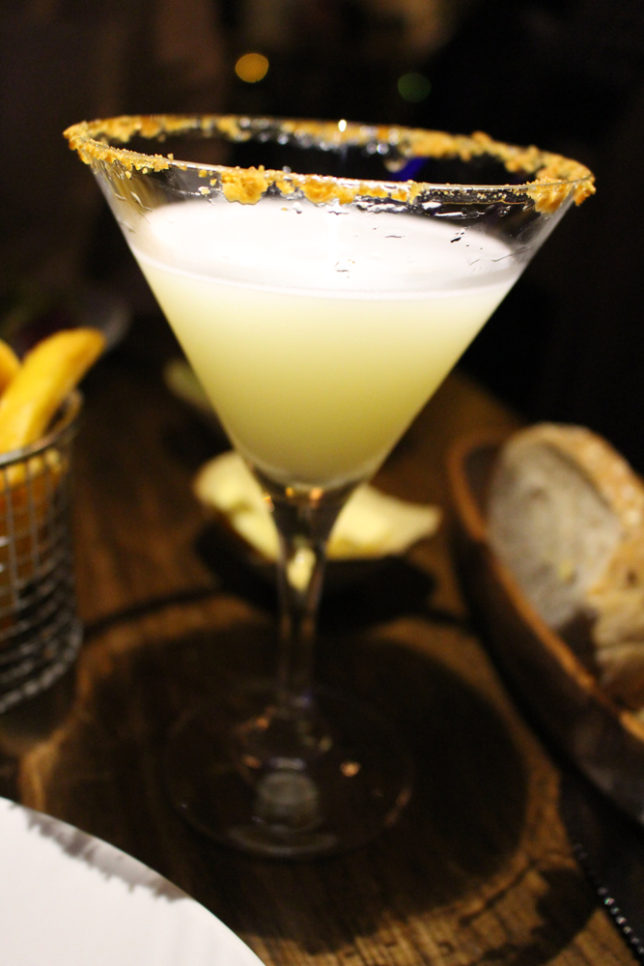 With so many delicious desserts to choose from it was hard to narrow it down, but the menu has anticipated this and serves the three most popular desserts as a trio.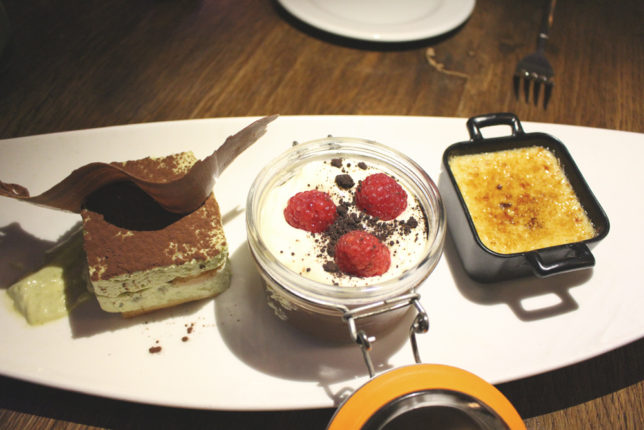 Come in for a closer look at the Tiramisù al pistacchio (tiramisù with pistachio cream and crushed pistachio nuts) and Cremoso al cioccolato con zabaione al moscato (creamy chocolate pot with moscato sabayon)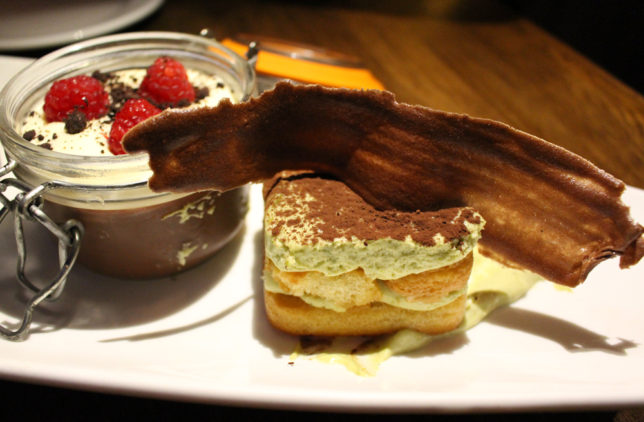 But don't forget the Crema Catalana – a delightful white chocolate and lavender crème brulée.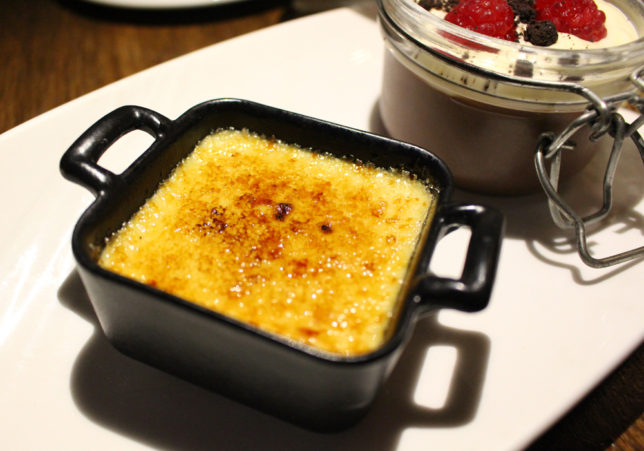 Olives is a truly authentic Italian with flavour, flair and exquisite tastes that dance about on your taste buds. We highly recommend this restaurant for every occasion from dining with that special someone to a business meeting with a colleague who really appreciates their food.
The 140th Anniversary Package
To celebrate its momentous year, the hotel is offering guests a special 140th Anniversary Package, which includes a two-night stay in one of the hotel's elegantly designed rooms, complimentary breakfast, a complimentary lunch for two from the 140th Anniversary menu, a limited-edition 140th Anniversary gift bag, a bottle of Prosecco in-room on arrival and free Wi-Fi for the whole stay for £187.60 per night, based on two people sharing. The package will be available to book through the Millennium Hotels & Resorts website and is valid when booking for a minimum of two nights, further terms and conditions apply.
The Bailey's Hotel London
140 Gloucester Road London, United Kingdom SW7 4QH
020 7373 6000
www.millenniumhotels.com/en/london/the-baileys-hotel-london/