As pampering as it is therapeutic, an Olverum bath is like a warm, comforting hug that helps you recover when you feel mentally and physically depleted. Whether you use it to relieve stress, revive aching muscles and joints, rebalance dry skin, or simply to luxuriate in a blissful aromatic 'me time' moment, Olverum promotes a feeling of wellbeing and renewal.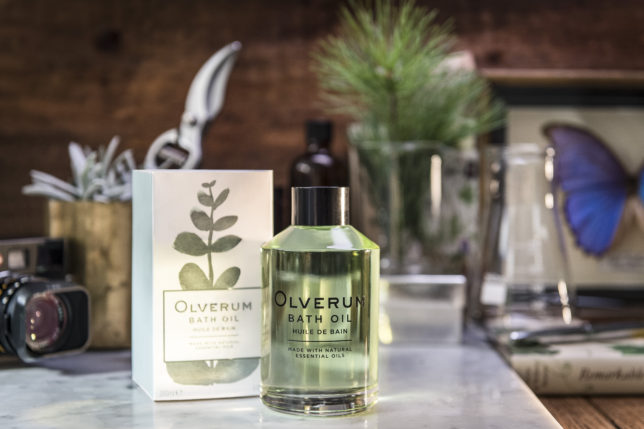 Olverum was originally created in 1931 by Franz Otto Klein, a wine maker in the Mosel Valley in Germany, who developed a keen interest in the beneficial properties of natural essential oils. Franz and his wife Edith, an accomplished pharmacologist, were struck with an ambitious idea. They would employ all their skills acquired in both winery and laboratory and the knowledge they had acquired of essential oils, to create the perfect therapeutic oil. Two years later, after experimentation with blend after blend, they finally perfected an oil of extraordinary quality with the preternatural therapeutic properties they sought. The formulation contained extracts from 10 aromatic plants blended according to a closely guarded formula, passed from father to son for over 50 years and which remains largely unchanged today.
Olverum Bath Oil is a highly concentrated and unique blend of 10 essential oils: Eucalyptus, Lavender, Juniper, Lavandin, Lemon Peel, Siberian Fir Needle, Exotic Verbena, Lime, Geranium and Rosemary. It is free from artificial colours and preservatives and is not tested on animals.
Key Benefits of Olverum Bath Oil
DEEP RELAXATION AND STRESS RELIEF – Inhaling the aromatic vapours released by a warm OLVERUM bath helps relieve tension and aids relaxation. Used at the end of a stressful day, OLVERUM can help you achieve a deep and untroubled night's sleep.
SOOTHES ACHES AND PAINS – Olverum stimulates the circulation and helps bring relief to aching muscles and joints.
BEAUTIFULLY SOFT SKIN – The light non-greasy oil is easily absorbed by the skin, leaving it feeling beautifully soft and pampered.
Prices & Availability
125ml (enough for 25 Baths) – £26.00
250ml (enough for 50 Baths) – £48.00
3 x 15ml Travel/Gift Set )enough for 9 baths) – £16.00
Available from: Liberty, Harvey Nichols nationwide, Conran, Fenwick stores nationwide, House of Fraser online and Olverum.com