The Organic Surge Lavender Meadow range contains essential oils of calming lavender and uplifting geranium, which help to re-balance body and mind. It is perfect to help prepare you for a restful sleep as the therapeutic properties of the essential oils work to calm your mind and relax your muscles.
SLOAN! Magazine tried the Organic Surge Lavender Meadow Foaming Bath which contains natural aloe vera to soothe the skin and skin-conditioning glycerine which actively attracts moisture to the skin, allowing it to remain smooth, nourished and hydrated. The calming lavender and uplifting geranium help calm the senses as you lie back and relax in a beautifully scented bubble bath.
Organic Surge Lavender Meadow Foaming Bath is 98.7% natural and clinically proven suitable for sensitive and ezcema prone skin. The product is enriched with organic lavender and geranium essential oils and has a reassuringly thick consistency and is not thin and runny. As well as leaving the skin nourished and hydrated it fills the bathroom with a delicious, comforting natural fragrance. For those who love products that are kind to the environment, the Organic Surge Lavender Meadow Foaming Bath is animal-friendly in addition to being suitable for vegetarians and vegans.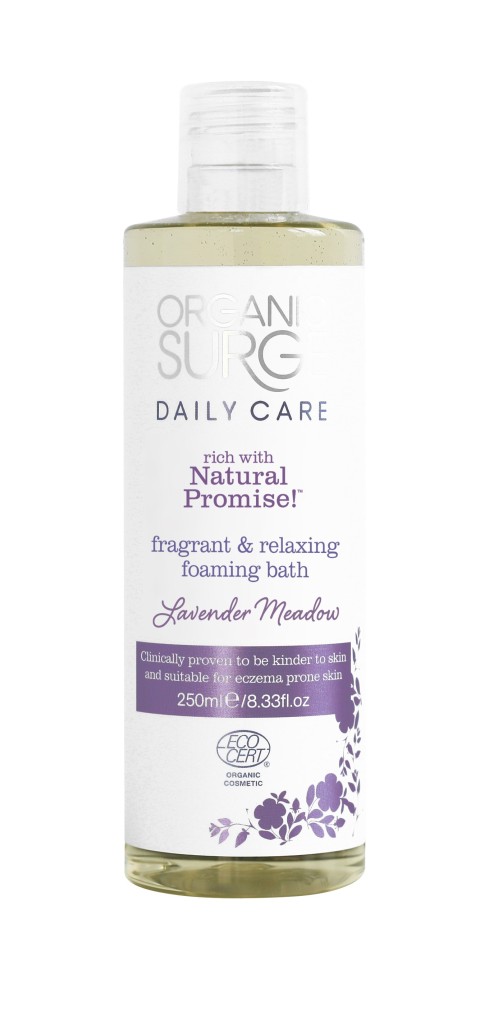 Organic Surge channels the vibrancy and goodness of nature into everyday lives. With products as individual as we are, natural formulas and charitable links, Organic Surge is dedicated to making life better wherever they can, starting with you.
Alan MacKenzie, founder of Organic Surge, suffered from skin sensitivity for many years until he tried using products containing natural and organic ingredients which left his skin feeling and looking better within days. This inspired him to create Organic Surge, a range of affordable products bursting with skin-loving, naturally-derived ingredients and certified organic essential oils.
Organic Surge helps you love your skin, lavishing it with naturally-derived, intensely nourishing ingredients and deliciously fragrant essential oils. Organic Surge products are NOT tested on animals and are 100% free of harsh chemicals – no parabens, sodium lauryl sulphate, no artificial fragrances or colourants and no genetically modified ingredients. And the very soul of Organic Surge lies in its charitable donations and hands-on work spanning many years helping vulnerable children in Africa.