The Original Satchel Store was founded in 2011. Retro in style and vintage in character, their hand-made, all British satchels are crafted by skilled leather artisans who still work with traditional craft tools deep in the heart of the English countryside. The Original Satchel Store bags have been featured in photoshoots and articles across the globe including Elle, Harpers Bazaar, Vogue and now in the November edition of SLOAN!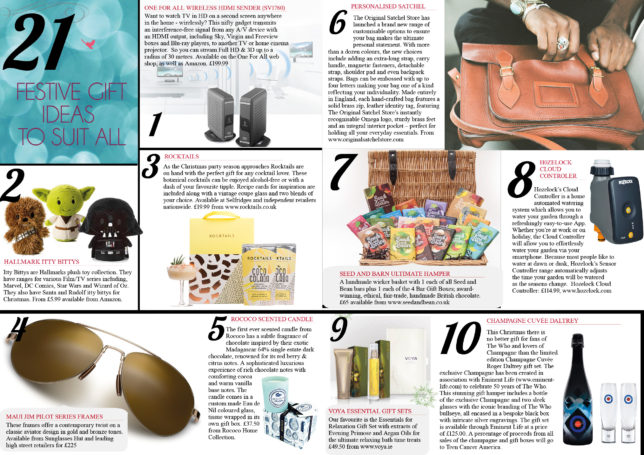 Made entirely in England, each hand-crafted bag from The Original Satchel Store features a solid brass zip, sturdy brass feet and an integral interior pocket – perfect for holding all your everyday essentials. Let's take a closer look at the satchel…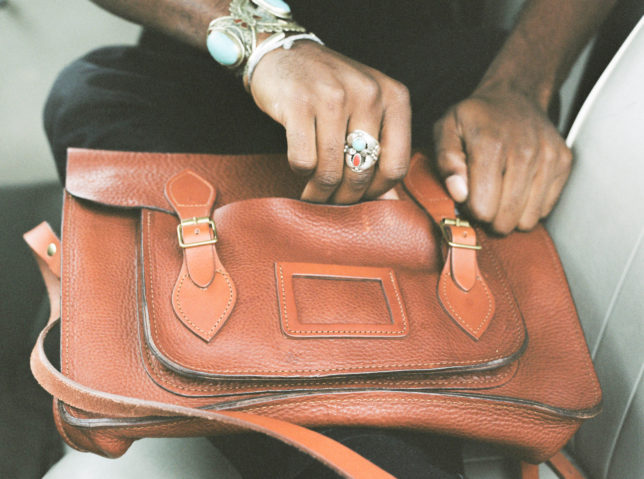 The Original Satchel Store bags are made using no computers, no automation, no assembly-line. Just hand and eye co-ordination, traditional techniques, a love for leather and an instinct for knowing when a leather bag is just perfect. The satchels also have a leather identity tag, featuring their instantly recognisable Omega logo.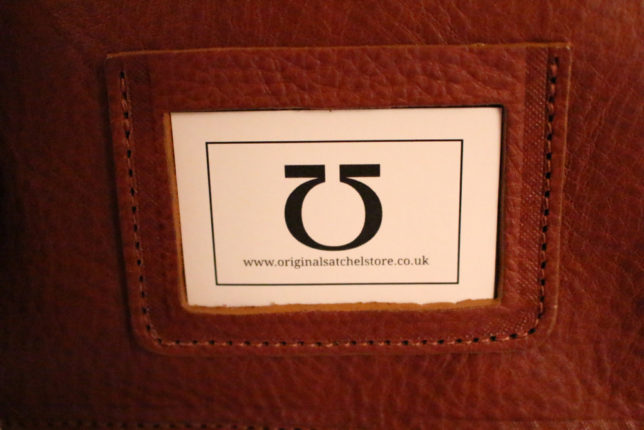 One of our favourite satchels in the collection is the Big Softy (£129) available in London Tan, Deep Brown and Black. Made from fine, delicately mottled leather from Milan, this gorgeous satchel is a perfect example of The Original Satchel Store's expert workmanship. Our specially made SLOAN! embossed satchel is proudly demonstrated by Puppy Gizmo in his Drawing Room.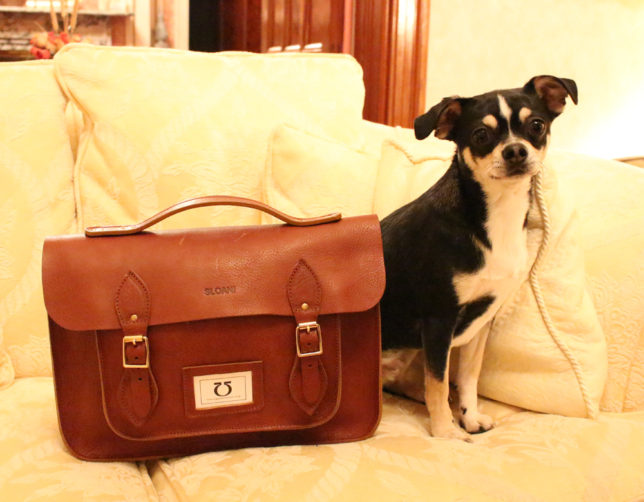 The Big Softy is made to the highest quality, meticulous attention to detail, high-end brass clasps and buckles. Hand stitched to ensure the satchel keeps its iconic shape and features and yet so soft that they are an absolute pleasure to carry and it looks like our satchel has been carried off by Contessa Clumber into the Library!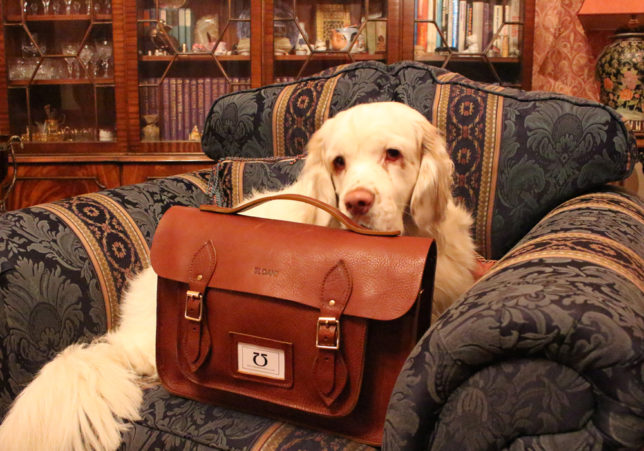 As some of you may know, Clumber Spaniels are gundogs with a regal heritage having been kept and bred by various British Monarchs, including Prince Albert, King Edward VII and King George V. HRH The Princess Royal is the current President of the Working Clumber Spaniel Society. As described in Queen Victoria's diary, Clumber Spaniels are "such dear, nice dogs" and even after swiping the satchel Contessa Clumber still gave a cheeky wink to her owner!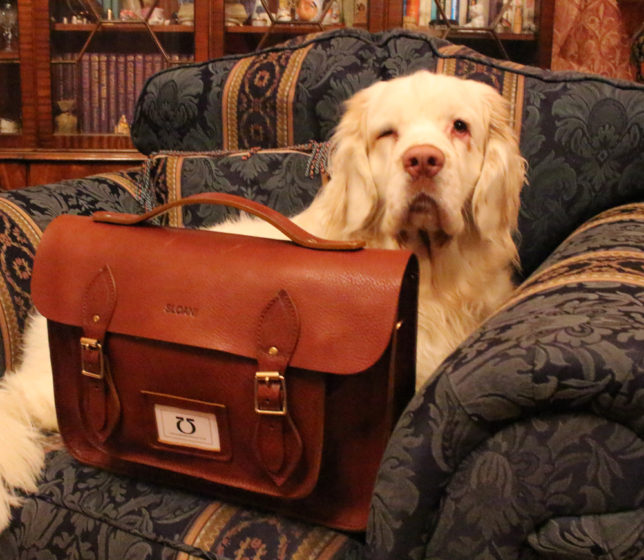 Contessa Clumber may come from a long line of Crufts champions but that wasn't going to stand in the way of Puppy Gizmo getting his paws back on the SLOAN! Satchel. Our adorable resident pooch is soon reunited with The Big Softy which is made to look ever so slightly aged, so even though it is completely new, the satchel will look as if you have been friends together for ages. Having swiped the satchel back from Contessa Clumber, here is Man's Best Friend with Man's Best Satchel!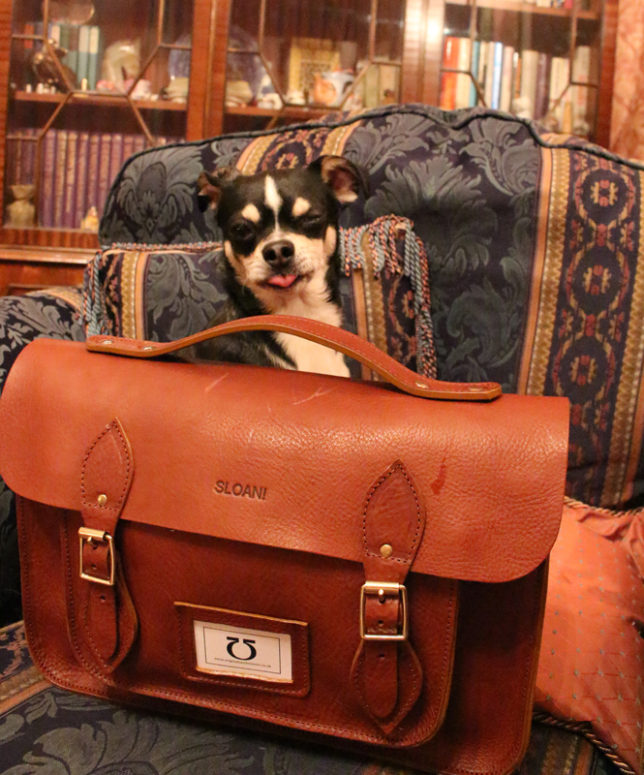 The Original Satchel Store has a brand new range of customisable options to ensure your bag makes the ultimate personal statement. Not only can you choose from the range of more than a dozen colours, the new choices include adding an extra-long strap, carry handle, magnetic fasteners, detachable strap, shoulder pad and even backpack straps. The Big Softy costs £129 from www.originalsatchelstore.com – Puppy Gizmo not included!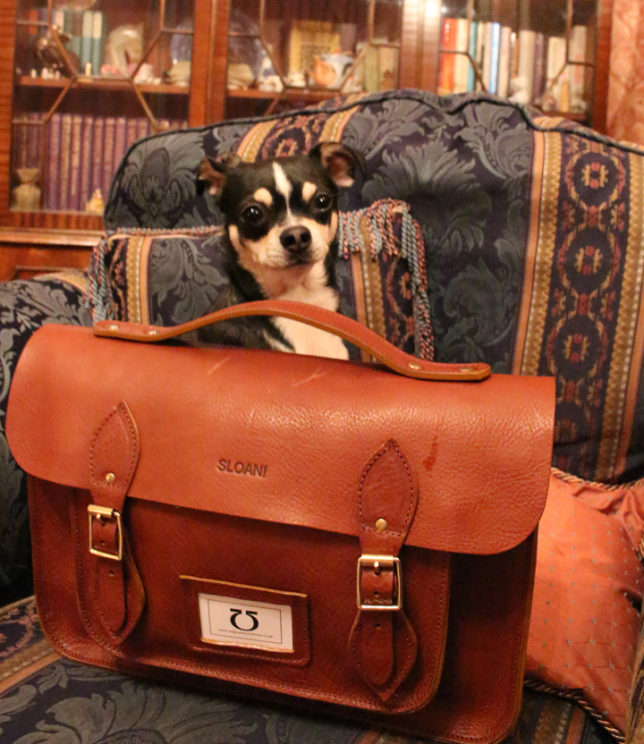 You can now have your new Original Satchel Store bag embossed to ensure your bag is one of a kind and reflects your individuality. In addition to silver and gold embossing options, you can also have your name blind embossed on the satchel – as we did. We think blind embossing is understated yet sophisticated. Come on for a closer look…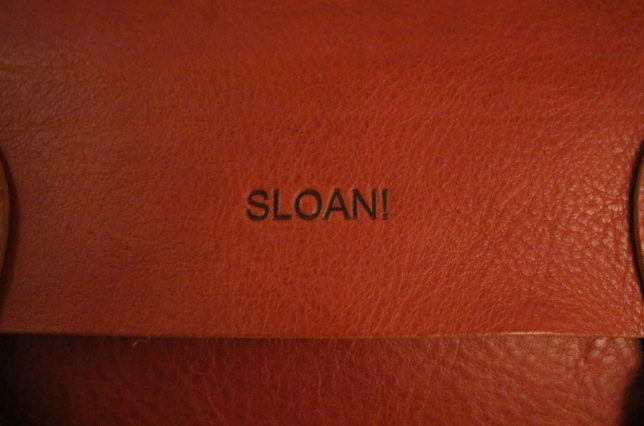 Poppy Nadal is The Original Satchel Store's Creative Director. She told us: "The combination of being able to tailor the colour, straps and now the embossing of our bags really allows the owner make a personal statement and be part of the design process." Poppy is a visual artist and designer, based in Barcelona, Spain. Poppy studied Fine Art & Sculpture at Central Saint Martins in London and has exhibited her work in in London, Paris and Saint Tropez.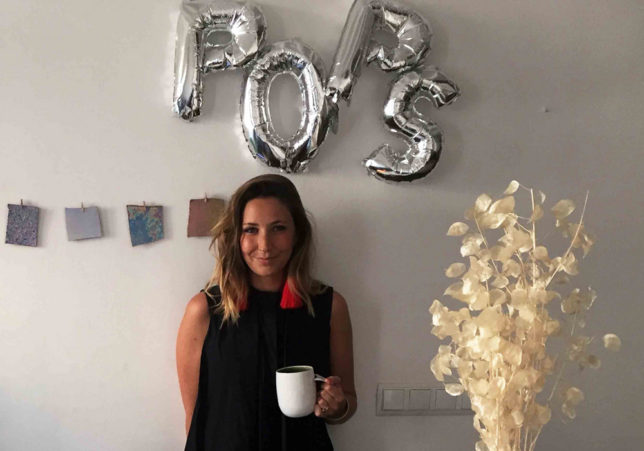 She has worked on several projects in London including a collaboration with photographer Lucy Sparks and set design for fashion shows by TOGA and EUDON CHOI as well as working on set design for photoshoots for big names like Stella McCartney Lingerie and ELLE magazine.
For more information and to but your very own satchel, go to www.originalsatchelstore.com