London's restaurant scene couldn't be hotter and the capital's insatiable appetite for ethnic inspired fine dining is growing. Joining this new wave of culinary opportunity on London's dining scene is Osh – the new Knightsbridge restaurant and bar which has just opened in the heart of one of London's most affluent neighbourhoods.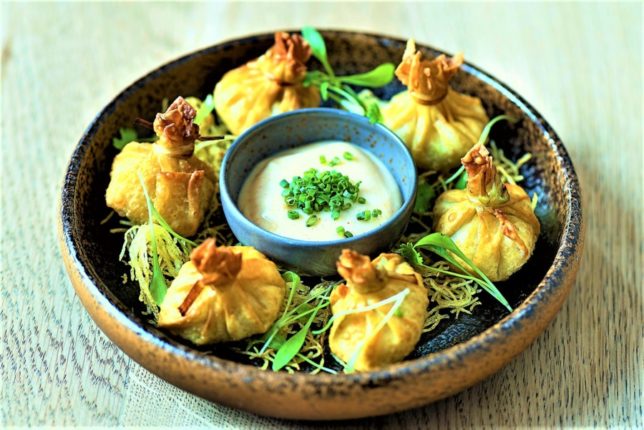 Osh tempts its guest to indulge in the flavours of Central Asia and enjoy this gastronomic intersection between the Middle East and Eastern Europe.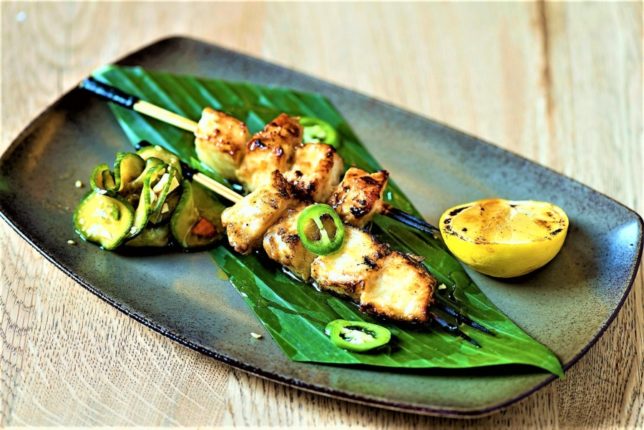 Taking up residence on fashionable Beauchamp Place and set in a period three-story townhouse, Osh features a stylish restaurant and cocktail bar spread over two floors and an exclusive invitation only private bar and lounge on the top floor.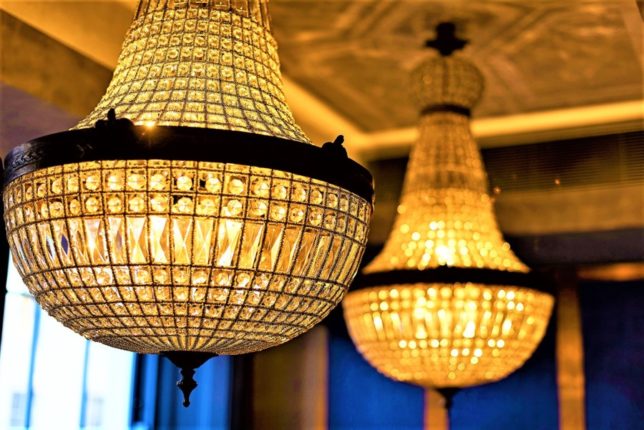 In the restaurant's dining room, the tables are overlooked by the azure tiled Kyrzyk themed kitchen.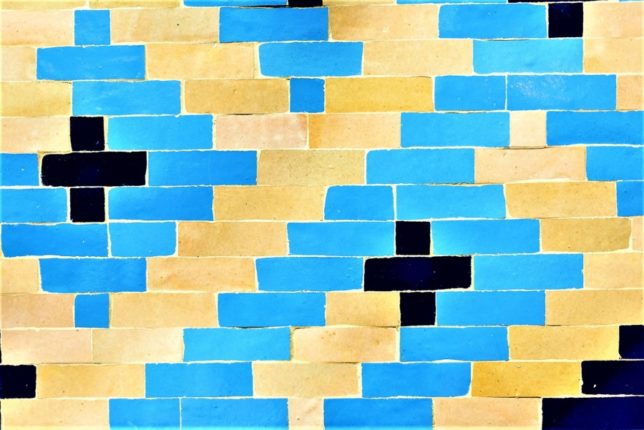 Upstairs, the décor and contrasting fabrics and textures are reminiscent of a land of fables and legends.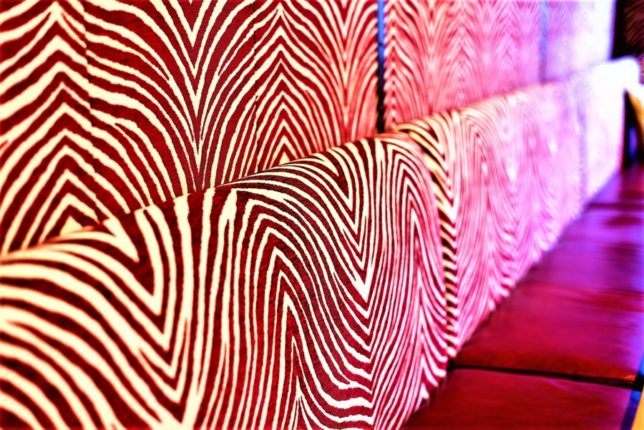 The restaurant's interior designer Irina Gulik has created distinct spaces that are immediately colourful yet cosy.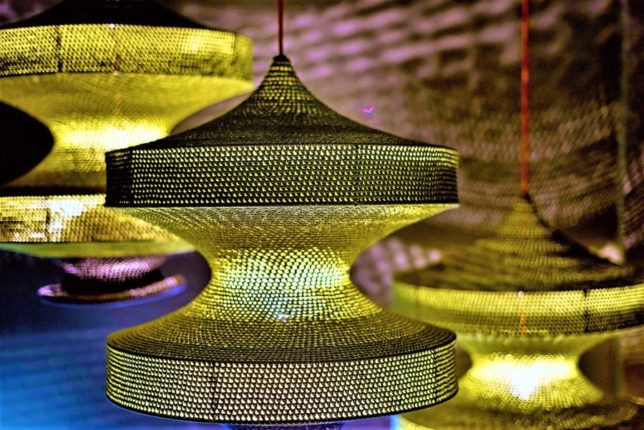 The bar serves an impressive selection of bespoke cocktails and contemporary ethnic-inspired aperitifs while Osh's hidden gem, the premium upstairs lounge, offers a collection of the world's finest spirits and unique cocktails.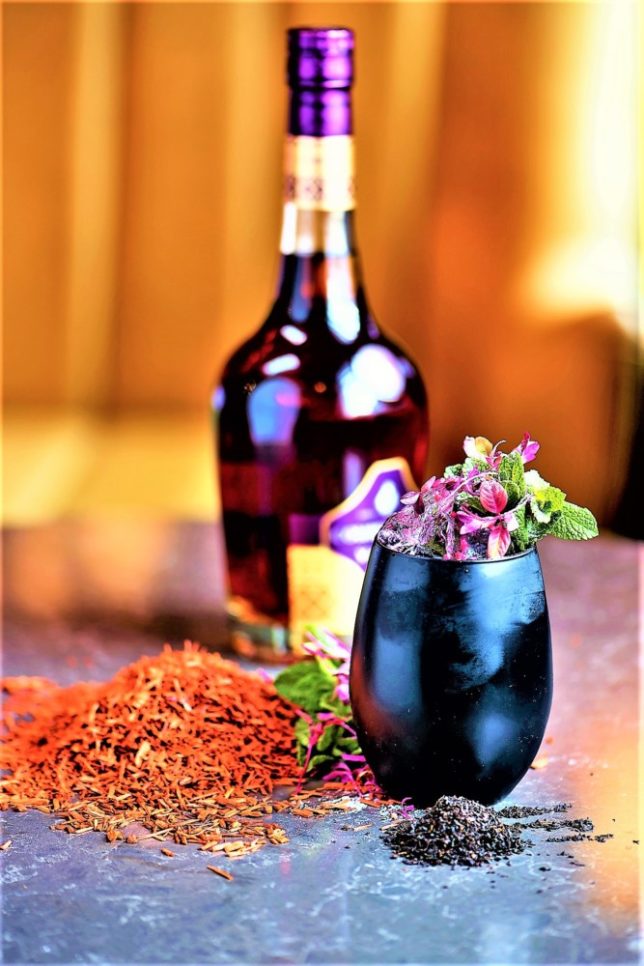 Showcasing the inter-cultural culinary heritage and splendour of one of most legendary bazaar cities along the ancient Silk Road, Osh offers authentic Central Asian cuisine and Uzbek grill delicacies.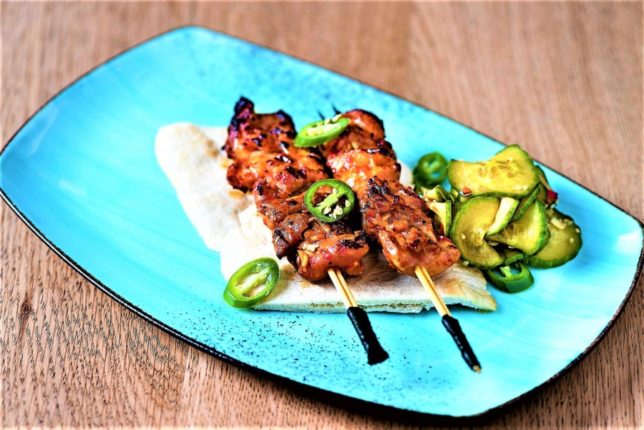 For the discerning foodies, Osh chefs will prepare fresh seasonal specialities made with organic fruits and vegetables imported twice a week from Uzbekistan.
Signature dishes include aromatic lamb plov, succulent charred shashlik, traditional Uzbek lagman soup, and freshly baked hand rolled flatbread. The menu will also feature a number of meat-free and vegan options.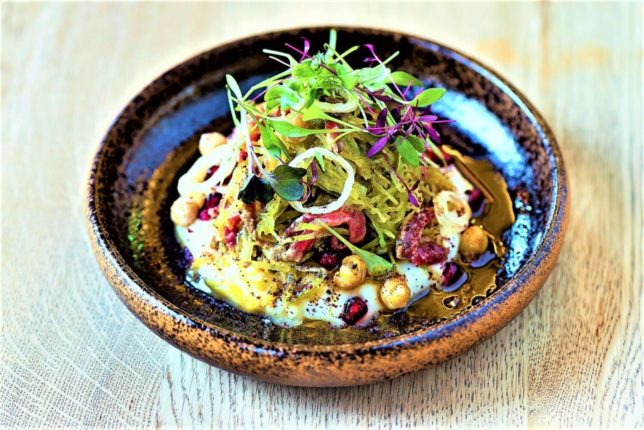 We began our evening at Osh with cocktails at the bar – Hammer and Smoke sees Johnnie Walker Black Label blended with lapsing souchong bitter for a hint of smokiness framed by chilli, red pepper and honey for a touch of sweetness to counterbalance the hit of roasted chilli on the nose. The Red Moon is a ruby coloured non-alcoholic concoction of cranberry, peach, cherry and citrus garnished with redccurant and mint dusted icing sugar. The bar snacks are moreish with smoky salted nuts and colossal raisins.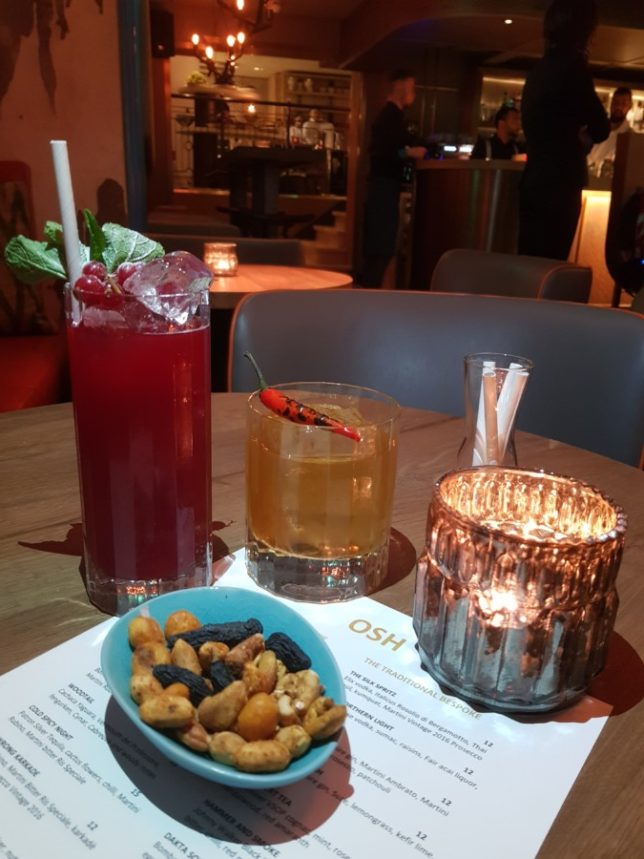 We then moved from the bar to the central dining room of Osh overlooked by the open kitchen. To start the meal we chose two dishes, the first being this little heap of heaven – one of the menu's cold dishes of Salmon Tartare with a vibrant mint & ginger dressing.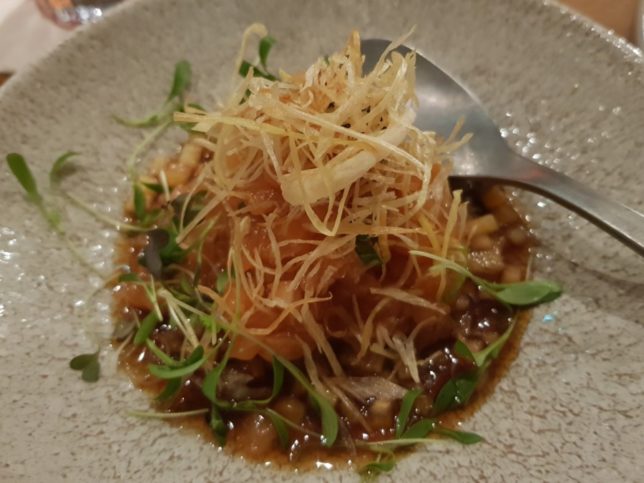 Our second dish to start was Crispy Aubergine with Goat's Cheese,  Pine Nuts and a "hacelim" dressing. This was a moreish marriage of crisp exterior and soft interior without a hint of grease or being overdone. Simple dishes like this crafted with obvious culinary excellence is testament to the skill of the chefs at Osh.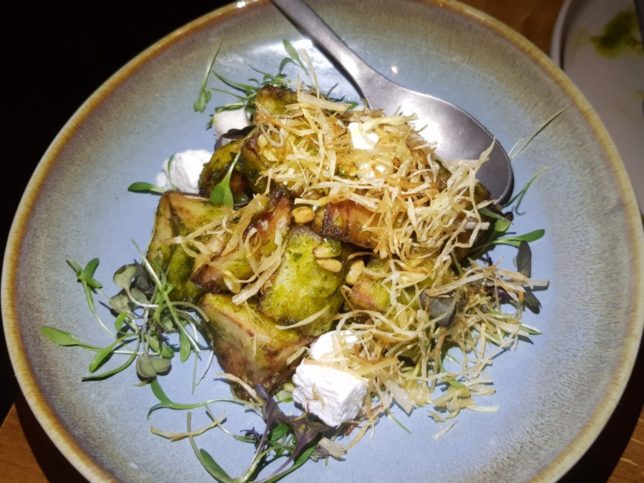 We were also presented with a surprise plate of Uzbek Tomato Carpaccio thanks to the hospitality of our host. This touch of gracious generosity was just one of many surprise additional dishes our host sent our way to showcase the breadth of Osh's menu and challenge our appetites!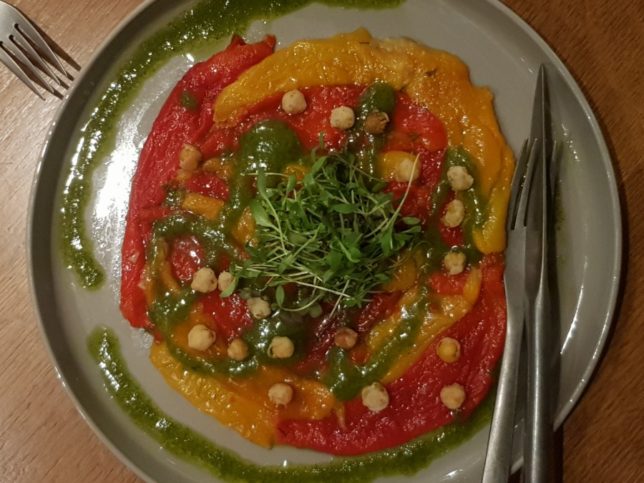 We then ordered the Kamtchatka King Crab with creamy avocado mousse & and the pop of red caviar which is served in a lightly griddled avocado on a bed of ice and banana leaves. Not just delightful to the eyes but delightful to the palate!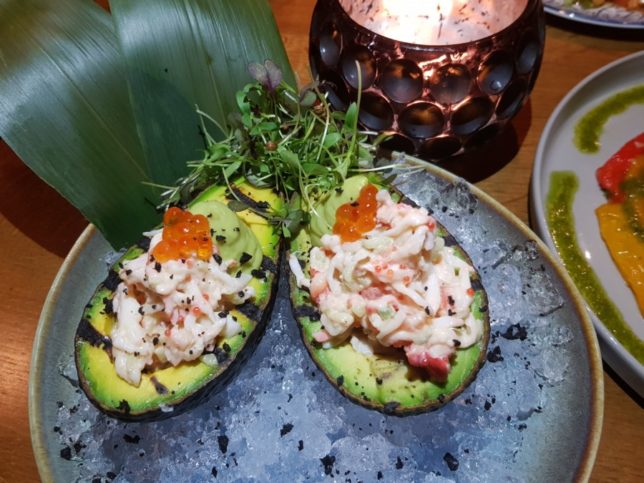 Moving on to the fish dishes at Osh, we decided to share the Grilled Salmon served with fresh vegetables and a ginger sauce that excited our taste buds. The salmon was expertly cooked just to an almost opaque quality that preserved the texture and flavour of the fish. Another dish of culinary excellence  from the Osh kitchen.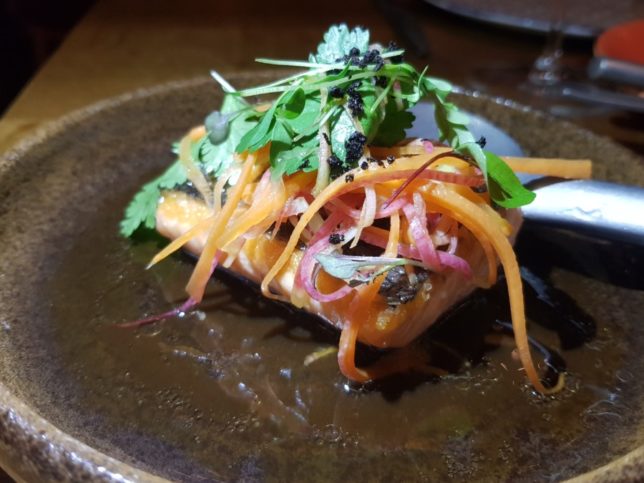 We also ordered the John Dory to share. This arrived beautifully cooked and presented on a bed of spinach with an olive sauce. Superb flavours perfectly matched by the Osh chef.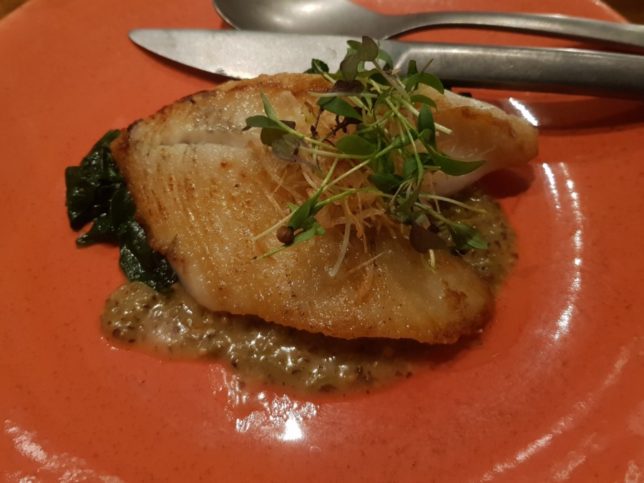 Another surprise dish from our host was this delightful dish of Pickled Cherry Tomatoes with a garden freshness that perfectly complemented the fish dishes. We were told that we couldn't leave Osh without trying this dish showcasing the excellent quality of the Uzbek vegetables shipped in twice a week.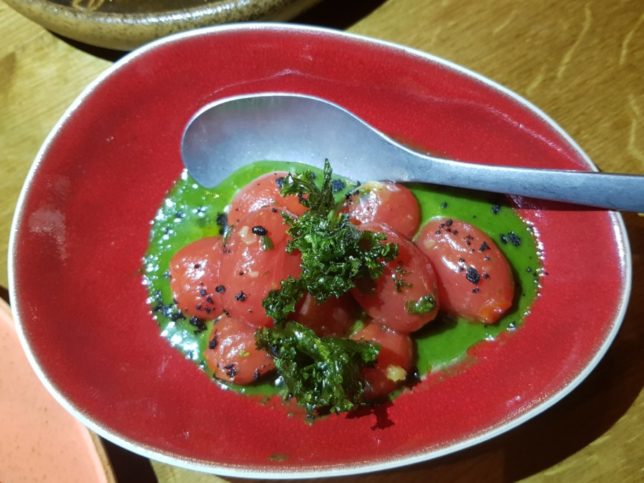 Another surprise salad dish arrived swiftly afterwards. Again thanks to the gracious generosity of our host. This time an unusual but very tasty salad dish of Persimmon in a tangerine dressing scattered with pomegranate. This fruity salad went surprisingly well with the fish dishes we had ordered but could also easily complement meat dishes in our opinion.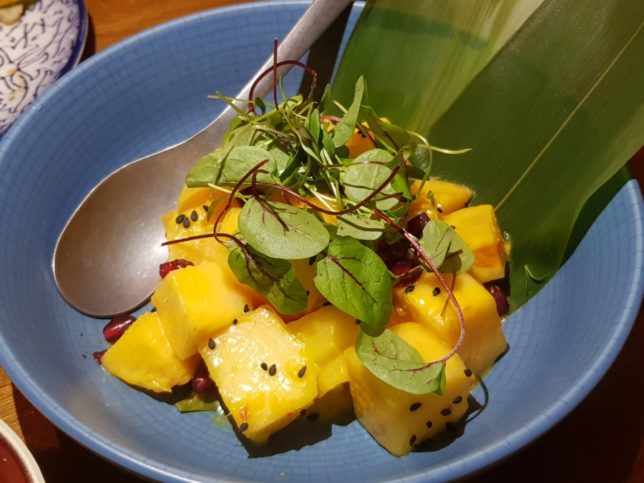 From salads and sea we moved on to shaslick as we ordered a couple of grilled kebab dishes, one fish and one field, both served in a corn flatbread. The field was the succulent Lamb Shaslick served with tantalising flavours from the coriander and chilli dipping sauce.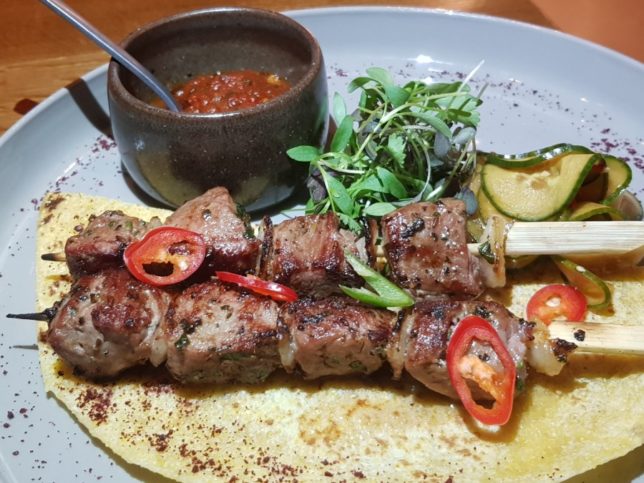 The fish was the Chilean Sea Bass Shaslick which like all the dishes at Osh was perfectly cooked. The juicy cubes of South American fish were flavoured with lemon and ginger as a Central Asian twist.
Out of the blue, just as we had finished the kebabs, we were presented with a dish of Rosemary Poussin with pickled cucumber salad. Either we were suffering menu memory loss or this was yet another surprise dish from our host. Yet how could we refuse such gracious hospitality when the food at Osh tasted so good, this herby chicken dish being no exception!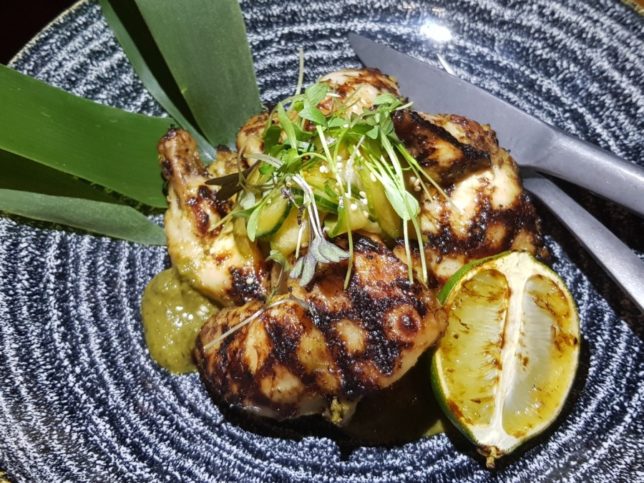 Along with the poussin, our host also sent us another wonderful vegetable dish of King Oyster Mushrooms which he said was the best mushroom dish he's ever tasted. Although simply cooked with garlic and butter, the unique flavour of the mushrooms shone through and we had to agree with our host that this was a marvellous mushroom dish.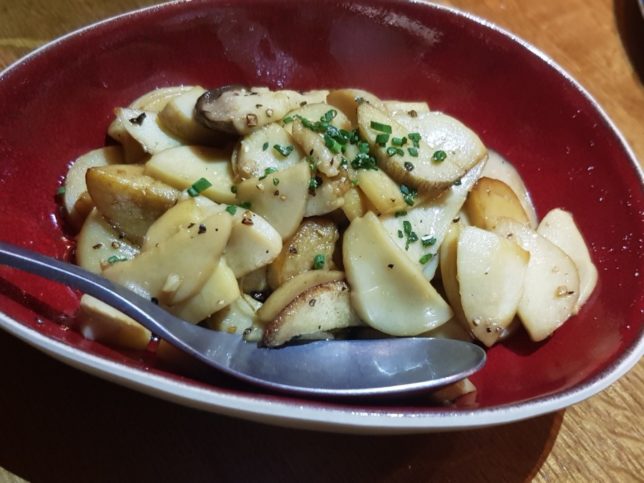 We were left with just enough room for dessert, having had almost all of our fill thanks to the gracious hospitality of our generous host and the additional savoury dishes he sent to Showcase the very best of the Osh menu.  Recommended to us was the Honey Cake and when it arrived our eyes and taste buds saw why this was the favourite dessert of our host. The heady perfume of honey permeated every sumptuous layer of this to die for dessert.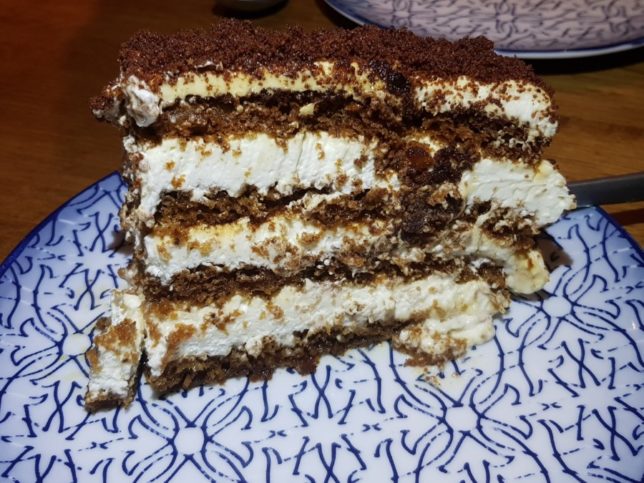 Another signature dessert we were encouraged to try was the Anna Pavlova – a wondrous architecture of meringue arrived filled with Pistachio Creme Patisserie and surrounded by Blackberries, Raspberries and Blueberries. Quite unlike any pavlova you've had before and a stunning end to this sumptuous Central Asian feast courtesy of the wonderfully passionate team at Osh.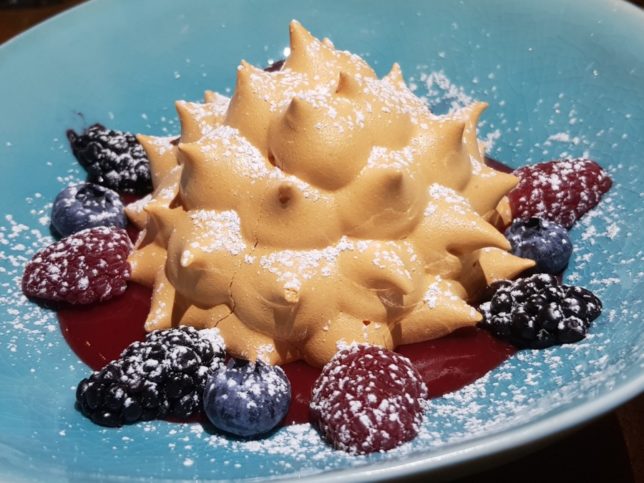 We are delighted to see that Osh is quickly establishing itself as a gourmet dining destination serving the best in Central Asian cuisine and showcasing Uzbek ingredients and specialities. Osh  is an exciting new addition not just to the elegant restaurant scene of Knighstbridge but also for the whole of London's thriving foodie scene. Here at SLOAN! we highly recommend it for both its exceptional dishes from the kitchen team and the highest standards of hospitality and customer service from the front of house staff.
Osh
14-15, Beauchamp Pl, Knightsbridge, London SW3 1NQ
020 3935 9555
oshrestaurant.com
@oshrestaurant