Osprey Transporters are tough, high-quality duffel's designed to withstand the rigours of adventure. Representing the pinnacle of performance in expedition-style duffel bags, Transporter features premium, highly durable materials, a water-resistant design and an extremely comfortable carrying system.
Osprey have been around for 40 years making packs, and they got good at it! Making some of the most up to date, innovative designs and maintaining exceptional quality. The Transporter duffel has undergone a significant technical overhaul in recent years, and a host of stylistic updates. It's built to be tough yet comfortable to carry and boasts a range of new and adventure ready features.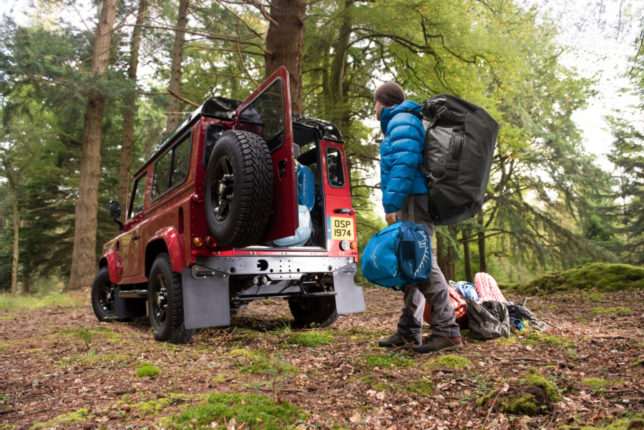 Designed to withstand the rigours of adventure with premium, highly durable materials, a water-resistant design and an extremely comfortable carrying system which can be stowed away while not in use. The Transporter also offers versatility with multiple attachment points and the organisation of multiple pockets.
Whether it's carry-on luggage for a beach holiday, strapping to the side of a donkey on a Himalayan trek, hauling gear on a multi pitch face or storing bulky outdoor gear, the Transporter is the adventure proof solution for an active outdoor lifestyle.
Transporter 95 is the perfect companion on your adventures. Easily big enough for your technical equipment, the Transporter 95 will quickly become a firm favourite for packing up your expedition gear into and heading out on a big adventure.
Very tough, TPU laminated nylon provides exceptional durability while remaining light and soft to the touch. The construction patterns and materials of Transporter have been chosen to provide a high level of weather resistance and the ability to withstand a lot of punishment.
A yoked harness with sternum strap ensures that the load is carried comfortably. When not in use, the harness can be stowed inside a cleverly designed sleeve. Transporter 95 also features detachable load lifters, which add a significant amount of comfort and effective load transfer into the harness of this pack. External end pocket, a pocket under the lid and internal compression straps help to keep the contents organised, whilst an ID card holder ensures you'll know which duffel is yours immediately. A large U-shaped opening gives easy access to your contents.
You can also be assured with Osprey's 'all mighty guarantee' to repair or replace items, preferably repair products rather than replacing them, if there are any defects in build quality. Which I would be surprised if they had to honour that often, as Osprey have been a well-utilized brand, and what has always been impressive is the build quality and quality control.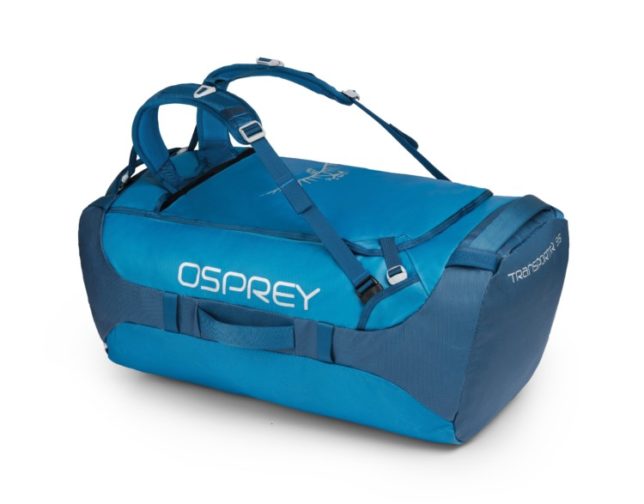 Our Testing Experience
Transporter 95 is a brilliant all-round travel pack, offering the performance and durability of an expedition pack with the comfort and innovative features that Osprey is well renowned for.
This expedition duffle is built tough for storing and protecting your gear before, during and after every adventure with tough hardware, stiffened main body fabric with protective accent ribs, zipper rain flaps and more to keep your gear separated from the elements. Built for comfort,  stowaway harness straps provide hands-free carrying through the terminal or across the moraine.
Perfect for gear intensive activities, these duffels are made to carry anything and everything you need with the confidence that the bag is the last of your worries.
Ease of Transport: The sleek lined, easy grab handles and no loose strap design, allowed for the bag to be easily placed in and out of vehicles without fuss.
The swift and easy strap stow away and set up allowed for easy carry of the bag on the reviewers back during train station ticket lines, platform walks, and then walking through the airport, and up to the check-in counter. Two release clicks and the straps can stuff away, and sealed with a zip.
Ease of Packing: The panel opening and zipper system allowed for full access of the bag, while allowing some corner support to remain, and for the bag to more easily filled. During testing we managed to fit all the gear needed for cold adventures, skiing, dog sledging, including an uncompressed down sleeping bag, and down jacket. Impressive!
This bag was great, it always seems to have more space to fit something else in it! Seeming to keep allowing more items to be added, and they all seemed to find a place in the bag. Who knew Mary Poppins turned a hand to design transport bags!
Easy and effortless, in fact the only complexity about using this bag is trying to work out how to get it back into the storage bag. Let's not forget the pack-ability of the transporter once it's done. This heavy weight in capacity, packs down to a smaller than expected size, and fits into its own small mesh zip bag, for efficient storage. Which is a much needed option in modern storage home designs.
Durability: Designed to be used as a large hauling bag for adventures, this is build for hard wear. The fabric is thick, reinforced and supported with heavy stitching.
Other than slight superficial staining of the bottom of the back, from dragging it along dirty ice and grass, it looks new, no signs of wear and the reviewer would envision will last for years at such a work rate.
Weather Resistance: The durable coating over the duffel bag is a thick and Durable and highly water-resistant material, the zips all are covered with overlapping material (zipper rain flaps) to protect them from damage and catching and also to create run off of water or snow, to prevent water ingress through zippers. During our review all items remained protected, dry and undamaged while using the Transporter 95.
Weight: Light enough to not be a notable aspect of the user experience, it will allow far greater weights to be hauled. This bag is actually lighter than a lightweight travel bag of half the size, and lighter than nearly all its equal sized duffel competition.
Features: The ID card holder could allow a user to display their name or business, for easy recognition of who's bag is who's when on the trails, or strapped to a sledge. Even preventing airport baggage collection or on-trail mix ups which could easily delay your adventure. The internal mesh pocket offers a secure place to separate items, and assure the items are found at speed.
The accessible side pocket can hold your travel documents and any easy access items during your travels. The lockable zippers allows for a level of access protection, and preventing any unwanted opening of your precisely developed travel pack. Incredibly stable and secure grab handles, four of them. Alongside lash loops on all sides, for securing the bag when on the move on a sledge, bike, car rack, or donkey.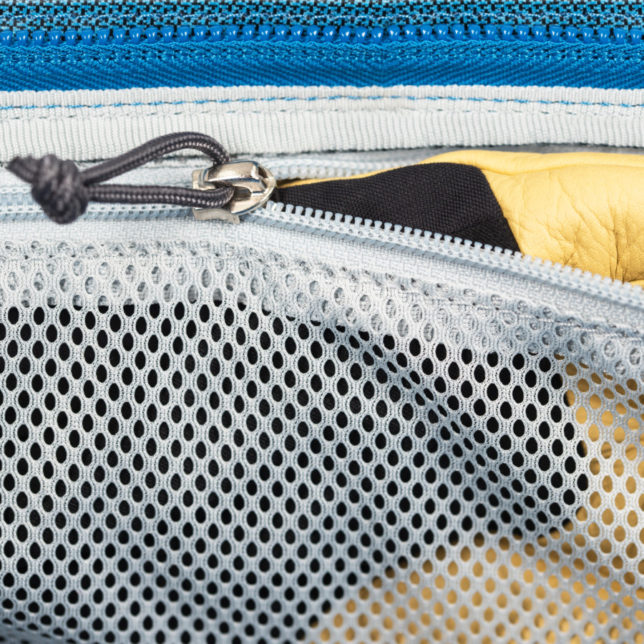 The comfortable pop out shoulder straps which then secure with a chest strap also, for external security, and keeping the load close to your body. The straps have a very clever design, they store away into the zipped secure top panel of the main bag unit. Then when taken out of their compartment, there are quick release buckles, which connect the bottom of the straps to the main unit, and above the straps to the main bags reinforced structure, helping distribute the weight and forces of the bag and the pull from use, into the bag, and offloading the top panel and zipper system which contain the straps. With secure latching of the lid, ensures the zipper doesn't take the load alone, preventing the stresses becoming too great. It's a simple system, and very effective, so effective you may not have even noted its value on first use.
Applications of Use: The durable weather resistant design ensures this transport bag can be used for taking your gear in the car for road trips, multi train journeys, airport travel, independent plane or boat travel, donkey assisted hikes and trails, cold weather expeditions, ski season adventures. Basically, if you want to do something more than sit beside the pool, this transporter should have a helping hand.
We have already used it for car adventures, train travel, international flights, dragging gear along the ice, carriage on a sledge, hauling ski and cold weather gear, and is set for more adventures soon.
Fit and Comfort: The large comfortable and stable shoulder and chest straps are what you have come to expect from an Osprey bag. The weight carried never felt heavy on the shoulder, and no discomfort developed. The bags generally unstructured nature allowed for a comfortable forming to your back, and keeps the weight close to the trunk. Keeping you feeling stable and able to walk easily with it strapped to your back.
The durable and highly water-resistant nature of the materials does make the likelihood of building a back sweat on a long haul far more likely.
The multi award-winning travel bag comes in multiple sizes, and will meet pretty much any adventurer or traveller's needs.
Features and Benefits
Unisex Travel item
Four (4) grab handles
Backpack harness carry straps
Backpack harness stows in lid pocket
Durable and highly water resistant fabric
Dual External end pocket
ID Card holder
Internal mesh pockets
Internal mesh side pocket
Lockable zippers
Sternum strap with emergency whistle
Backpack harness stows in lid pocket
Packs into it's own storage bag for easy storage without taking up space when not in use
Main Fabric: 800D Nylon+ 0.2mm TPU, is a Durable Adventure Proof fabric
Multiple colour options to please anyone's palate
Maximum Dimensions (cm): 69 (l) x 37 (w) x 34 (d) (for the Transporter 95 size)
Weight: 1.59 kg
The Osprey Transporter 95 is a perfect sized transportation bag for any adventure, if you are going up a mountain, out to sea, over the snow and ice, or out into the desert sands, this bag could easily assist you to concur them all. We all need a large transportation bag like this, go get one, its adventure proof.
Osprey Transporter 95 is £130 (other sizes available 40-130 Litres Volume with a tracking price point) more information can be found at www.ospreyeurope.com