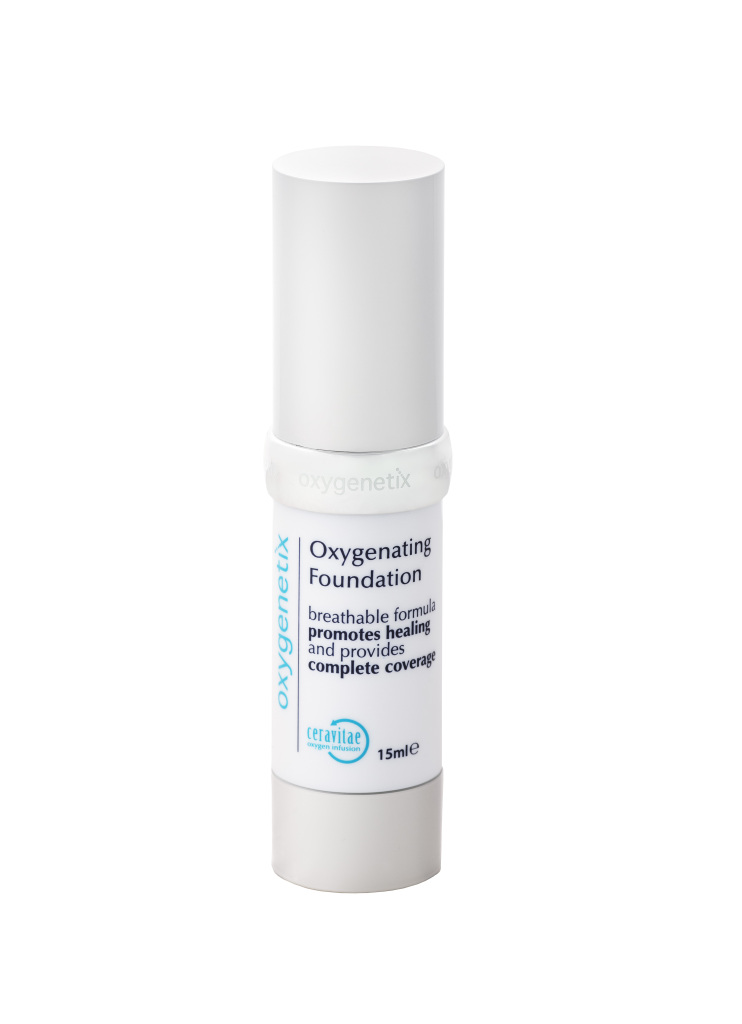 Oxygenetix Foundation is Hollywood's Best Kept Secret. First launched in Beverley Hills in 2008 and popularised after it's presence at the Sundance Film Festival, Oxygenetix Foundation can now be found in 23 countries worldwide and makes its debut in the UK this year. Seen backstage at the 2014 Oscars award ceremony and used by many leading makeup artists and a number of A-­list celebrities, Oxygenetix is also the principle post-­‐procedural foundation for the medical community worldwide.
A foundation that was originally developed to heal and conceal skin after cosmetic surgery and cosmetic procedures such as laser and peels, is about to take the UK by storm. Oxygenetix Foundation, the most breathable foundation on the market, not only helps promote the healing process of a number of skin conditions, but is the ideal foundation for everyday wear. Far superior to any BB or CC cream, this is a high-­end foundation, with a combined 160 years of cosmetic and medical expertise behind it. It has real skin care benefits, provides flawless coverage and delivers an unsurpassed, oxygen-­enriched formula that allows skin to breathe more than any other foundation brand.
"We really started seeing a dramatic increase in sales after the product found its way into the hands of some of Hollywood's biggest stars," said president & founder Barry Knapp, who revealed that Oxygenetix has contracts with 12 of the major motion picture studios and is a must-­‐have product for leading make-­‐up artists. "Nearly everyone who tries the product once becomes a loyal devotee and that includes some of the most recognisable names in entertainment. Many were insisting their makeup artist use Oxygenetix because spending 20 hours on set wearing a regular foundation was causing skin problems, whereas Oxygenetix cares for the skin and allows it to breathe."
The prime ingredient in the product is pro-healing, patent-­pending Ceravitae™ a super charged oxygen complex that promotes collagen cell production and connective tissue growth in ageing and wounded skin. It is also natural Aloe Barbadensis gel based (not water-­‐based like most foundations, that often attract bacteria to the skin) and provides anti-­‐bacterial qualities, protects compromised skin, while astringently removing dead surface cells. Furthermore, it is transfer and water resistant, which allows it to stay on for hours even in humid environments. Its oxygen-­‐enriched and natural components make it virtually a second skin.
Two-­‐time Emmy-­‐nominated celebrity make-­‐up artist Patty Bunch says, "I'm seeing a noticeable increase in the demand for medically based foundations like Oxygenetix. It's a great responsibility to protect the skin of the celebrities and actors that I work with and Oxygenetix has given me that key formulation, well beyond what's available in other products. Once my actors, who have a sensitivity to other foundation, have tried Oxygenetix they won't go on camera without it."
Makeup artist Patty Bunch uses Oxygenetix Foundation on Julie Bowen, Lisa Kudrow, Melissa McCarthy and Sophie Bush. Hollywood surgeon Garth Fisher uses it on the Kardashian family. Oxygenetix is used on the whole cast of Glee and other hit shows using the products are: American Idol, Law & Order, CSI, Heroes, Judge Judy, Undercover Boss, Iron Man, The Doctor Show. Models Poppy Delevigne & Elen Rivas and dancer Camilla Dallerup from Strictly fame love the product.
Containing skin-­‐loving ingredients Vitamin E, Grape Seed Extract, Green Tea, Hyaluronic Acid, Salix Alba Extract (flavonoids) and Glycerin, Oxygenetix Foundation soothes, heals and replenishes moisture loss. Other benefits include:
Doesn't smudge due to perspiring or exposure to humidity
Water-­‐resistant
Contains SPF25 UVA/UVB protection
Safely camouflages and soothes laser work, surgical scars and even third-­degree burns
Doesn't rub off on clothing (13 times more transfer resistant than other makeup lines)
Stays on all day so no need to reapply
Doesn't clog pores
Oil-­free & fragrance-­free
Hypoallergenic and non-­irritating to sensitive skin
No dyes or parabens
Oxygenetix Oxygenating Foundation is available in 14 shades. Seven yellow base colours and seven blue base colours, making it virtually impossible not to find a suitable shade (colours can also be mixed in order to find the most perfect match).
RRP: £45
Oxygenetix is based in Beverly Hills, California. All products are made in the USA. For more information and stockist details visit: www.oxygenetix.co.uk
Oxygenetix Oxygenating Moisturizer is for those who want the product benefits but not the colour. It has all of the skin rejuvenating benefits of the foundation, but without the pigment. It can be used for all the same soothing and pro-­‐healing benefits as the foundation and for maximum benefit it can be used before application of the foundation to increase hydration.