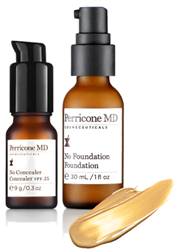 Inspired by one of the most successful launches in the history of Perricon MD, No Foundation Foundation spf 3 , Dr. Nicholas Perricone introduces No Concealer Concealer spf 35.
Far more than a traditional eye concealer, No Concealer Concealer spf 35 delivers a multitude of benefits that raise the bar for what people have come to expect from traditional concealers. This revolutionary product is scientifically formulated to provide flawless coverage, instantly camouflaging imperfections and dark circles while smoothing and brightening. Not only does it work on the lower contours of the eyes, but it can also be applied along the upper eye lid, acting as a primer and covering any imperfections on targeted areas of the face. A genius product, No Concealer Concealer spf 35 is packed with anti-aging sciences that erase the signs of stress and aging both instantly and overtime. It's formulated with Vitamin C Ester, Phospholipids, Neuropeptides and microcirculatory agents that all work synergistically to help preserve the fragile skin around the eyes.
Additionally, No Concealer Concealer spf 35 protects against both UVA and UVB age-accelerating sun rays with a mineral based, non-chemical spf. This unique sunscreen is non-irritating to the eyes or to sensitive skin. With one universal shade, No Concealer Concealer spf 35 works on most skin tones. Non-drying crease proof and easily blendable, No Concealer Concealer spf 35 is anything but a traditional concealer. Lightweight and elegant in texture, it enhances the natural contours and beauty of a woman's eyes. People will compliment your eyes, not your make-up
The Sciences
• Vitamin C Ester for brightening and collagen boosting
• Hyaluronic Acid to boost skin's natural moisture throughout the day and help minimize wrinkles
• Phospholipids deliver essential moisture while creating a barrier to further protect the skin
• Neuropeptides to address wrinkles, firmness and smoothness
• Microcirculatory agents to help treat dark circles, making them less visible over time
• Mineral-based, non-chemical sunscreen to protect against both UVA and UVB damage.
Application
Dr. Perricone recommends dispensing one pump, warming between ring fingers and patting gently along the lower eye contours, as well as upper eye lid and inner contours of the eyes if desired. Any excess can also be applied on targeted areas of the face to cover imperfections.
No Concealer Concealer SPF 35 is available on perriconemd.co.uk and in leading department stores.
What is No Foundation Foundation?
No foundation foundation is a multi-purpose product that provides natural translucent coverage for a smooth and glowing finish, while protecting with a natural SPF 30. As the dermatologist to many of the most famous faces, their special needs are often an inspiration for the creation of new products. When more than one celebrity make-up artist asked Dr. Perricone for a type of foundation that would let the stars natural radiance and beauty shine through, No Foundation Foundation was born. Created to keep skin looking dewy and flawless, it is also the perfect complement to the Perricone 3 tier program, whose cornerstone, the anti-inflammatory diet, is justly famous for restoring a vibrant radiance to skin.
This unique, original, and all-new formula provides many of the benefits of a traditional foundation without its heavy, matte finish, which emphasises even the tiniest skin imperfections. Due to its translucency, this lightweight and elegant formula contains a non-irritating, natural sun screen that protects skin from the age-accelerating rays of the sun. One universal shade, for all ages and all skin types, No Foundation Foundation helps correct skin undertones, while boosting skins natural moisture level throughout the day Formulated with propriety, patented anti-oxidants, No Foundation Foundation delivers superior anti-aging benefits to diminish the appearance of fine lines, wrinkles, skin discolourations and address the loss of firmness. Specially treated pigments, blended with light d using Mica, instantly soften the look of lines, wrinkles, and pores.
The result? A flawless dewy finish and skin that looks naturally smooth, radiant, and beautiful.
The SLOAN! Review
SLOAN! Magazine has reviewed both these products from Dr. Perricone and not surprisingly we discovered that the results were as expected and the coverage was good whilst still giving the lightweight fresh faced look that is popular these days with women who choose a more natural looking makeup. We wouldn't recommend this product for someone who needed heavy coverage where a product such as Oxygenetix or Sheer Cover would be more suitable. We would however recommend this makeup for more mature skin as the dewy finish is very flattering on older ladies. It is also perfect for anyone wanting the 'Bare Faced Makeup' look.