A multi-sensory experience of sophisticated, modern Mexican dining has come to Notting Hill. Peyotito opened its doors this summer at Kensington Park Road. Curated by acclaimed chef Eduardo Garcia of Maximo Bistrot (one of Latin America's top 50 restaurants), it provides a refined, unique Mexican menu, tequila and mescal cocktails and an earthy, stylish interior, all accompanied by Latin lounge music.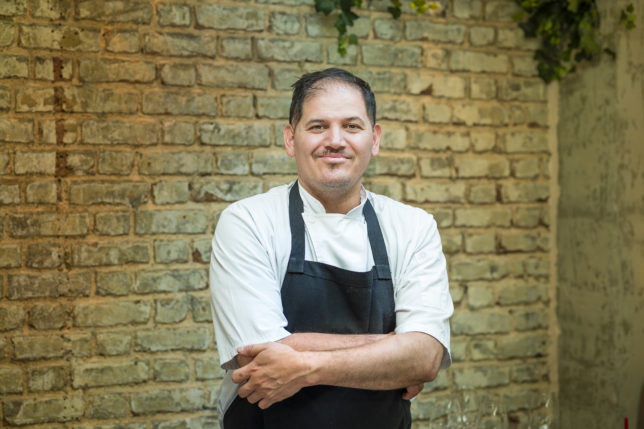 This hidden gem brings guests into a sleek hideaway welcomed by a neon sign quoting 'tequila is to wake the living, Mezcal is to wake the dead', setting the playful but contemporary atmosphere shown throughout. Sit up at the moulded concrete bar for light bites or book a table at the back of the restaurant amongst the exposed brick and retractable skylights for a vibrant and fresh experience.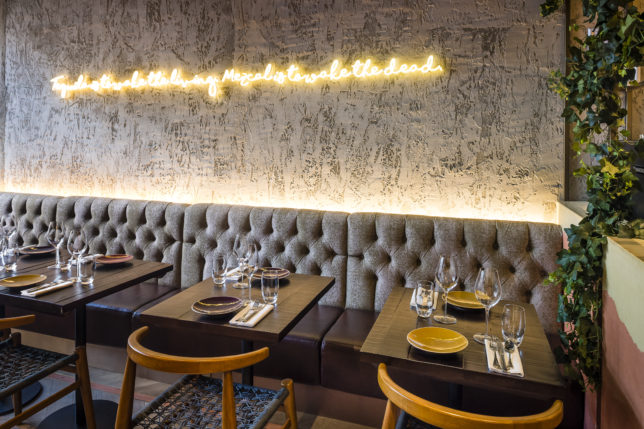 Open seven days a week, with approximately 65 covers, Peyotito offers incredible contemporary Mexican dishes mainly gluten and dairy free based upon six main areas, Ensaladas, Crudo, Tostadas, Masa, Cebiche and Mole. In addition, the weekends will serve a contemporary take on the classic Mexican brunch.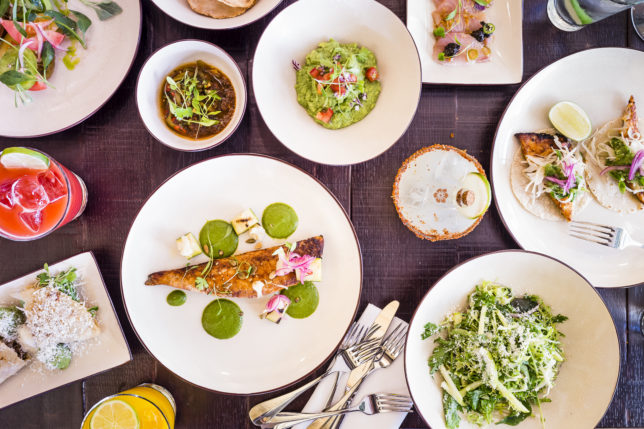 Highlights from the drinks menu include the tempting Mescalero, a twist on the classic Peruvian Sour and the signature Peyotito Margartia; a refined version of London's shaken Margarita with a spicy Tajin rimmed glass, blanco tequila, Cointreau, agave syrup, lime juice and Mezcal vial.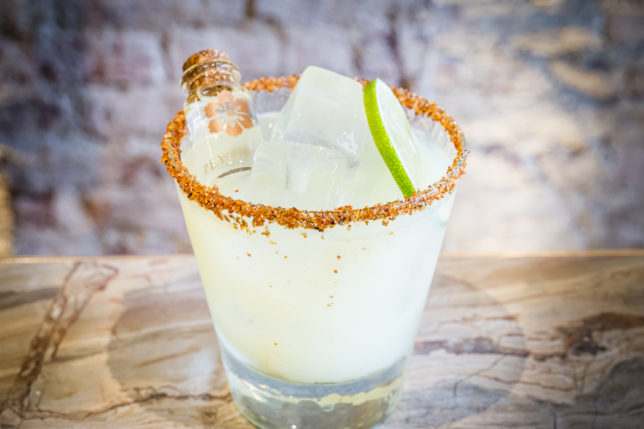 Peyotito is a cool, convivial destination for those wishing to share special moments with friends, family and lovers of Mexican culture. There is also a secluded private dining room for more intimate gatherings and celebrations, providing the ideal setting for guests to entertain in privacy. You can be reassured that Chef Garcia has ensured his exacting standards are met across all the dishes on his modern Mexican menu.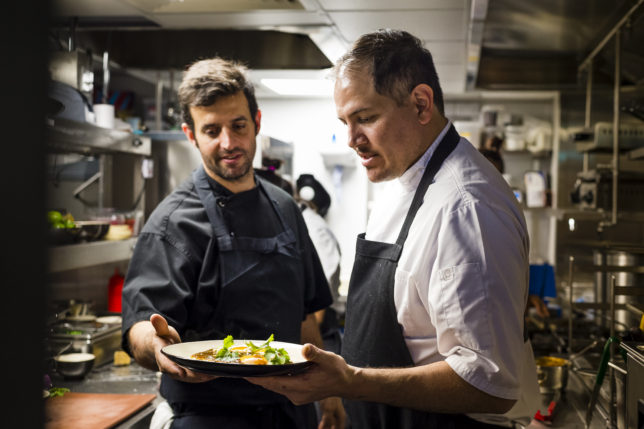 Peyotito provides an authentic flavour of modern Mexican sophistication in the vibrant heart of Notting Hill complemented by a tantalising selection of cocktails which are a great way to kick off this unique culinary adventure.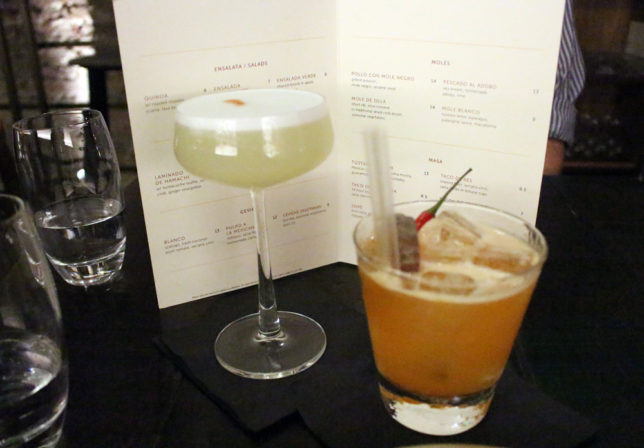 We sampled many flavours from vibrant chilli and smooth avocado to rich chocolate and the just plain delicious. With so many exceptionally dishes to comment on, we had a hard time choosing our favourites but the dishes that follow truly stood out from the unique menu curated by Chef Garcia. One of our favourite crudo dishes was the Aguachile de Camaron – king prawns with avocado puree, serrano chilli and green olive.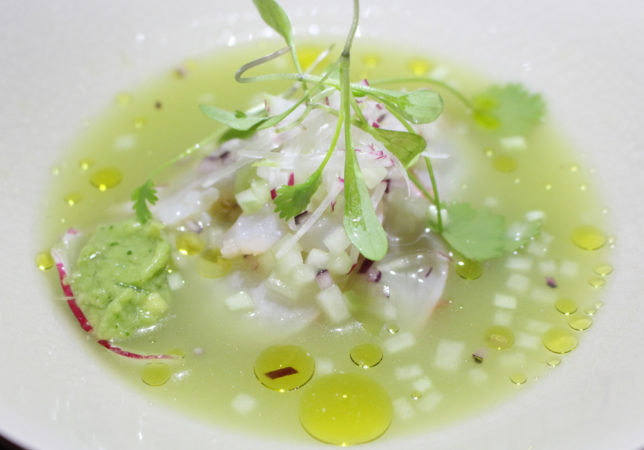 We recommend sampling the Blanco Ceviche made with scallops with delightful flavours from fresh coconut, plum tomato and serrano chilli.
Another ceviche dish worthy of mention is the Pulpo a la Mexicana Ceviche – tasty octopus served with salsa Mexicana and homemade clamato full of spicy savoury flavours.
Moving on to the mole dishes made with these authentic Mexican sauces, we loved the Pollo con Mole Negro – succulent grilled poussin served with mole negro and sprinkled with sesame seeds. The bold flavour of the Mole Negro made from dried chillies complemented the baby chicken beautifully.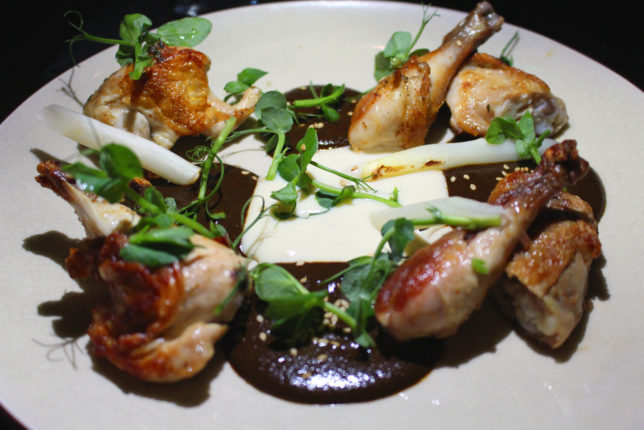 Another favourite from the mole dishes was the Mole de Olla – beef short rib is slow-cooked in traditional dried chilli broth to create this robust dish popular in the central sates of Mexico and perfect for the colder months we're facing here in the UK.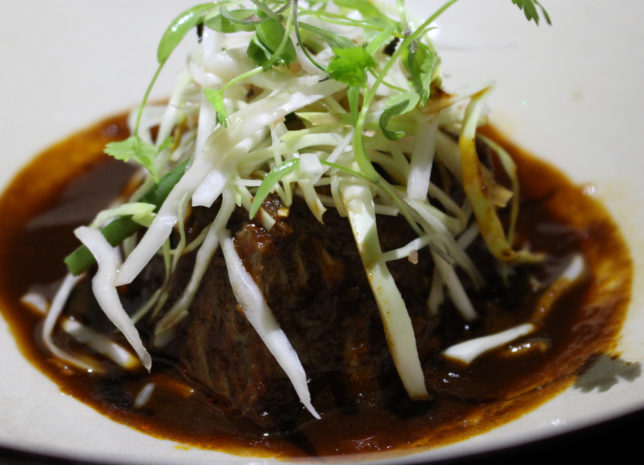 And to end our delicious culinary journey through Chef Garcia's modern Mexican menu, we decided to try two of the beautiful desserts on offer. I chose the Marscapone Cheesecake – a trendy deconstructed dessert served with cactus fig compote, fresh strawberries and vanilla ice cream.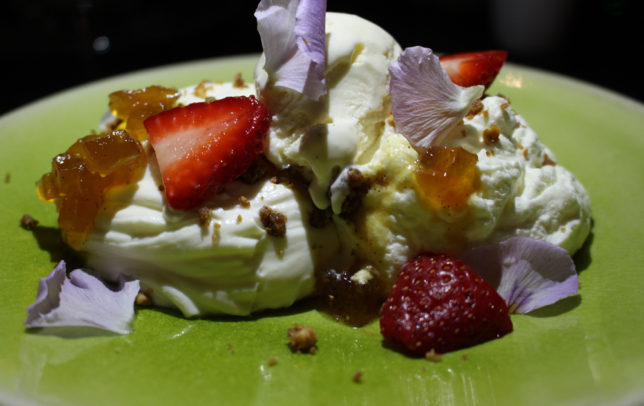 My dining companion kept things traditional and went for the Churro con Chocolate. This classic Spanish treat is very popular in Latin America and here the traditional deep-fried dough pastries are served with an indulgent chocolate ganache.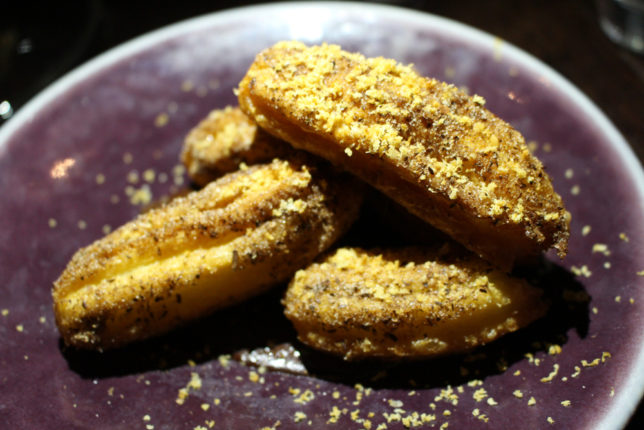 As you can see, Peyotito is a far cry from the typical Mexican 'Tex-Mex' cuisine we have been exposed to here in the UK. Eduardo Garcia's carefully curated menu offers a contemporary and refined Mexican cuisine that is predominantly gluten and dairy free served in light, intimate and casual surroundings.
Next time we have our eye on the Taco De Barbacoa – 24 hour braised English lamb served with salsa de chile guajilio and the Tostada de Atun – Yellowfin Tuna with salsa macha and guacamole puree. All the more reason to book a second trip to soon and reason enough why Peyotito is highly recommended by the SLOAN team!
Peyotito
31 Kensington Park Road, London, W11 2EU
www.peyotitorestaurant.com
020 7043 1400