Philips, the world's number one ironing brand, introduces the new PerfectCare Elite. Proven to be the world's fastest and most powerful steam generator to date; the PerfectCare Elite is designed to save you 40 minutes ironing time a week and will ensure perfect results on even your most precious clothes, giving you more time to do the things you love. Exclusive to the Philips PerfectCare range, OptimalTEMP technology makes ironing easier, faster and safer.
Unlike traditional irons and steam generators, Philips PerfectCare has no temperature dial and never changes temperature. Instead of a traditional temperature dial, it uses a smart electronic chip which ensures that the soleplate stays at one low temperature at all times which means it is safe to iron any fabric from linen to silk… that's right, we said silk!
We were very impressed with the Philips PerfectCare Elite Silence steam generator. The OptimalTEMP technology allows for an easier, faster and safer ironing experience. There was no need to pre-sort the ironing, fiddle around adjusting settings or waiting for the iron to heat up or cool down. We were able to get started straight away and finished the ironing in record time. Even delicate silk blouses and suit trousers could be ironed without leaving scorch marks or shiny patches.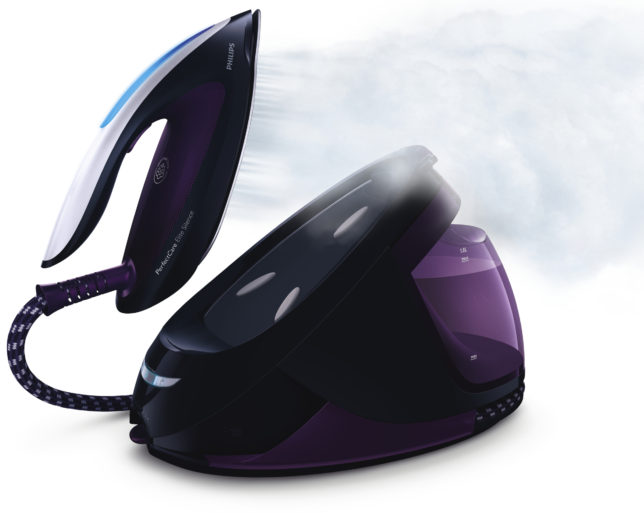 What also takes Philips PerfectCare steam generators to the next level of high performance ironing is the fact that the steam produced is so powerful that it doesn't need a hotter soleplate which means it can remove creases to give perfect results just like a traditional iron. So even though the soleplate stays at one low temperature at all times, the Philips PerfectCare steam generator is still effective on all ironable fabrics… even your most crumpled and creased linen and cotton items.
Unheard of with a traditional iron, Philips is so confident that you will never scorch your fabrics that PerfectCare steam generators come with a no-burn guarantee so you can iron all fabrics with guaranteed peace of mind. Not only that but studies have shown that people who usually spend 2 hours ironing a week can actually save as much as 40 minutes a week because with PerfectCare ironing is so much faster that it will give you time back in your day to spend quality moments doing the things that are really important or special to you and your family.
The PerfectCare Elite delivers more steam than any other steam generator, penetrating deep into clothes so you can speed through your ironing pile. With its steam power and consistency the PerfectCare Elite is able to claim the fastest ironing experience as tested in 2015. It also features Philips' revolutionary T-ionicGLIDE Soleplate technology with patented new coating for the most easy-gliding soleplate ever. The carefully designed shape and vent holes of the soleplate provide even steam distribution for easy crease removal, so tackling even the largest bundles of laundry becomes instantly more manageable.
Fitted with lightest iron in the Philips range, the PerfectCare Elite makes ironing faster and more comfortable, whilst still delivering great ironing. It is also ideal for vertical steaming – just the thing for curtains, jackets or any delicate garments. With additional features including an Easy De-Calc cleaning system, a large easy fill detachable water tank the PerfectCare Elite promises a new, carefree ironing experience.
Other features include:
Large 1.8L easy fill detachable water tank with empty tank indicator.
Quick Start: 2 minute steam ready, heat up time.
Vertical steaming: longer reach steam hose & safe glove accessory
Silencing technology to reduce noise from the pump and steam – watch TV in peace.
Safety Auto Off when the product is not used for 10 minutes
Safe carry lock, to securely transport and store your steam generator
Tested and approved by independent textile experts Woolmark, IWTO & DWI.
The Philips PerfectCare Elite range is available in store from John Lewis, from £320.