There's no hiding the fact that Scotland loves its gin. (Over 70% of British gin is made north of the border, after all.) Yet remarkably, there was no gin distillery operating in the city of Edinburgh until Marcus Pickering and Matthew Gammell opened the doors of Summerhall Distillery in March 2014.
The background is all a bit mixed up really. Summerhall Distillery is housed on the site of an old animal hospital, part of a veterinary school known locally as the Dick Vet. Or it was. Now it's a famous arts venue called Summerhall. With a pub in the middle of it called The Royal Dick. And they're next door. Edinburgh's first gin distillery in over 150 years. Where they produce their small batches of hand crafted, beautifully balanced, marvellously mixed Pickering's Gin.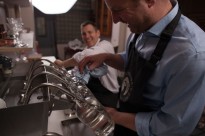 Marcus and Matthew – local entrepreneurs, business partners and old friends – single-handedly transformed the dogs kennels of the former animal hospital into a small but perfectly formed gin distillery. The still itself, affectionately known as Gert, uses an ingenious bain marie heating system. Custom-designed by Matthew, it holds the secret to the gin's spectacular smoothness.
Pickering's is based on an original Bombay recipe, handwritten on a fragment of paper dated 17 July 1947. Kept as a family secret for over 66 years, it only resurfaced in 2013 when Marcus and Matt began distilling at Summerhall. They took their time fine-tuning the recipe, perfecting its balance of 9 botanicals and tweaking it to the contemporary palate. The result is a smooth, soft, refreshing and flavoursome gin, which has gone down a storm with Edinburgh locals.
Pickering's has been the talk of the town since launch, perhaps aided by the charms of Ginny (a classic 1961 Austin A35) making deliveries in and around the city. But the delicious gin is making waves down south too, gracing the shelves of Harrods, Selfridges, Fortnum & Mason and a growing number of independent retailers.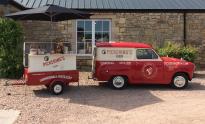 For a perfectly poured Pickering's & Tonic, try 50ml (double measure) of Pickering's Gin, 150ml Fever Tree tonic water, 4 medium Pickering's & tonic ice cubes – so your G&T doesn't dilute as you drink it – and a garnish of fresh pink grapefruit. It's also marvellous mixed in a peacocktail – recipes at www.pickeringsgin.com.