Aron Schlagman, Creative Director of WHiTEPAPER Event, shares his expert advice with SLOAN! Magazine on how to plan the perfect garden party this summer.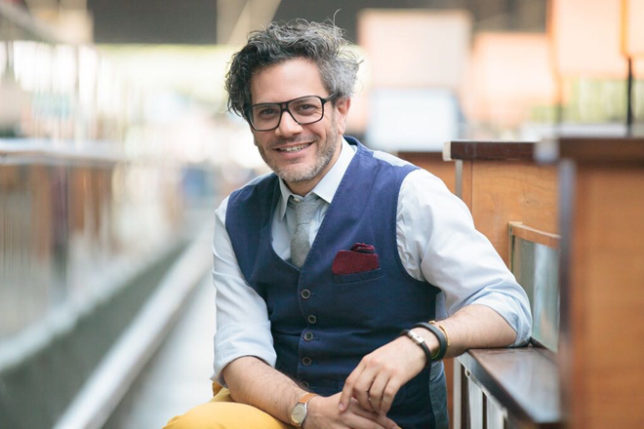 The warmer weather has arrived so what better excuse to throw open those patio doors and invite friends over for a fun, relaxing evening? A garden party is the perfect way to lift the winter mood and allow for a laid-back vibe, no matter the size of your outdoor space; although it requires creativity and clever planning, it needs not be a source of stress for the host – that would defeat the purpose after all! There are three areas you will need to tackle to ensure your summer party is memorable and classy.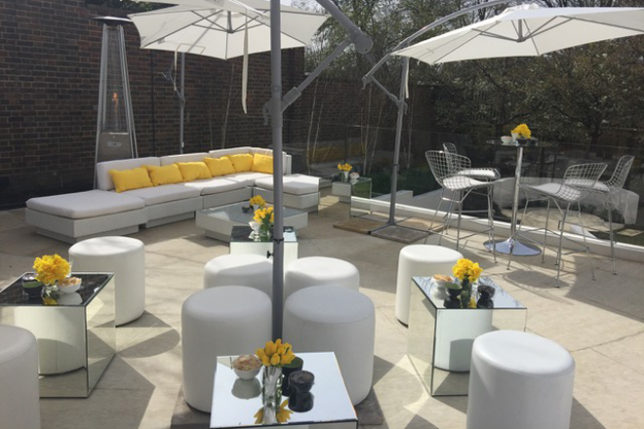 Get Inspired
Themed soirées are so popular right now! Decide on a quirky theme and maybe even colour scheme, such as bows or yellow (blame it on La La Land). You might even find inspiration in the change of seasons or even a classic novel (think Peter Pan or Alice in Wonderland). Whatever the occasion, state it on your invitations which you would need to send out at least three weeks in advance to avoid conflicting commitments. I am an advocate of consistency when it comes to event planning so I suggest your invitations match your theme; a ribbon, discreet drawing, lightly scented paper, or a tune in the case of email invites. Giving your guests a sense of the party's vibe will also help them decide on their outfit. You want to have an accurate guest count a week prior to your gathering as this will give you enough time to plan, shop and prep.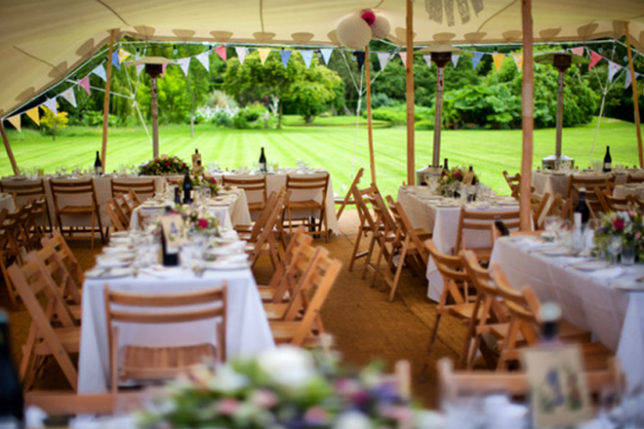 Set the Stage
Depending on the number of people arriving, you would need to make sure you have enough outdoor furniture. Make the most of the available space by dotting small folding tables and drum stools that can easily be moved around; you want to ensure your guests have enough room to mingle. For luxe lounging style, spread a pretty quilt and scatter a few cushions on the lawn or decking. Your leafy surroundings are great scenery but décor still matters. Hurricane lanterns and string lights on tree branches or perched on the fence will provide party ambience; opt for varying tones of a single colour for a chic look and go for soft, romantic lighting. Complete the setting with uplifting, background music that will not interfere with conversation; you can't go wrong with classic and upbeat tunes and wireless speakers to avoid tripping over cords. Give your guests a night to remember and treat them to an outdoor screening of a classic; create the perfect vintage/modern blend by using a white sheet on a clothes line for a screen, a high-tech projector for top quality image and bean bags for chilled-out entertainment. Finally, make rain plans as it's not unusual to have showers this season; if you do not have enough indoor space to accommodate everyone, you might want to invest in a large garden parasols.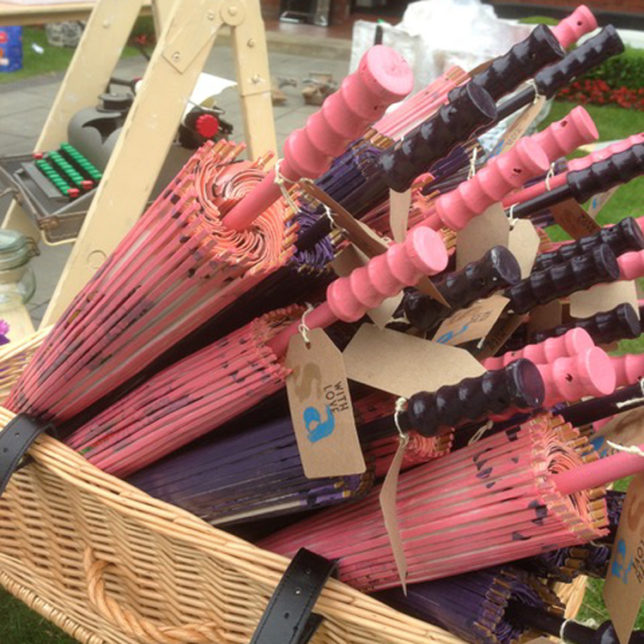 The Food and Drink
An easy and delicious option is to serve finger-friendly food made with seasonal ingredients, just make sure there's plenty of choice. Think cheese and charcuterie platters, cucumber stacks, roasted peppers and artichokes, chicken or shrimp skewers and dark green leafy salad; colourful macaroons, sorbet and succulent fresh fruits to finish. Alternatively, your meal could nicely tie in with your chosen theme; everyone expects mini sandwiches and Bakewell tarts at an Alice themed party! Choose an area in which create a food station to avoid acting like a waiter at your party. If you're lucky and the weather is warm, offer your guests an iced drink on arrival and then serve wine or bubbly with the food. Do not forget the movie lovers; a mix of salty and sweet popcorn will tie in seamlessly with the screening experience on offer! You should also have non-alcoholic drinks as an option. A common mistake here is to miscalculate quantities, so I would advise to stock up on food and drink to avoid running out.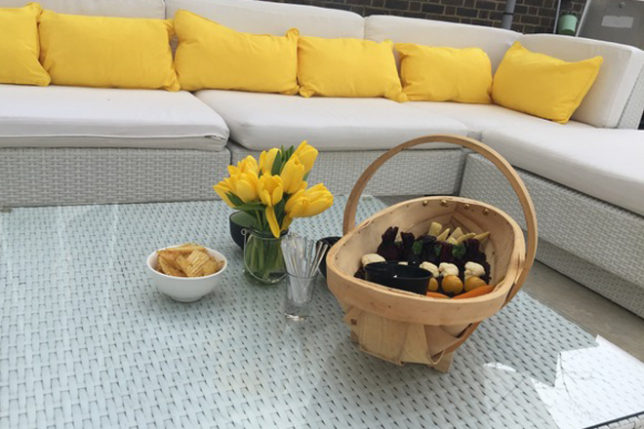 The main thing is to create a welcoming, relaxing and fun atmosphere that you and your guests will enjoy. Have a great summer!
About Aron Schlagman
Having started his career at the Savoy, as Senior Events Manager, Aron Schlagman quickly became recognised for his creative inspiration. His career path saw him work for leading brands including Goldman Sachs, Four Seasons, Tiffany & Co, Quintessentially, Coca Cola, Cartier.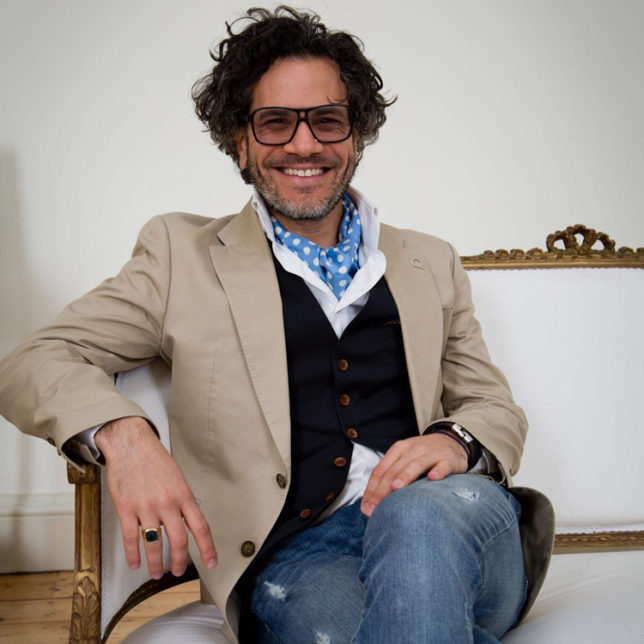 Highlights have included launching and expanding Quintessentially Wedding Atelier and hosting the most lavish Bat Mitzvah at Claridges with a million-pound budget. He founded WHiTEPAPER Event three years ago, and as its Creative Director Aron has directed and creatively inspired thousands of events.
About WHiTEpaper Event
Founded in 2013, WHiTEPAPER Event specialises in creating unique events to celebrate any occasion. Led by Aron Schlagman the creative who brought Alice Through the Looking Glass to Life. The WHiTEPAPER Event team love to come up with ideas to engage and excite; whether that is for a christening, wedding, Bat/Bar Mitzvah, corporate party or simply a party thrown on a whim. Combining advanced digital technology in lighting and sound with traditional event methods, they ensure that every event is one that all guests will remember. To find out more, please visit www.whitepaperevent.com