It was at Photokina 2016 around this time last year that we first heard about Polaroid's exciting global release of the much anticipated Polaroid Snap Touch instant digital camera. A year on, the Polaroid Snap Touch is still able to stir the reimagination of Polaroid's long heritage of instant photography stretching back over 80 years.
With the Polaroid Snap Touch, Polaroid offers the traditional instant photography experience it's known for with exciting features specifically aimed at today's digital user. The Polaroid Snap Touch follows in the footsteps of the highly successful first generation Polaroid Snap. The new instant digital camera has several new features that makes sharing even easier and more fun than before.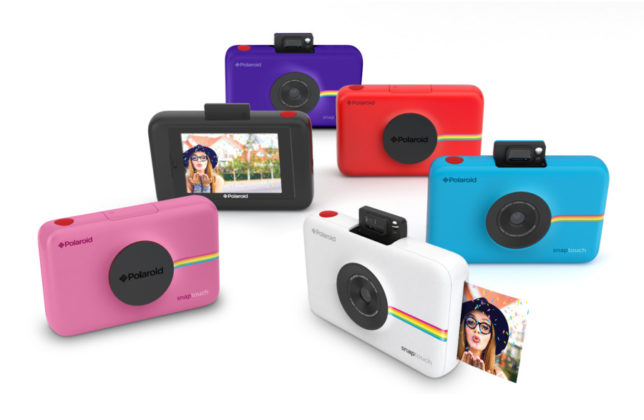 Speaking at Photokina 2016, Scott W. Hardy, President and CEO of Polaroid, commented: "As the original pioneers of instant photography, we at Polaroid have been dedicated to bringing products to market which fit our brand DNA of instant gratification, sharing, and fun throughout our history. Today, we're focused on designing products which meet the needs of modern consumers, but still trigger the emotional response of our legacy Polaroid cameras. There's no better example of this than the Polaroid Snap. The instant digital camera boasts a fun and exciting design that's unlike anything else on the market, and we're incredibly excited to debut its successor, the Polaroid Snap Touch."
Polaroid Snap Touch incorporates a wide range of cool features for an enhanced instant experience including a 3.5" LCD touchscreen for framing shots and navigating the camera's menu, an amazing 13 megapixel CMOS sensor for higher-quality images as well as 1080p full HD video recording capability. All images and video are stored on a micro SD card (up to 128GB) to allow for sharing later.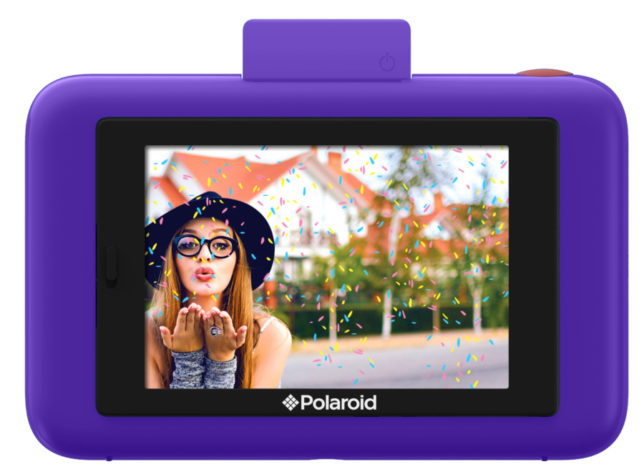 Integrated within the Polaroid Snap Touch is a printer which uses ZINK® Zero Ink Printing Technology. This gives consumers the ability to capture and instantly print full-color, 2×3" photographs, all at a significantly lower cost than traditional instant film prints. The Polaroid Snap Touch is ideal for today's selfie shooters thanks to a self-timer and the addition of a fun selfie mirror that ensures the user is framed perfectly in the shot. Additionally, the instant digital camera offers three colour modes—black and white, colour, and vintage sepia—with the option to print with or without the iconic Polaroid Classic Border Logo.
Thanks to the versatility of Bluetooth connectivity and integration with the Polaroid Print App, users are no longer limited to just printing photos captured by the camera itself. Using Bluetooth and the app, users can pair the Polaroid Snap Touch with other devices such as smartphones and tablets to transform the device into an instant photoprinter. The app, available free for iOS and Android, also gives users the ability to edit and enhance images saved on other mobile devices using a number of creative filters, digital stickers, effects and controls, and then print via the Polaroid Snap Touch. Exploring the Polaroid Print App allows users to unlock trophies and other fun hidden features. No matter what device their images are taken with, they'll be able to share the fun with their own creative flair.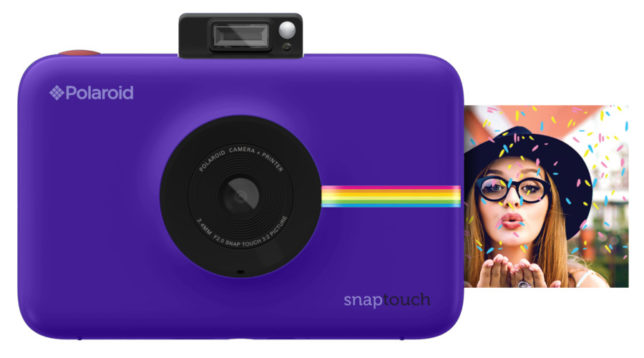 The Polaroid Snap Touch was designed in partnership with renowned design firm, Ammunition, the studio that was also behind the Polaroid Zip instant photoprinter and Polaroid Cube and Polaroid Cube+ lifestyle action cameras. With the Polaroid Snap family of instant digital cameras, Ammunition created a sense of continuity between classic Polaroid cameras and current Polaroid products. Led by industrial designer Robert Brunner, Ammunition is the design studio behind award-winning consumer brands including Adobe, Beats by Dre, Square, Lyft, and Williams-Sonoma.
Polaroid is still using the amazing ZINK Zero Ink® Printing. The camera's ZINK-enabled printer uses heat to activate and colorize cyan, yellow and magenta dye crystals embedded in the Polaroid 2×3" premium ZINK Paper®. The result is full-color, high quality, long-lasting and smudge-proof images without ink cartridges, ribbons or toner.
ZINK 2×3" photos print in just under a minute so consumers can instantly share the photo with their friends and family. Additionally, ZINK Paper is adhesive backed so the photo can be used as a sticker as well.
The Polaroid Snap Touch instant digital camera costs £159.99 from Argos.