For those of you following @SloanLoves on Instagram and Twitter, you will already know that we attended the La Martina Polo coaching event at Ham Polo Club to get in the swing of things ahead of Chestertons Polo In The Park. Champagne Lanson were there to make sure bubbles were on hand to celebrate the wins and soothe the losses after a fabulous day learning new skills and making new friends on and off the field.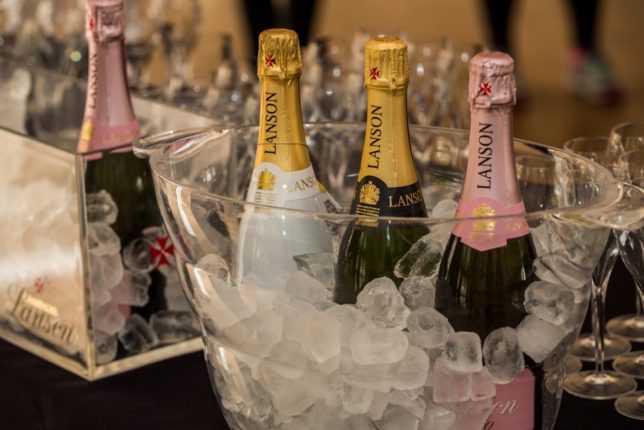 Our coaches were two of the sport's most talented and inspirational names – Malcolm Borwick, the England International Polo Player and gentleman once described as "Roger Federer on a horse" joined by Ebe Sivewright,  the renowned Argentinian Polo Champion who now manages Guards Polo Academy. Who better to teach us how to play Polo and take our skills to the next level than these two heavyweight players from the prestigious world of Professional Polo.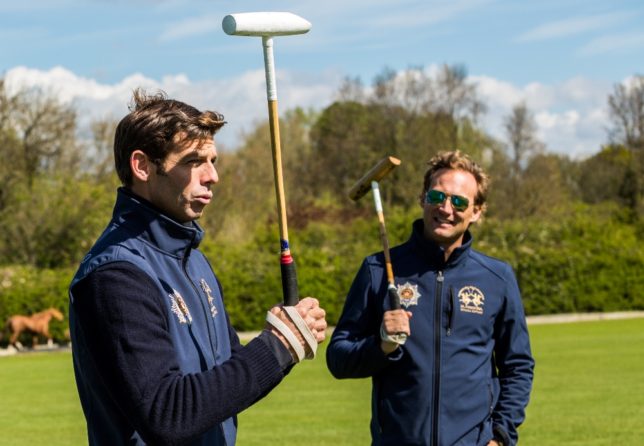 For those interested in learning to ride and play Polo for the first time, we guarantee that lessons are not only super easy but also lots of fun. After listening to Malcolm and Ebe discuss the art of polo and the basic rules and techniques of the game we couldn't wait to get on a horse and start swinging our polo sticks.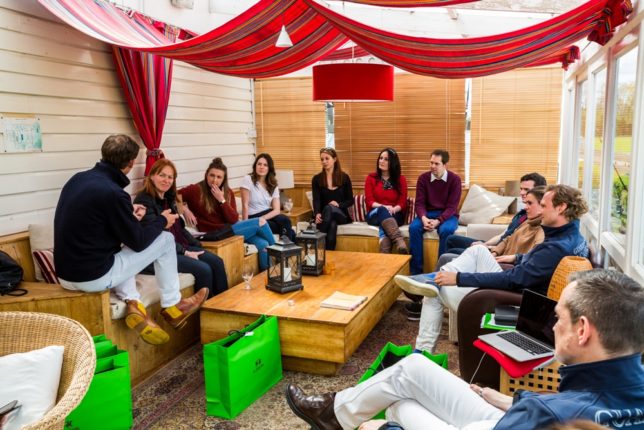 However, we had to master the basics before getting anywhere near our equine athlete Polo ponies so our first lesson was using a mini polo stick with both feet firmly on the ground…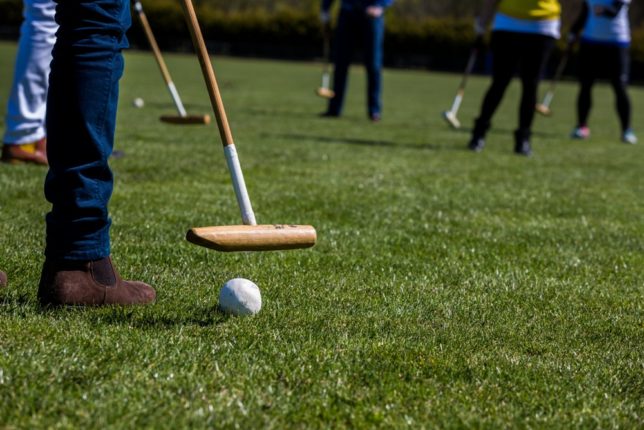 We received expert coaching from Malcolm Borwick who demonstrated the classic pose of stretching right back to show off the logo… just be careful which way the camera is pointing!
Then it was time to straddle our wooden ponies to really put our swinging skills to the test dressed in some stylish La Martina polo gear…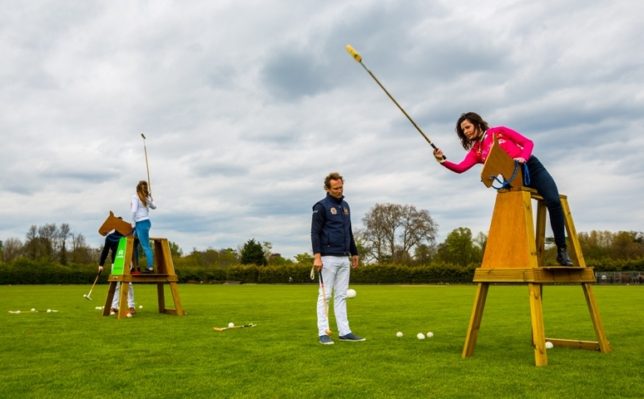 Before progressing to stepping into the saddle on our wonderful ponies…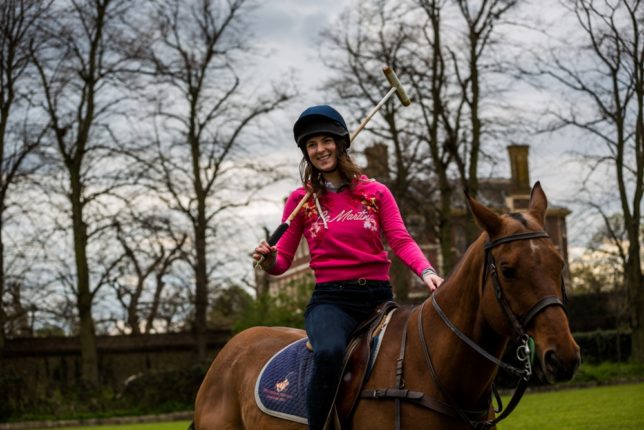 And practising hitting the ball… first using a larger ball and as our skills improved, the ball got smaller… until we were ready for our first practice game.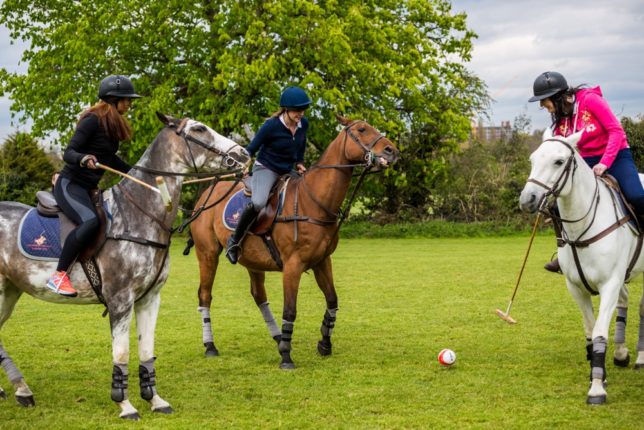 Our thanks to La Martina and Champagne Lanson for organising such a fantastic day in association with Guards Polo Academy – we were part of a great group of beginners who all put 100% effort into learning how to play polo like a virtuoso!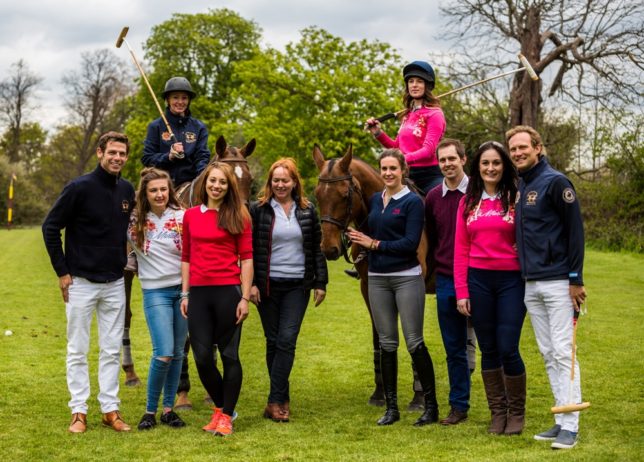 After our fabulous experience learning to master the art of Polo, we caught up with Malcolm Borwick himself for a in-depth interview to find out more about the man behind one of England's best professional polo players. Here's just some of the engaging insights Malcolm told Sloan Sheridan-Williams during the interview…
Sloan: "What attracted you to the sport of polo?"
Malcolm: "I started playing when I was 10, so I can barely remember! I think it was the fact that polo is combination of all sports that appealed to me, the teammates, the tactics, the horses and the speed."
Sloan: "Am I right in thinking in a match you reach speeds of 30 to 45 mph making polo a high adrenaline sport. How do you keep switched on and focused during the chukkas?"
Malcolm: "We do reach speeds of 45 MPH, the horses we ride are effectively racehorses that have been trained to stop and turn. They are the ultimate equine athelete in my mind. It is reaching those speeds and the adrenaline that is coursing through your veins that keeps you focused during the matches, and often for hours after a match."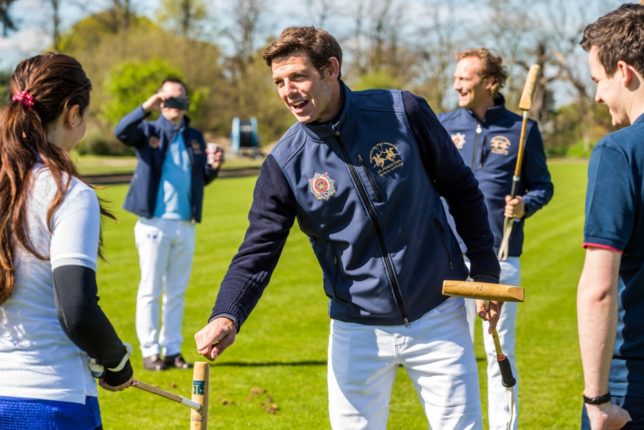 Sloan: "We'd love if you could elaborate on the different personality types for each position."
Malcolm: "There are 4 positions on a polo field and each one has a role, and their character is very clearly reflected in their role within the team…"
"Number 1: The Goal Scorer, or the glamour player. An offensive player whose only role is to score the goals. He tends to be the glamorous player, or the party goer…. Not one to do the dirty work in defence and always goes home with the best looking girl at the party!"
"Number 2: The Jack Russell, the engine room of the team. An offensive midfield player who has to work tirelessly throughout the match trying to break up the opposition's play. Typically a really good team player who may be less comfortable in the limelight, but you really notice when they are absent. Imagine your really hard working PA in the office who never gets a mention until they off sick… Then the wheels fall off. That is your number 2."
"Number 3: The General, the tactician and playmaker. The number 3 is the CEO of the business, setting strategy and controlling the tempo, they have to have a cool head, but have leadership qualities that would make you want to follow them "over the top"."
"Number 4: The Wall, the defensive player. The role of the number 4 is to stop the opposition number 1 from having a good day. Always thinking of the worst possible outcome of any given situation, negative in nature and physically dominant. They are the rock upon which teams are built."
Sloan: "If there was ever a Celebrity Polo Match (with non professional players) who would you choose for your perfect polo team of 4 players and why?"
Malcolm: "Number 1: Prince Harry, I have had the chance to play a lot with Prince Harry raising a lot of money all over the world for his charities, he brings so much fun and charisma to the events he plays in, and that aside is a very good player.
https://www.instagram.com/p/BFBvhofr-8O/
Number 2: Sylvester Stallone, famous for describing polo as; "like playing golf during an earthquake" but he would be a devastating number 2.
https://www.instagram.com/p/BGChltGFnyh/
Number 3: Winston Churchill, my General of Generals. Without doubt the most inspirational leader this country has ever had, and also a keen polo player.
Number 4: Ghengis Khan, I am not sure many people would have got passed him!"
Sloan: "I saw recently on social media an adorable video of you and your little one with a polo stick. How would you feel if your children followed in your footsteps and what advice would you give them to be a professional polo player?"
https://www.instagram.com/p/BDPRfA3r-3p/
Malcolm: "That was a very cleverly edited video! My son is only 3 and must have made 20 swings to get the one that he actually hit it! I would love to play polo with my children one day, the sport is principally a family sport, and as they say those who "play together stay together". Whether I would encourage them to play the sport professionally is another conversation. It is a very tough world in any professional sport, where the spoils are shared amongst the very few. The risks are high, and the the competition fierce. I have had to forge my own way coming from a non polo background, I did not understand the importance of the horses until really late in my career, my children will have the advantage that I will choose them horses from the outset. What I call "standing on the shoulders of giants", my knowledge will short cut them to a certain point, from there it is up to them and their work ethic to take advantage of that head start."
Sloan: "Polo has been referred to as the Sport of Kings which enables its players to give back. What charities do you support?"
Malcolm: "I have been very lucky to have been involved the Royal Salute Sentebale Cup for the last 6 years, the Sentebale Charity is Prince Harry's charity that is transforming the lives of HIV sufferers in Lesotho. He founded the charity having spent time there on his GAP year, and now is expanding the program over all sub-Saharan Africa. Working with a lot of high profile luxury brands I have seen a great deal of good will, and willingness to do what I call "philanthropical marketing" marketing with a dual purpose. Raising brand equity whilst actually making a difference in people's lives. This summer you will hear a lot about the Sentebale Charity as Prince Harry has just announced a concert that Coldplay will be doing in Kensington Palace at the end of June."
For the full interview, check out the July 2016 edition of SLOAN! Magazine.
Chestertons Polo In The Park is a great way for those new to the sport to experience Polo for the first time at an accessible level. Taking place at Hurlingham Park between 3-5 June, it's a great day out for friends and family and the perfect way to enjoy one of the most sociable events in the Polo Season. You can learn more about the history and art of Polo in Sloan Sheridan-Williams' article: Polo 101 – Chukka This Out!
We were delighted to attend the draw of the teams for Chestertons Polo In The Park at The Mandarin Oriental Hotel in Knightsbridge. The players looked fabulous in their Polo shirts and boots – La Martina certainly know how to kit out the boys!
In the past, Polo may have been seen as an elitist inaccessible sport known for being the Sport of Kings. While royalty still play today (Prince Harry and the Duke of Cambridge are both fine polo players), professional players like Malcolm Borwick are keen to highlight that these days the old barriers are being broken down so that more and more people are not just enjoying the spectacle of the sport but also picking up a polo stick and playing polo at an amateur level.
After our first experience of this exhilarating sport, we definitely got bitten by the Polo bug and can't recommend it enough! Whether you attend Polo In The Park this summer or go down to Windsor for a lesson at Guards Polo Academy, you can be sure of having a wonderful time immersing yourself in the wonderful world of Polo. Chukkas away!