Porky's BBQ on Fulham Road is the new home of Memphis inspired BBQ in Chelsea and the fifth restaurant opening for this family run business owned by Simon and Joy who brought the amazing barbecue flavours of the Deep South to London after falling in love with Memphis BBQ on their numerous U.S. road trips.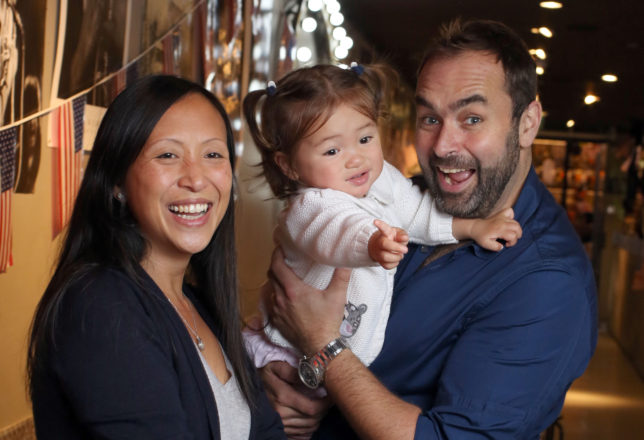 The Porky's logo is a tubby pig looking cool in his shades on the menu… cool in the knowledge that Porky's BBQ is bringing happiness to the people of Chelsea with their meaty delights. The pig motif is celebrated on the menu and walls.
The staff are friendly and helpful especially James – a genial chap who made us feel at ease and well looked after… although his fabulous cocktails helped us forget about the working week (including a bespoke shooter he made for us which we dubbed Cherry Cherry Bang Bang!). Suitably revived, we opened up the menu. Such choice! And a very reasonable summer special…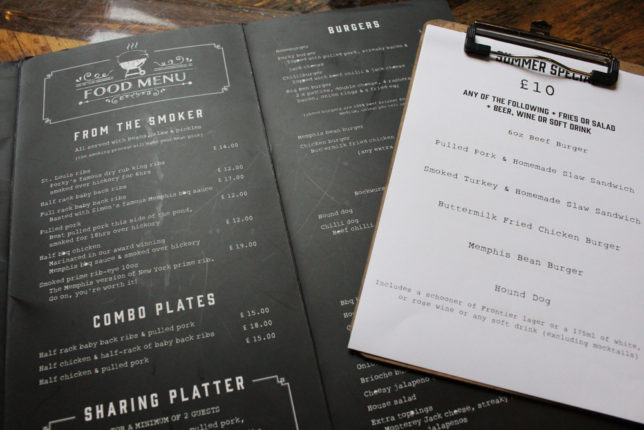 We enjoyed some typical Southern hospitality with a round of drinks before delving into the Memphis BBQ menu. James served a summery Bourbon Street Cooler – Early Times Whiskey, peach, lemon and pear juice – and a bespoke concoction for cherry lovers of maraschino, amaretto, cranberry juice and lime. The Beer Bong tables are also available here in Chelsea as well as Bankside, Boxpark and Crouch End.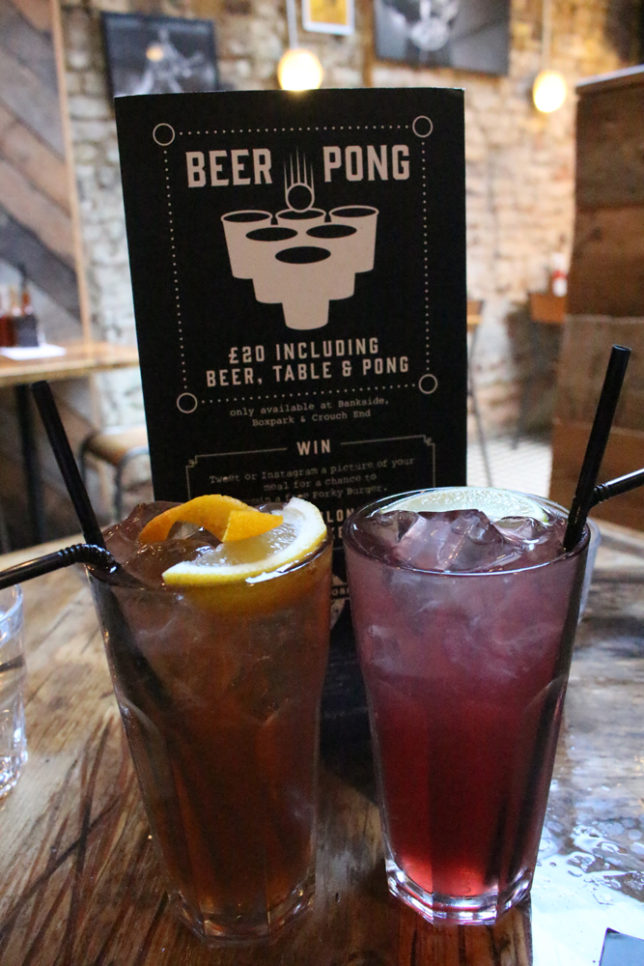 Small plates are offered to start… the title is deceptive in a good way. These plates are anything but small so bring your appetite with you or remember that sharing is caring. We kicked things off with the Hot Wings… seriously hot in what looked like a homemade chilli sauce… dare we say better than a certain bottled hot sauce often served with chicken wings. These spicy smoky wings were of Buffalo proportions (with a capital B) and looked impressive when presented to the table as you can see…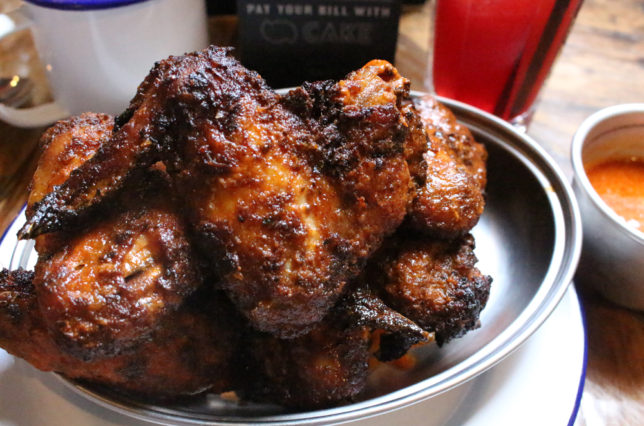 Welcome to #CarnivoreHeaven! We also shared a Mug of Beef Chilli… again that mug is deceptive as the contents were easily enough for a main course for those with small appetites… but don't forget, sharing is caring!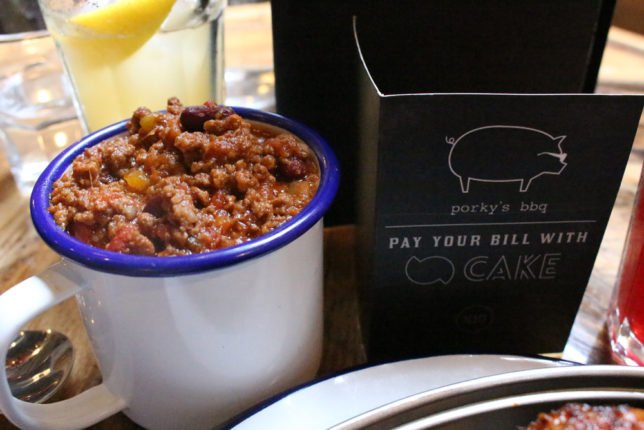 The Chilli was the perfect comfort food. Meaty, good consistency, with its fair share of red kidney beans and just the right kick without being overpowering.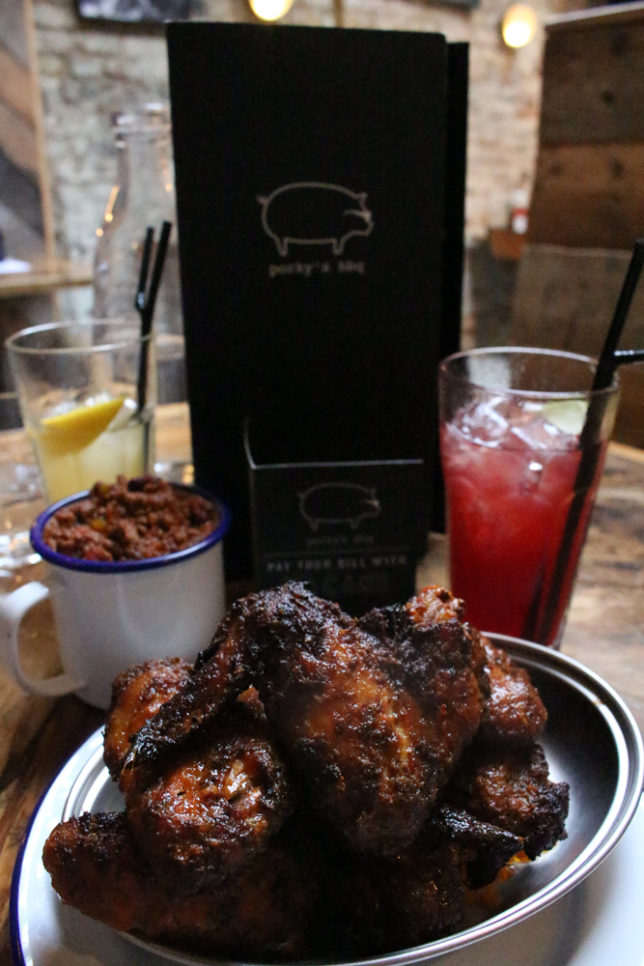 After the generous starters it was time to sample some more of James' expertly mixed cocktails. This time we went for the Lynchburg Fruit Cup with Jack Daniels, Mandarin Napoleon, Dubonnet, Lemon and Ginger Ale. From the fruity to the floral, my dining companion kept things light with a Virgin Southern Blossom which was a delightful blend of syrups of hibiscus, rose and raspberry with a squeeze of lime topped up with soda. Sweet, refreshing with floral aromas… the perfect drink for summer.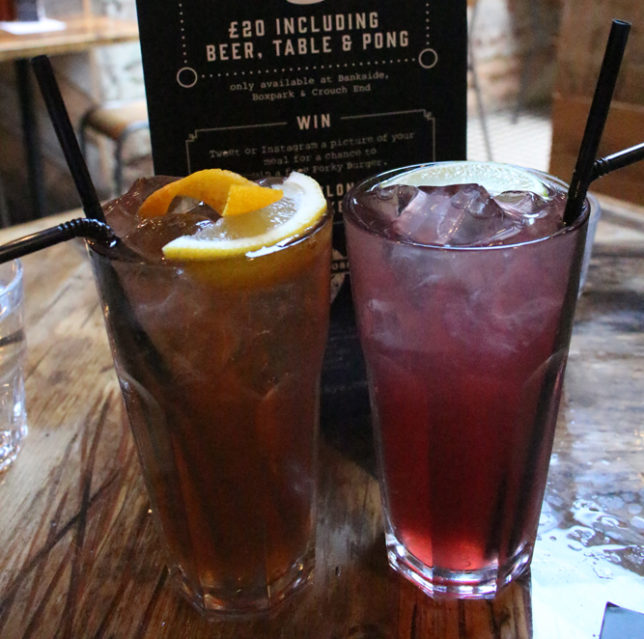 Time for the main event which took Carnivore Heaven to the next level! The Big Ben Burger… instantly Instagrammable… join the fun and use #porker when sharing your meal here on Instagram for a chance to win a free meaty burger courtesy of Porky's!
Social media aside… this burger is a whopper… two juicy beef burgers topped with bacon, cheese, onion rings and a fried egg with an unctuous barely set yolk all sandwiched between a soft toasted bun. The cocktail stick just about held it all together long enough for us to photograph this piece of Carnivore Heaven before it was duly demolished.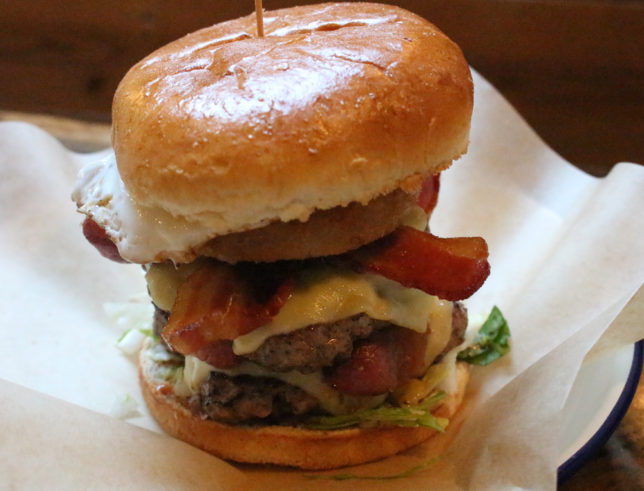 Another carnivorous feast is the St Louis Ribs… smoked over hickory for 6 hours with the famous dry rub on these two slabs of king ribs. Meaty goodness right down to the bone! Usually served with beans, slaw and pickles but we swapped this out for some fries.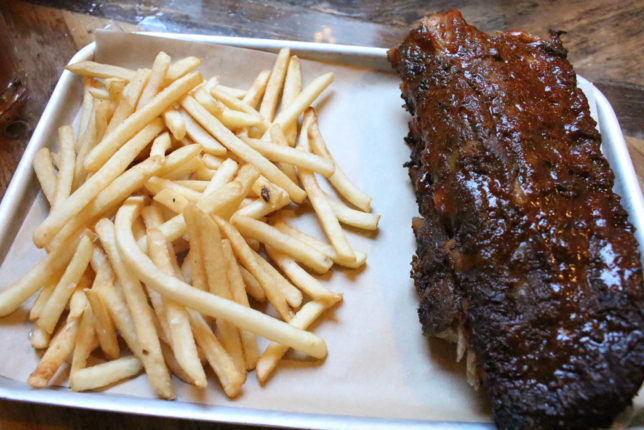 To accompany your Memphis-inspired meat dishes, each table has a selection of sauces including Heinz Tomato Ketchup, smoky BBQ, fiery Chilli and a traditional Sop Mop Sauce which James told us is the perfect sauce with Porky's Pulled Pork which is smoked over hickory for an amazing 18 hours… they're quite literally smokin'!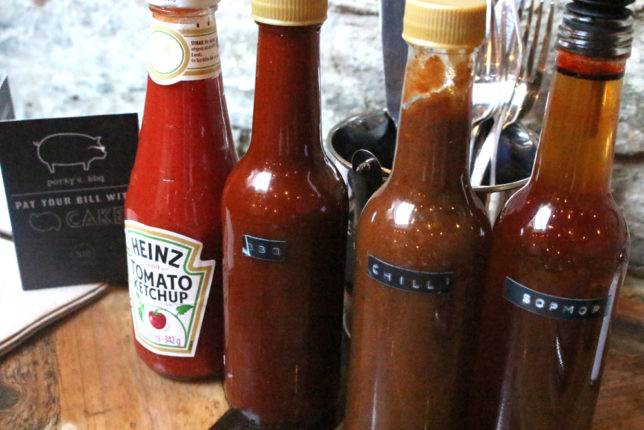 If you have any room after all that meat, the desserts here are reassuringly familiar American classics like Chocolate Brownie and Cheesecake but for something a little different but still very Americana for dessert try the Banana Pie… a rich biscuit crumb base topped with bananas and a cool creamy sauce that looked like condensed milk but was sweeter, thicker and chilled to perfection. Not a light dessert but certainly a good choice to cool things down after all that smoky meat.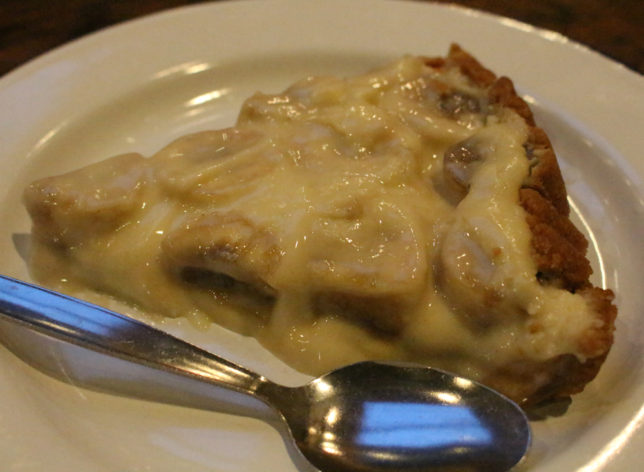 In celebration of National Burger Day (25th August) and National Dog Day (26th August), Porky's BBQ has launched the UK's first burger for dogs. The exclusive Bow Wow Burger is offered at all five Porky's BBQ restaurants which are all dog friendly. The Bow Wow Burger itself was developed in partnership with homemade dog treat specialists Murphy's Bakery. They are wheat and gluten free, as well having no additives, preservatives, salt, sugar or artificial colourings.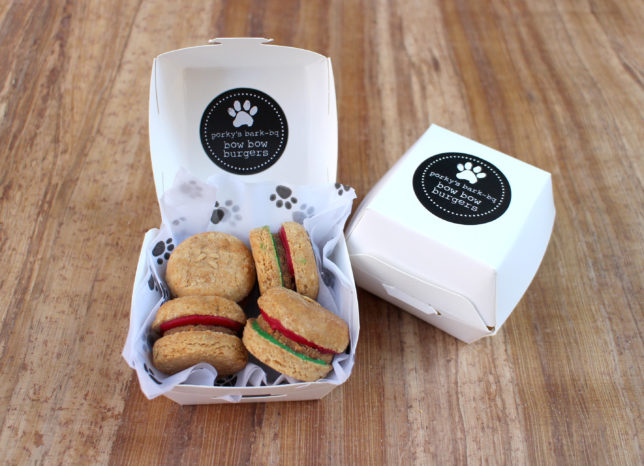 Fulham Road is firmly establishing itself as a Haven of Yumminess with the likes of Orange Elephant, Goat and now Porky's BBQ making the neighbourhood a better place one meaty mouthful at a time. If you're in the mood for homestyle Memphis BBQ, generous portions and warm friendly hospitality then we definitely recommend checking out Porky's BBQ in Chelsea with other locations in Camden, Bankside, Boxpark and Crouch End.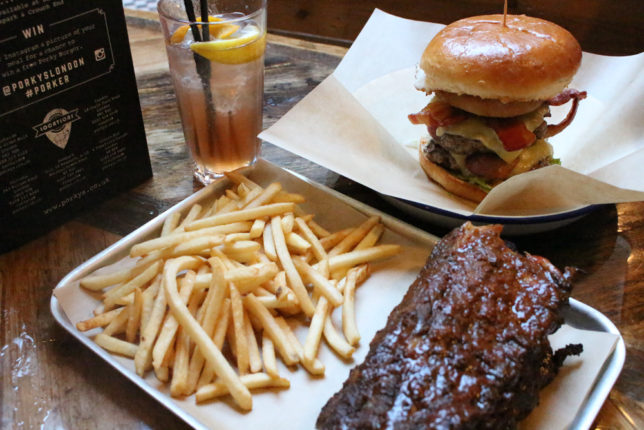 Porky's BBQ Chelsea
343 Fulham Road, London SW10 9TW
020 8127 8240
www.porkys.co.uk
@PorkysLondon