Arriving at the Rococo Chocolate's Motcomb Street store for a special Graham's Port and chocolate tasting event, I couldn't wait to savour the premier flavours created by two wonderful brands such as Graham's and Rococo. Stepping across the threshold of Rococo's Motcomb Street I was whisked through the shop and downstairs to their lovely garden where the team were set up for the exciting evening ahead.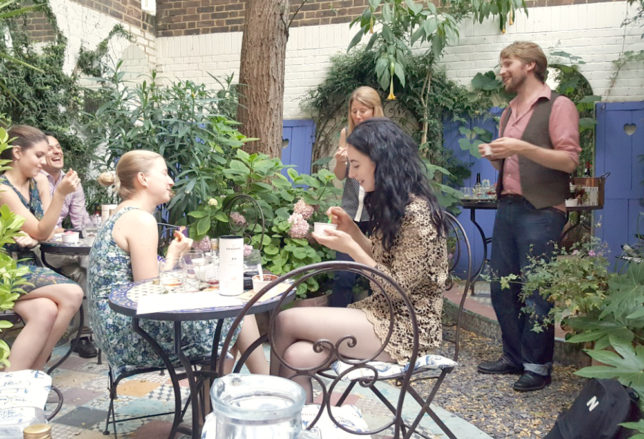 Having been greeted with a summer cup ruby port cocktail it was time to kick back and take to the shade while admiring the urban view. Can you spot our feathered friend who dropped in to enjoy the party.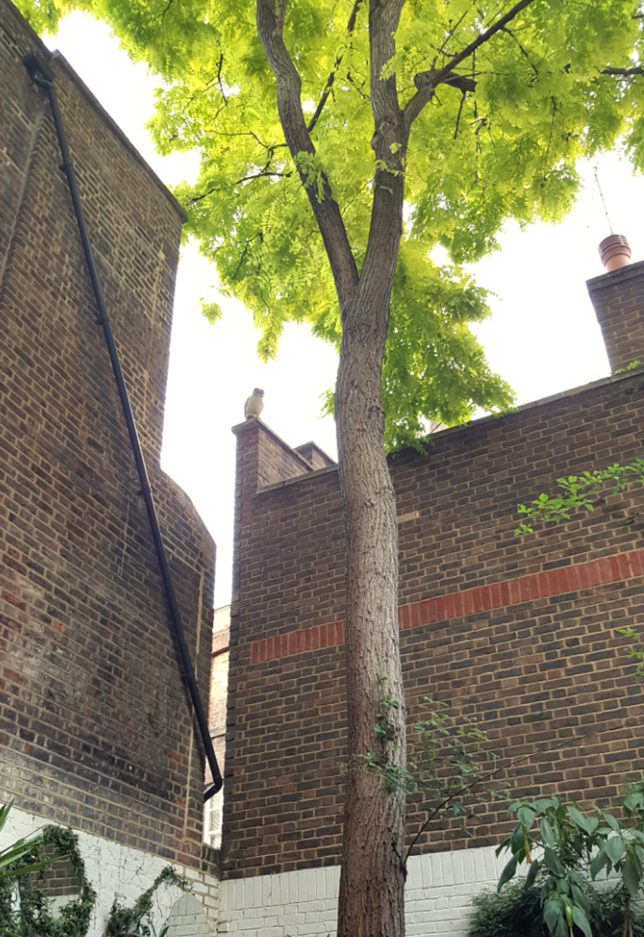 First up from the chocolate plate we were taken on a journey to Roald Dahl's BFG with an inspired 'Frobscottle and Snozzcumber' white chocolate bar. Who could resist such an interesting combination, the recipe is a secret but finding an essence of cucumber to add to the chocolate is inspired and whisks you to a world where the pages of the BFG come to life in the most delightful way right there on your palate.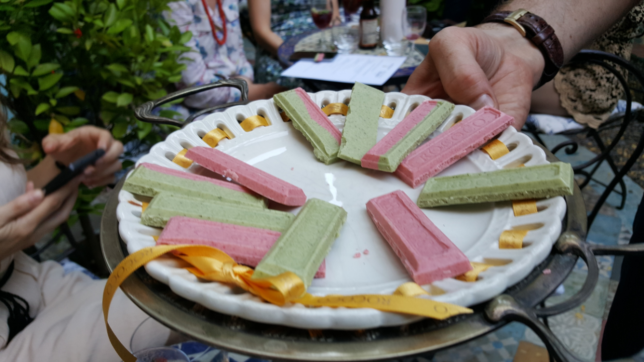 The next sweet to tantalise the taste buds was a master piece. Rococo Basil and Persian lime dark chocolate.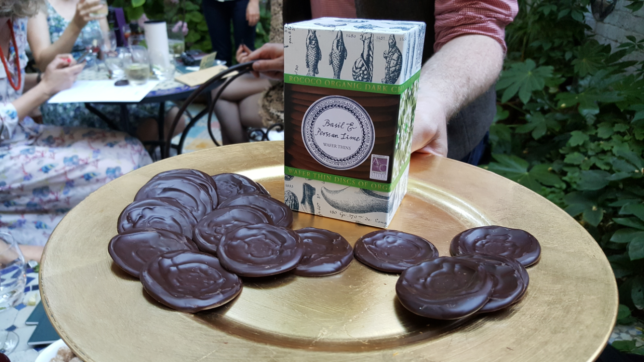 The sharp flavours were paired beautifully with Graham's white port and tonic. The flavours combined together creating an ultimate taste of indulgence in the mouth.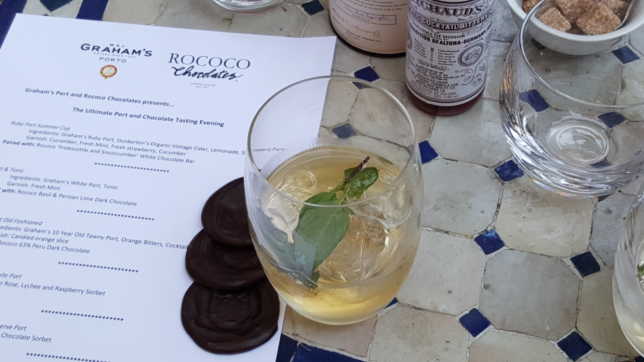 The next tasting was a great lesson. As you may know I love an Old Fashioned whisky cocktail so when I was told to try a Tawny Port style old fashioned I couldn't wait… best yet I was to make it myself. My immediate thought was to get my ingredients together and sugar crushed as it can take a lot of stirring to fully complete a good Old Fashioned. 2 minutes to be precise. We used Graham's 10 year and I wasn't disappointed. The pairing of Rococo 63% Peru Dark Chocolate complimented by beautiful candied orange slice enrobed with more chocolate which set up my palate to savour the heavenly honeyed nuttiness of the 10 Year Old Tawny Port.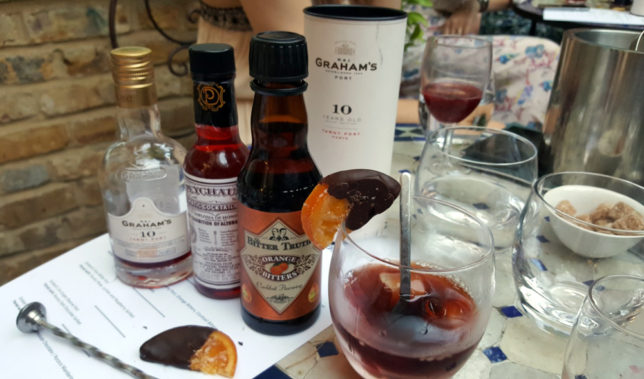 For our next pairing we presented with a beautiful handmade sorbet from Rococo. The Rose, Lychee and Raspberry Sorbet drenched in chilled Graham's Fine White Port was a wonderful way to cool down on one of the hottest evenings of the summer.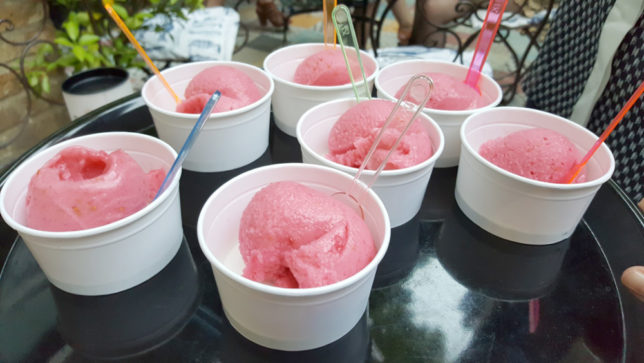 The evening continued with a six grape reserve port paired with a chocolate sorbet and finished with Graham's 20 year reserve drawing our tasting adventure to a close. I did find out this fun fact on my journey, I haven't attempted it yet… but if you wish to remove the sediment from a vintage bottle of port there is a life hack. Perhaps it's late at night and your friends are all over, all you have to do is run up to your girlfriend's bedroom drawer, extract a pair of tights and use those instead of a muslin cloth. No technical questions about which denier tights please. For those who wish to be a little more prepared I believe Amazon sell muslin cloth which is always good ot have in teh house if you have a nice bottle of port waiting for that special occasion.
The evening as a huge success and the intriguing combinations of Port and chocolate really opened my eyes to taking my appreciation of port to the next level of taste sensations when paired with such wonderful chocolate as that created by British brand Rococo.
For those of you who are interested in finding out more about Rococo Chocolate, the brand was founded by Chantal Coady OBE, who has been pioneering the artisan chocolate movement in Britain for over 30 years.  Rococo's Couture chocolates, handmade in London, have won acclaim from the Academy of Chocolate, International Chocolate Awards and Great Taste Awards.
If like me you are a fan of port, you are guaranteed to be in for a treat with Graham's. Renowned worldwide for producing outstanding Vintage Ports, Graham's also makes a range of Aged Tawny Ports, Late Bottled Vintage, Reserve and Quinta dos Malvedos Vintage Ports. Graham's is owned by the Symington Port-producing family. The Symingtons have been Port producers for five generations since 1882.  The family company is a leading quality Port producer with brands such as Graham's, Cockburn's, Dow's and Warre's as well as being the leading vineyard owner in the Douro valley.