National HIV Testing Week takes place between 19th and 26th November 2016. This year Positive East has launched a special Pokémon Go HIV Testing Campaign Video to raise awareness about HIV testing. The campaign uses Pokémon Lures near to testing sites to draw Pokémon players towards their own version of a Pokéstop – the HIV stop – where players are educated on the importance of getting tested and encouraged to get a free HIV test there and then.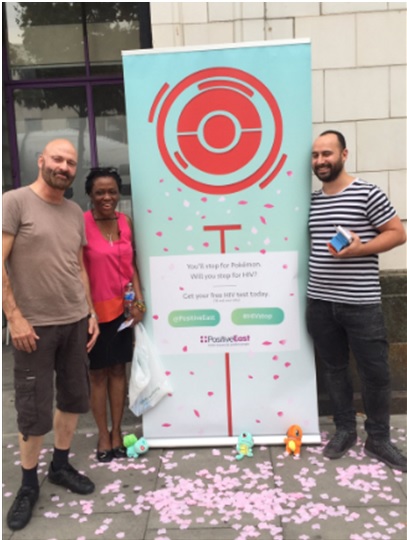 The aim of the campaign is to encourage people to have an HIV test and know their status. 12% of Londoners with HIV remain unaware of their HIV status with 37% of all diagnoses being late. Black African people are the highest group (56%) likely to be diagnosed late with the boroughs with the highest prevalence being Lambeth, Southwark, City of London and Kensington & Chelsea. HIV transmission can be greatly reduced by safe sex as studies show that over 95% of those affected acquired HIV through sex without a condom.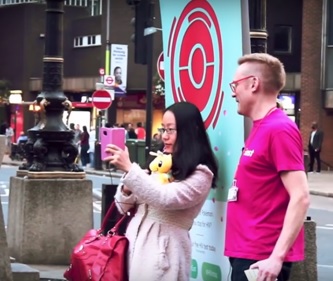 With 45% of people living with HIV in the UK accessing care in London, Positive East plays an important role as London's largest HIV charity based in the heart of the East End. Every year the charity gives advice and support to more than 35,000 people who receive a warm and friendly welcome. Positive East have successfully provided a range of practical and emotional support services for people living with and affected by HIV in London for 25 years. In their aim not wanting anyone else to be infected by the virus, Positive East runs the most extensive prevention and testing programme in the capital, testing over 1,500 people each year.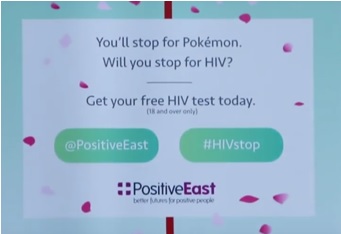 "The sooner you are aware of your HIV status, the sooner you can access treatment and manage your health and remain healthy," said Steve Worrall, Deputy Director. Positive East will also be providing a range of community based testing clinics throughout East London as part of National HIV Testing Week. For an up to date list of clinics and times, please check their website at www.positiveeast.org.uk/testing, or www.iwantanhivtest.com.
The campaign video can be seen below:
December 1st marks World AIDS Day and Positive East will be organizing the World AIDS Day Red Run. The Red Run is London's largest World AIDS Day community fundraising event for London's HIV services. The 2016 Red Run will take place on 27 November in Victoria Park, and enables local communities to come together to support HIV services throughout London. For more information, please visit www.redrun.org.uk