I'm a 42 year old award winning entrepreneur, bestselling author, gender equality champion, mother to two beautiful children and owner of two homes in London and Rome. How have I achieved this success in my life?
I believe it is my ability to understand the power of saying NO, a new kind of superpower that women are realizing. Recognising your ability to say this word and recognising the power of the word itself should absolutely not be underestimated.
Our society raises women with the idea that being a 'good girl' or a 'respectable women' is what we should strive towards. Girls are taught to be modest, careful, to listen to what others have to say but not share your opinions, not to be ambitious and to never be selfish. Women had to do all these things to be respected, in order to fit a mould, to find the correct husband and to create the perfect family, an idealised concept which only exists in our dreams!
We had to be sweet like honey, nice and smiling, not controversial or bold. We are taught to believe our strength and would create stress for people around us, starting from our family and lasting with the strangers we might encounter. In doing so we had to be polite and say yes even when we didn't want to do something. Even when we would have loved to say no, but that world was so difficult to find because we weren't brought up with the word in our vocabulary. That word was forbidden.
Growing up in Italy, my family, my school and my society tried to engrain these ideals in me repeatedly. I did not grow up with strong female role models, but I am a rebel and that's why the word NO has also been so significant to me. I love sharp, strong, assertive sound and believe it is vital for young girls to know they can say it.
Saying no is total liberation. It allows us to break through the chains of a feminine expectations, and to create a world of empowered women, who know what they want, and don't have time to waste. When I set up my first company Nanny & Butler, I felt controlled by other people's ideas, telling me what they thought I should do and how they thought I should do it. But I trusted my instincts and followed through with what I knew would be the best for me. In doing so I had to reject other people's ideas, as they were not what I wanted to build myself on, and if they tried to keep pushing, I would tell them NO.
Being able to do this has allowed me to set up the Diana Group, under which I run three bespoke lifestyle services, Nanny & Butler, Supreme PA and Sigillus. It has enabled me to create the organisation PariMerito, through which I have helped pass new equality laws in the work place in Italy, including a new bill requiring every company board to have minimum 30% female representation. It has given me the strength and knowledge to write my new book Saving the World, which calls for a movement to ensure all women are offered equal choice, pay and opportunity in the work place. Saying no has allowed me to gain such success in my professional life, but also my personal life. Time is your most precious asset and learning to say no to others is what will give you the power for full control of your own life and allow your path to ultimate happiness.
So be free, be bold, be whatever you want to be and not what anyone expects you to be. That's my advice. That's the power of NO.
Saving the World by Paola Diana (Quartet) £12.50 out now
About the expert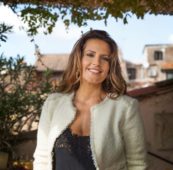 Born in Italy and now based in London Paola Diana has dedicated her life to championing sexual equality in business and politics in the UK and Italy. Paola is the founder of the organisation PariMerito (Equal Merit), which she used to lobby the Italian Government to pass new equality laws in the work place, including a new bill requiring every company board to have minimum 30% female representation. She is also an entrepreneur, starting her first business as a single mother of two, her hugely successful Diana Group, comprises three separate businesses and has established itself as a market leader in recruitment and lifestyle services, recognised as one of London's most influential service providers for high net worth individuals, families and corporations around the world.