Rachel Elizabeth Wood is an international contemporary British jeweller & silversmith specialising in handmade bespoke pieces for all sporting and country enthusiasts.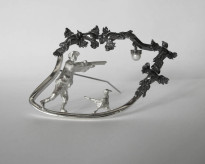 Since launching Rachel Elizabeth Wood as a brand, Rachel has become one of the leading contemporary British jeweller/silversmiths whose work is collected internationally. Rachel's work has also been exhibited in a variety of prestigious institutions including The Goldsmiths Company and the Victoria and Albert Museum. A trophy was selected by The British Museum as part of Queen Elizabeth 11 Diamond Jubilee Celebrations.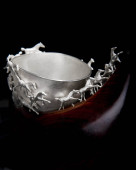 Rachel is a professionally trained jeweller and silversmith and before setting up her own company she worked for one of London's top fashion houses.Her contemporary jewellery and silversmithing combines precious metals and rare tropical woods. She specialises in wax carving using a selection of micro hand tools to ensure that her animals and figures take on a presence and character that are true to form. All of her work is designed and handmade in her Lancashire based studio overlooking the West Pennine moors.
Rachel's latest collection of miniature guns, game birds in flight and gundogs at work captures the
essence of country sports.
If you would like to commission your own unique piece of jewellery or silversmithing, Rachel welcomes your enquiry and looks forward to working with you.