Downton Abbey may be a dramatic representation of a bygone era, but for some the lifestyle lives on – albeit without quite such starchy uniforms. Exactly a hundred years ago, the First World War changed the world for ever; yet in 2014 the demand for the traditional butler-and-chef combination is as healthy as ever, and many households are supplementing them with housekeepers, nannies and personal assistants to help organise multiple residences, children, offices and schedules.
Fortunately, traditional butlering is not a dying art. Performing domestic tasks properly, meticulously, immaculately, discreetly, reliably, unquestioningly even, is a skill that has been handed from one generation to the next and, thanks to companies like Randolphs, continues to be uniquely well executed and greatly valued. Whether they're serving a champagne lunch at the races, afternoon tea at home in Mayfair or canapés on the terrace of your Lake Como villa, no one looks after you quite like a Randolphs butler.
Randolphs' butlers take their cue from founder Steven Randolph who established the business 15 years ago – and what Steven doesn't know about top-calibre butlering you could write on the pearl button of a white glove. Having attended international royals, ambassadors, dignitaries and VIPs, in locations all over the world, Steven works at the very top of his profession… not that he would ever name names. Discretion, trust and loyalty are essentials in this business; name-dropping is the quickest way to find yourself out in an alley with only the bins for company.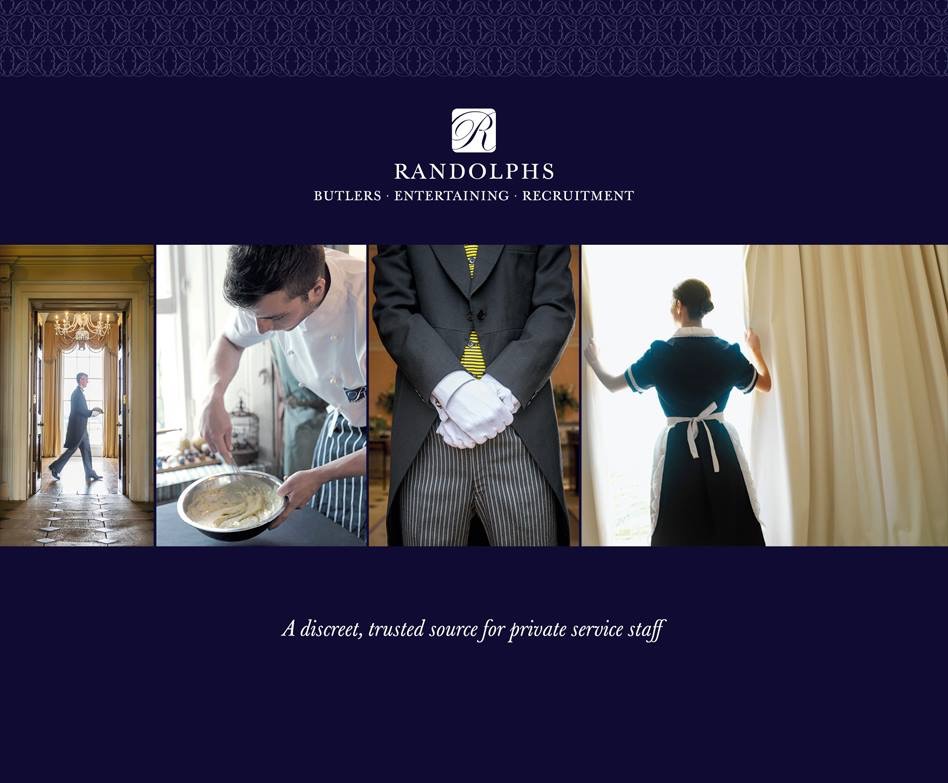 Randolphs is, in essence, an extension of Steven's belief in a strong service ethic. The company recruits the full spectrum of service staff, and also runs training days to help sharpen up their skills. They are often called upon to provide a butler-chef-housekeeper team for a globetrotting client's second or third home, be it a luxury log cabin in Gstaad, a villa in Mustique or a sporting estate in Aberdeenshire. Part-time or full-time posts can be filled. As Steven says, "Nothing is impossible."
Nor does Randolphs stop at private, domestic service staff. Where there's a butler there's often a party, and Steven soon found that he was being approached by some of London's top catering and events businesses to provide service staff for dinners and dances, both private and corporate. Lady Elizabeth Anson, founder of the world-renowned Party Planners, has said that, quite simply, there is no one she trusts more. After Royal Ascot, she paid tribute to the Randolphs staff who manned The Queen's official guest tent, describing the service as "impeccable; friendly, willing and agile."
From time to time, clients for whom Randolphs have sourced first class domestic staff come back to Steven to organise their parties too. A no-expense-spared theme party in a country mansion is Randolphs' idea of a dream come true, because of the creative element involved in addition to the catering and service. "We can really go to town with some fun ideas," says marketing director Kelly Groucott, "and clients are really happy for us to suggest some crazy stuff because they know that they can trust us on the day. In a world where technology, electronics and problem-solving play such a big part in our everyday lives, it's nice for hosts to be able to entertain face to face, relax in the company of other people and know that we've taken care of absolutely everything."
Randolphs can be contacted on tel: +44 (0) 20 3617 9120 or email info@randolphs.co.uk.