The delicious menu at The Real Greek has been developed by the restaurant's consultant, Tonia Buxton who is the familiar face of Greek food in the UK and the presenter of the award winning 'My Greek Kitchen' TV series on the Discovery Channel. As a Greek Cypriot herself with a passion for food, Tonia has worked with the talented team of chefs at The Real Greek to created an authentic culinary experience lets you enjoy the dining adventure of eating like a Greek.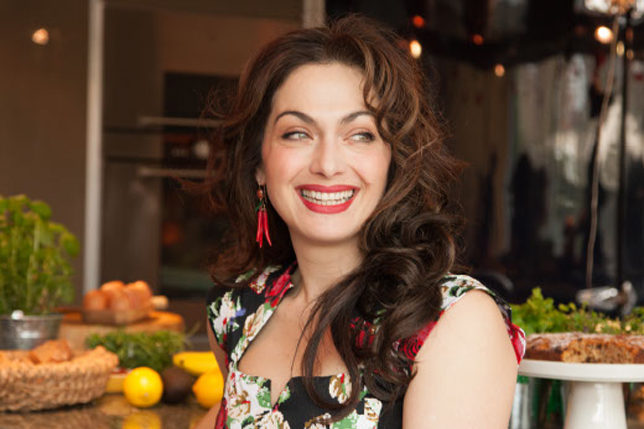 Tonia Buxton has created dishes that are inspired by traditional Greek food and benefit from the many different cultures and influences that now shape modern Greek cuisine. At The Real Greek, dishes are created using premium ingredients sourced from Greece and Cyprus whenever possible such as Greek Mountain Oregano or Cypriot Halloumi.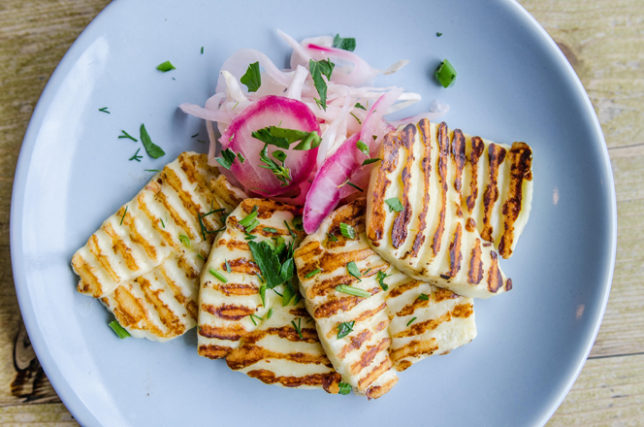 We dined at the St Martin's Lane branch near Leicester Square which offers the perfect location for light lunches, pre-theatre dinners or sedate suppers. Although the tables are small, this creates intimacy even in a crowded dining room and the meze arrives on tiered stands so the table never feels overwhelmed. The menu is divided into different sections starting with traditional Hot & Cold Meze platters then moving to Grilled Meze, Souvlaki Wraps and ending with Sides & Salads.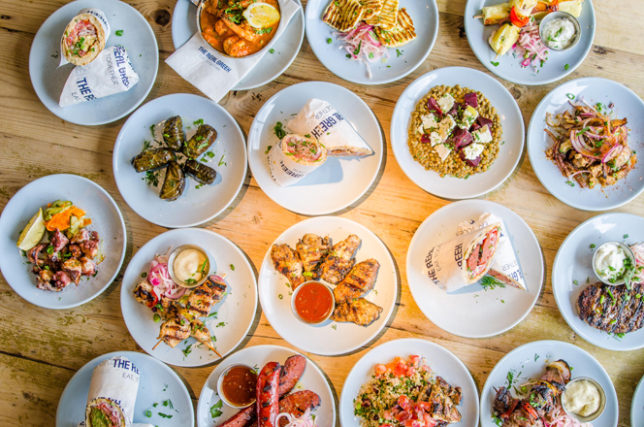 Starting with a couple of cold mezes as recommended by the friendly Restaurant Manager at St Martin's Lane, we indulged in the vegetarian and gluten-free Houmous which is made in house daily with a authentic blend of chickpeas, rich in tahini and delicately spiced with cumin and fresh chilli. My dining companion exclaimed that it was the best tasting houmous she had tried in a long time.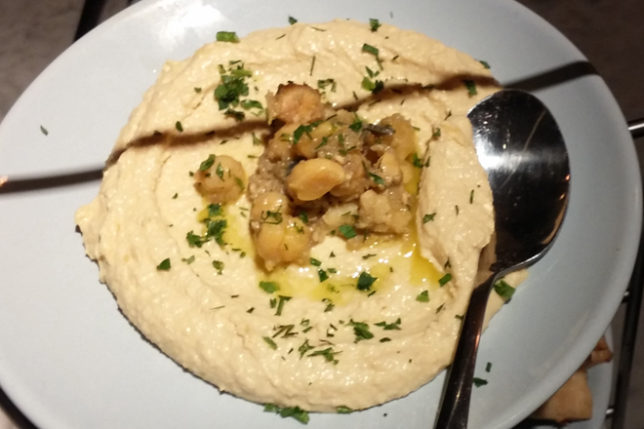 We also tried the Melitzanosalata which is a  light and fragrant blend of smoked aubergine, garlic, shallots and lemon. This is more like an aubergine salsa than the creamy textured baba ganoush one may be familiar with so it was a new texture for us to get used to but very tasty all the same.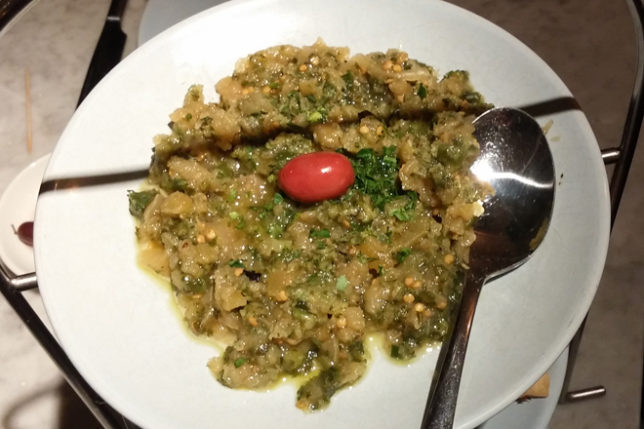 It was then time for the hot and grilled meze starting with Falafel – a signature dish of fragrantly spiced chickpea patties served with a spicy yoghurt and tahini dip, pickled cabbage, tomato & onion salsa and sprinkled with sweet paprika.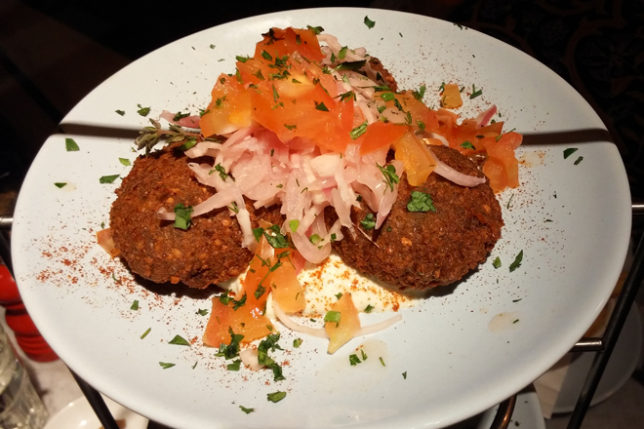 Joining the falafel were delicious Halloumi and Vegetable Skewers. The classic Cypriot "squeaky" cheese was skewered with peppers and courgettes and served with a tasty minted yoghurt.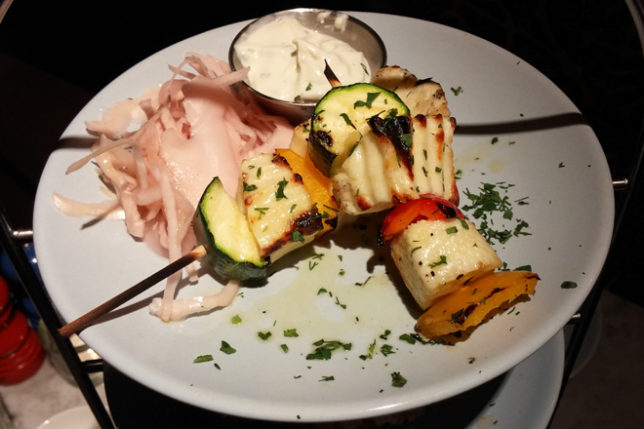 We also enjoyed the grilled Lamb Cutlets served on a bed of cold but flavoursome lentils (almost like a lentil salad) with minted Greek yoghurt as the perfect accompaniment to balance the rich flavours of the lamb.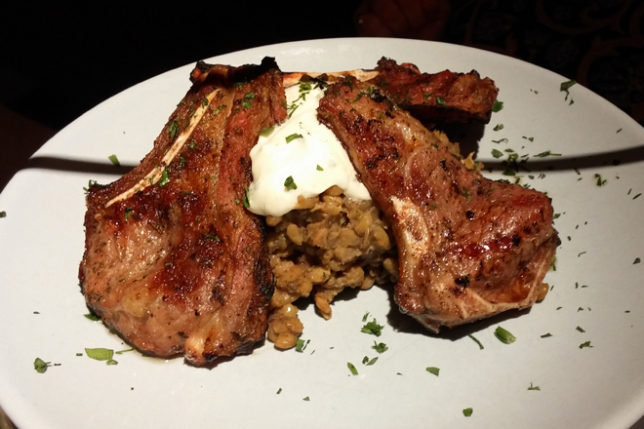 Possibly my favourite dish of the evening was the Grilled Octopus which was beautifully cooked to meltingly soft perfection and tossed in an incredibly moreish mix of the very best Greek olive oil, pungent garlic and Greek mountain oregano – a truly Greek ingredient that adds a strong herby flavour to the seafood with warmth and a hint of sweetness. I loved this dish and as the Restaurant Manager said, anything seasoned with the oil/garlic/oregano mix would become instantly mouth-watering.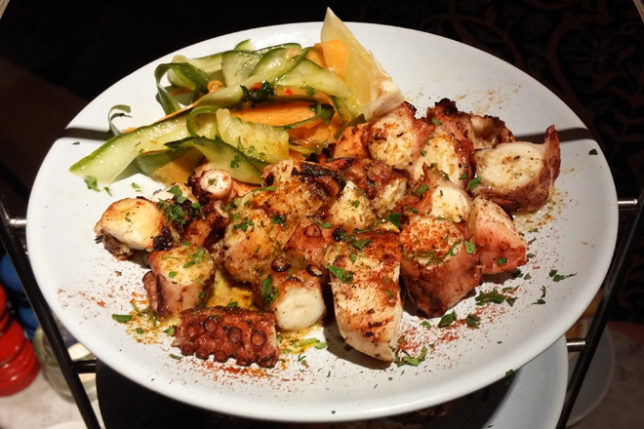 Finally, it was time for dessert. We indulged in two decadent desserts which we both shared. The first was the signature dish of Bougatsa – which is a traditional dessert from Sérres in Northern Greece and is best described as Greek Filo Custard Pie. A fluffy pillow of fried filo pastry (reminiscent of doughnuts in flavour) is filled with a unique custard cream and served warm topped with vanilla ice-cream and a generous sprinkling of cinnamon.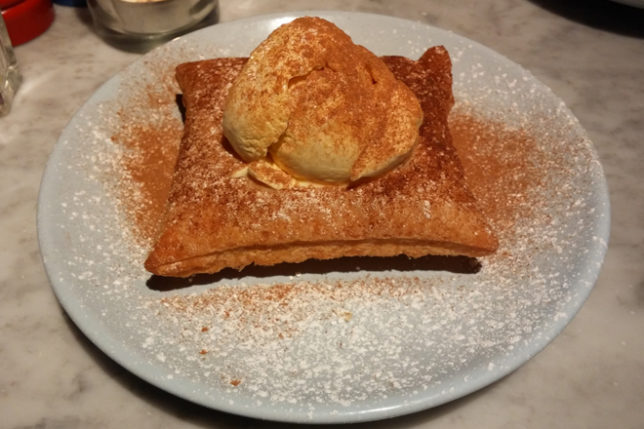 The second dessert choice was the Chocolate Mousse Cake – luxurious, fluffy chocolate mousse layered between tender chocolate sponge cake and coated in a shiny chocolate glaze – again sprinkled with cinnamon. What a delicious end to a delectable dinner!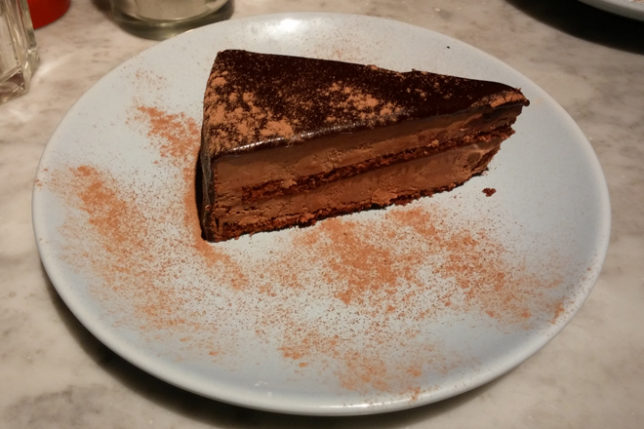 For me, dinner at The Real Greek brought back happy memories of eating in the Greek tavernas during family holidays in Greece. My dining companion and I never felt rushed – the staff allowing us to take time over the food whilst engaging in warm conversation and reconnecting over a shared love of authentic Greek food. The atmosphere at The Real Greek stays true to the Greek ethos for food, family and life. As Theo Randall once told me, there is nothing better than sharing food with family and friends for the joy and connection it brings. Whether it's Italian antipasti or Greek meze in the case of The Real Greek, I couldn't agree with him more!
The Real Greek
54 St Martin's Lane, London WC2N 4EA
020 7240 8531
www.therealgreek.com
@realgreektweet