From a hearty breakfast to lovely lunches and sophisticated supper dishes, Clonakilty Black Pudding adds a touch of spice and one of Ireland's finest flavours to your culinary creations perfect for injecting some Celtic influence into your daily life. Check out some of our favourite Clonakilty recipes below.
Clonakilty Pan Fried Breakfast (serves 4)
Ingredients
280g Clonakilty Black Pudding
280g Clonakilty White Pudding
200g Clonakilty Slisíní Rashers
3 large potatoes
4 free range eggs
Handful of parsley
1 onion (optional)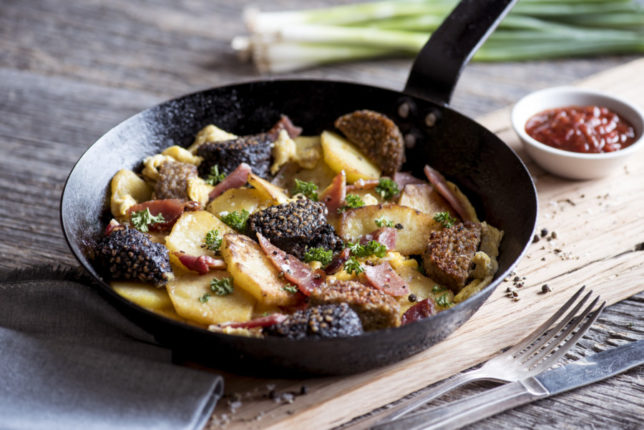 Method
1. Peel and slice potatoes and place them in boiling salted water for 5 to 8 minutes until parboiled.
2. Put a pan on medium heat. Add a small amount of butter or oil and then the puddings. Adjust heat as needed and keep turning puddings until cooked through.
3. Place rashers under a medium grill and flip after 10 minutes. Keep cooking until desired level of crispiness has been reached.
4. Chop the onions, then remove the cooked pudding and rashers and chop them into smaller pieces.
5. Heat a frying pan on medium heat and add butter or oil. Add onions. Once they start to soften add the potatoes and brown each side. Add chopped pudding and rashers.
6. Whisk eggs and season with salt and pepper. Add egg mix to pan and keep stirring until egg is cooked.
7. Cut into four servings, remove from pan with fish slice and place on plate. Top with parsley and serve.
Black Pudding, Crab, Apple Puree and Pancetta Salad (serves 2)
Combining the creaminess of the crab, the crunch of the pancetta and the spice of the black pudding, this fabulous salad brings together a sprinkle of the sea and a dash of Clonakilty! This unique salad is bursting with flavour and is a perfect lunch for black pudding and seafood lovers.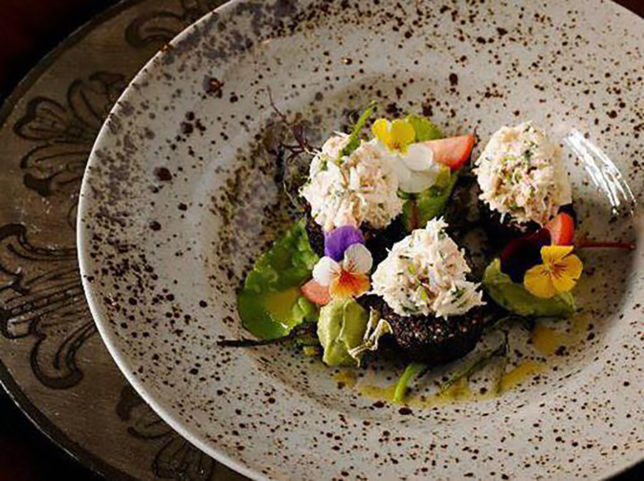 Ingredients
250g crab meat
20g coriander
Juice of two limes
4 tbsp of mayo
2 chopped apples
1 tsp of cinnamon
50g of butter
4 slices (approx. 140g) of Clonakilty Black Pudding
5 thin slices of good quality pancetta (finely chopped)
Method
1. Mix crab with chopped coriander, lime juice, and mayo to make salad and season.
2. Cook apples in cinnamon and butter until soft and then use a blender or food processor to pulse until smooth.
4. Slice and shallow fry the Clonakilty Black Pudding until golden and crispy on both sides. Place under grill until crispy and allow to cool.
6. To plate up your dish, spread a dash of the apple sauce onto your plate and place the pieces of black pudding on top. Spoon some of the crab mixture onto each piece of pudding and top with pancetta.
Clonakilty Black Pudding Stackers (serves 2)
Perfect for a quick and easy meal on the table tonight or to impress friends and family at a dinner party, these stackers showcase a great array of flavours and look great too.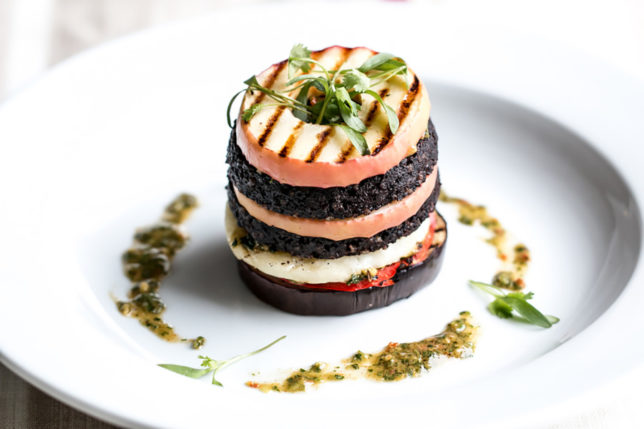 Ingredients
Four 1cm slices of Clonakilty Black Pudding
Two 1cm slices of cored red apple
Two 1cm slices of aubergine
Two 1cm slices of red pepper
Two 1cm rings of halloumi
Micro herbs for dressing
For the sharmula relish dip:
1 large bunch of parsley and coriander (finely chopped)
4 cloves of garlic (pressed or finely chopped)
2 tbsp of paprika
1 tbsp cumin
1 small red chilli
1 tsp salt
1 tsp of fresh ginger (optional)
½ tsp cayenne pepper (optional)
3 tbsp vegetable oil
Juice of 1 small lemon
Method
1. Place your pan on a hot searing heat.
2. Brush all your ingredients with olive oil before placing in the pan.
3. Griddle the vegetables for 2 to 3 minutes on each side, then griddle the black pudding for 2 to 3 minutes on each side.
5. Serve as a stacker with a sharmula relish dip.
For the sharmula relish dip:
1. Place all the ingredients in a food processor and blend until finely chopped.
2. Leave for 30 minutes for the flavours to develop.
3. Taste and adjust seasoning if needed.
Richy's Chicken Roulade with Clonakilty Black Pudding (serves 2)
Chef Richy Virahsawmy has a fabulous restaurant in Clonakilty town. His recipe for flavour-packed chicken roulade with Clonakilty Black Pudding is a great mid-week meal or impressive dish for a special occasion. Chicken goes well with a lot of different flavours so you can experiment with your favourite vegetables and side dishes to serve it with.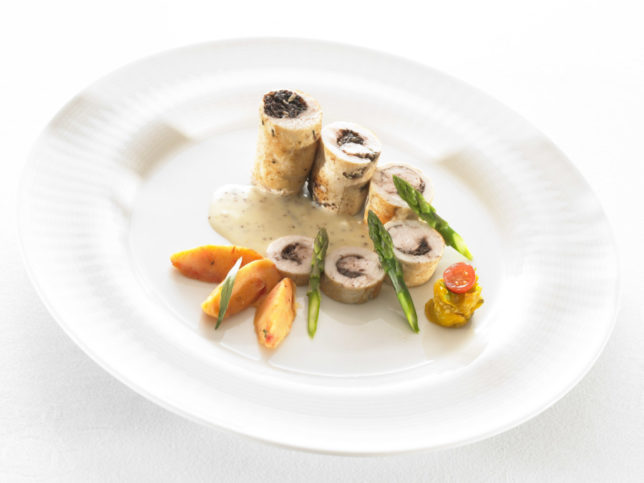 Ingredients
2 chicken breasts
1 chopped onion
280g Clonakilty Black Pudding
½ tsp thyme
Salt and pepper
½ tsp chopped garlic
Method
1. Braise chopped onion and garlic. Add chopped Clonakilty Black Pudding, thyme and seasoning.
2. Butterfly the chicken breasts and cover with cling film. Bash with a rolling pin until each portion is thin and flat (5mm).
3. Put 2-3 tablespoons of black pudding mix on the base of the flattened chicken breasts. Using the cling film, roll the chicken breasts tightly into sausage shapes and then roll in tin foil.
5. Bring a pan of water to boil and simmer the chicken in the cling film and tin foil wraps for about 20 minutes, until the roulades are firm and cooked through.
6. Remove from the pan, let the roll cool a bit, unwrap and slice to serve.
To learn more about Clonakilty Black Pudding and the rest of the range, please visit www.clonakiltyblackpudding.ie