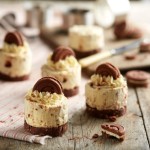 For all of the sweet tooths out there, we've taken inspiration from Chelsea Clinton, whose gluten free wedding cake incorporated a delectable mousse layer1 and created the delicious DS-gluten free Mini Os Cheesecake for you to try. The small treats are perfect as an indulgent after dinner treat with a comforting mix of moussey chocolate and a delightful biscuit crunch. These cheesecakes are very simple to make but very impressive and 'O' so delicious
Servings

Prep Time

8

servings

25

mins
Servings

Prep Time

8

servings

25

mins
For all of the sweet tooths out there, we've taken inspiration from Chelsea Clinton, whose gluten free wedding cake incorporated a delectable mousse layer1 and created the delicious DS-gluten free Mini Os Cheesecake for you to try. The small treats are perfect as an indulgent after dinner treat with a comforting mix of moussey chocolate and a delightful biscuit crunch. These cheesecakes are very simple to make but very impressive and 'O' so delicious

Servings

Prep Time

8

servings

25

mins

Servings

Prep Time

8

servings

25

mins
Place the 8 rings on a tray lined with cling film or greaseproof paper. You will need 8 press & present mini cooking rings 6 x 4 cm (2 ¼ " x 1 ½ ")

To make the bases: Melt the butter in a pan. Whiz the 200g of Mini O's biscuits in a food processor to finely crush or place in a study bag and crush with a rolling pin, add to the butter and mix together.  Place 2 tsps of mix into each ring and press down and level with the back of a spoon.  Chill for 20 minutes.

Meanwhile make the topping: Melt the chocolate in a bowl over a pan of hot water (not boiling).Cool slightly.

In a large bowl whisk together with an electric whisk on a low setting the cream cheese, cream, vanilla extract and sugar until the mixture just begins to thicken. Gradually pour in the melted white chocolate then fold in 3 and a half of the crumbled Mini Os.

Pour the mixture into the biscuit bases so that they are all level and refrigerate for 2-3 hours until set.

Decorate with the 5-6 florets of whipped cream on each cheesecake. Top each with half a Mini O and sprinkle with the remaining crumbled biscuit.