On October 19th, hundreds of people around the UK will be wearing red trousers for Red Trouser Day 2017, holding charity events and activities to raise funds to help raise awareness and fund bowel cancer research.
Started last year by former bowel cancer sufferer Paul Finch, Red Trouser Day supports The Royal Marsden in London and aims to fund a variety of different projects to improve bowel cancer treatment. It also seeks to educate the public on how to prevent bowel cancer, spot the symptoms and offer support to current sufferers.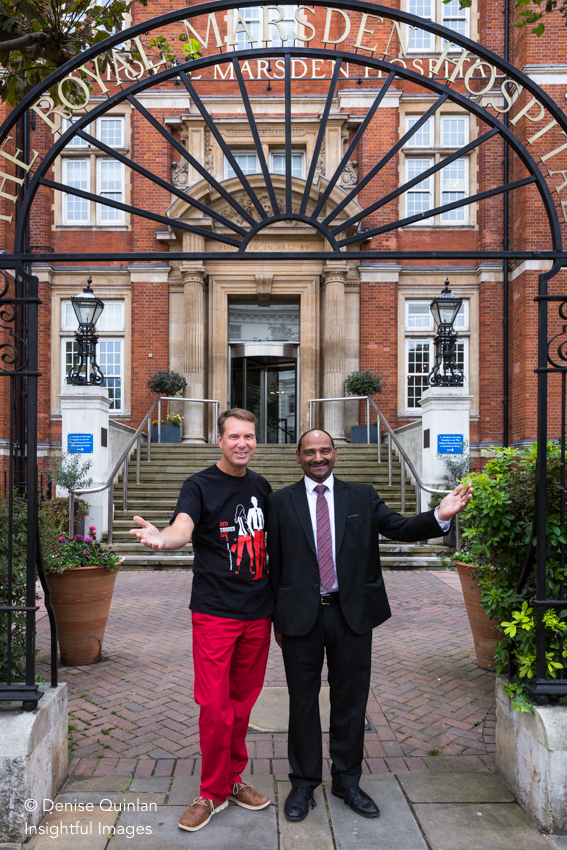 "I was diagnosed with stage three bowel cancer in 2014 and it was only with access to the latest treatments that doctors were able to give me the all clear," says Paul Finch, Founder of Red Trouser Day and bowel cancer survivor. "I started Red Trouser Day so that everyone can have the same access and chance that I had. The £25,000 that we raised last year for The Royal Marsden Cancer Charity resulted in around 30 more patients going to their GP for checks. For some of these patients we are hopeful that any disease was caught early or prevented. This year we hope to raise £100,000 and help even more people."
Red Trouser Day educates people about how to avoid bowel cancer, spot the symptoms, cope with cancer and it also helps people feel better about themselves by participating in the event. This year's event aims to increase public awareness and dispel perceived taboos, as well as funding research projects including a blood test for the early detection of bowel cancer and a database programme to identify the potential advantages of robotic surgery for bowel cancer patients. All new research and developments funded by Red Trouser Day will be published, helping to share innovations with the rest of the country.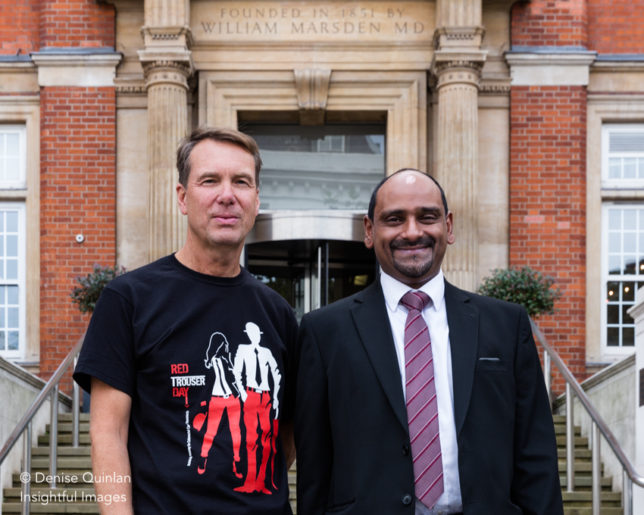 Mr Shahnawaz Rasheed, Consultant surgeon at The Royal Marsden, added "Many people suffer from bowel cancer at some stage in their lives and the number is only going up. It is treatable, but many people don't get diagnosed early enough because of social taboos and the ambiguity in the symptoms. Red Trouser Day will help us to develop much-needed educational materials and improve the treatment and care available to everyone."
"From board shorts to yoga leggings, we welcome all types of trouser on October 19th – as long as they're red!" concluded Paul. "We're still recruiting ambassadors to organise local events and activities, as well as company champions to drive corporate events, so there's plenty of time to get involved."
Common symptoms of bowel cancer:
Bleeding from your bottom and/or blood in your poo
A change in bowel habit lasting three weeks or more
Unexplained weight loss Extreme tiredness for no obvious reason
A pain or lump in your tummy
Red Trouser Day is a charity dedicated to raising funds for research, to help with the prevention of bowel cancer through inclusive, easy and fun activities. Red Trouser Day is committed to maximising the funds donated, permitting only unavoidable costs, e.g. payment processing & printing, re-investing the greatest amount possible into research, prevention, innovation and education about bowel cancer.
For more information on Red Trouser Day, please visit redtrouserday.co.uk or follow @redtrouserday