Since opening his eponymous restaurant in 2014, James Sommerin has been inundated with honours. In the autumn of 2017, Restaurant James Sommerin joined an elite group of UK restaurants to be awarded four AA rosettes. It was to be the latest in a long line of accolades which include a Michelin star, AA Welsh Restaurant of the Year and the Hospitality Awards' Restaurant of the Year for Wales among them.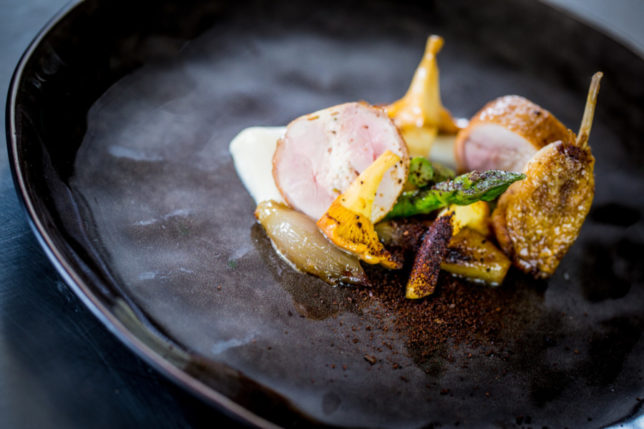 The décor of Restaurant James Sommerin reflects the comfortable style of service, with materials that include Welsh slate and locally-sourced woods. A large window into the kitchen allows diners to gaze in wonder as the dishes are created, whilst an entirely glass frontage offers gorgeous views of Penarth's beach and over the Severn Estuary below.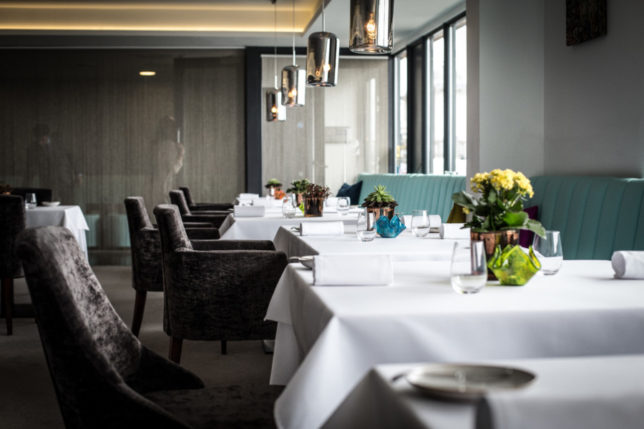 The success of Restaurant James Sommerin has been built on a simple philosophy – to offer food that is honest, simple and comforting in surroundings where you feel you can kick off your shoes and relax.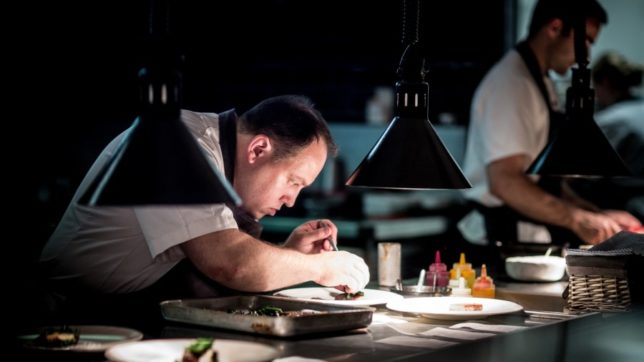 James Sommerin first emerged as a force to be reckoned with as head chef of The Crown at Whitebrook, winning and retaining one of Wales' few Michelin stars. Restaurant James Sommerin is a proudly Welsh dining destination which has quickly become a Cardiff culinary landmark since opening four years ago.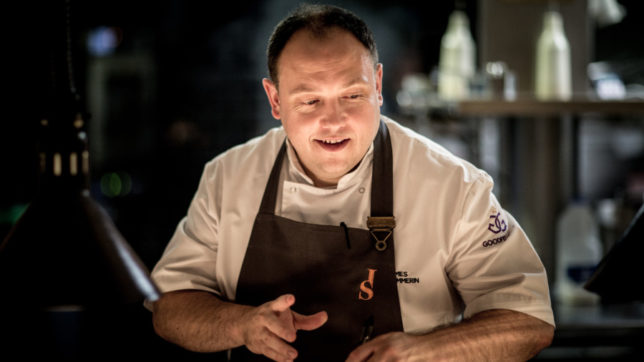 Despite his own success, James is not from a Michelin background, meaning that his cooking is not defined by a specific technique or style. Instead he offers hearty and flavoursome fare made with only the finest seasonal ingredients, locally sourced where possible, whether it's fish from a local Cardiff fishmonger, the finest meat to hail from Cwmbran or vegetables from Barry Island.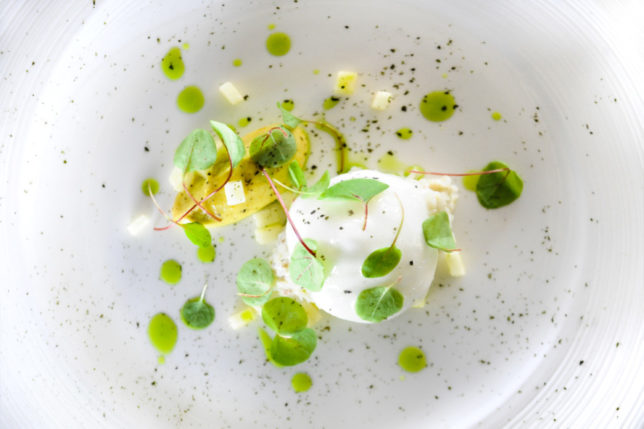 Welsh-inspired dishes, including Wild sea bass with langoustine, ginger & artichoke; Guinea fowl, sweetcorn, baked potato & truffle and, of course, Welsh lamb, are complemented by fare inspired by slightly sunnier climes with Liquid pea ravioli, Serrano ham & Parmesan among them.
You can enjoy these exquisite creations either a la carte or via a six or nine course tasting menu. For a gastronomic experience without parallel, you can also indulge in a 14-course tasting menu prepared in front of you at the chef's table.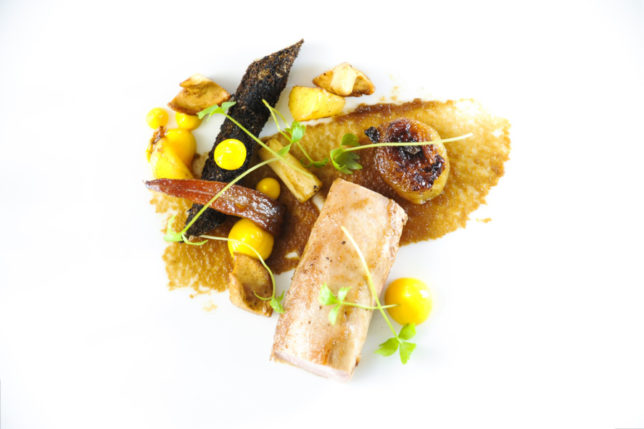 Restaurant James Sommerin treated us to the Surprise Tasting Menu which was something very special. Leaving the decisions up to James, this tasting menu presents a bespoke selection of dishes chosen for each and every table. We knew we would be in safe hands. First up was "Pebble" filled with root vegetable lasagne – be careful, these ooze more than just yumminess. If you don't eat it in one bite, you may need to call the Fashion Police!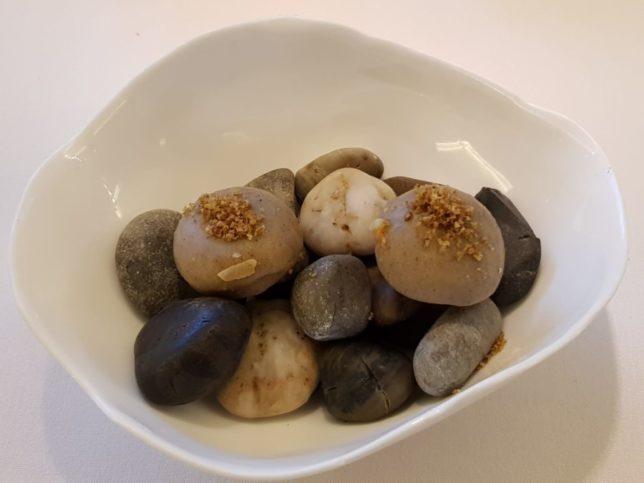 We were also treated to Gougères filled with goat's cheese mousse and black truffle it was delightfully light, fantastically fluffy and extremely moreish.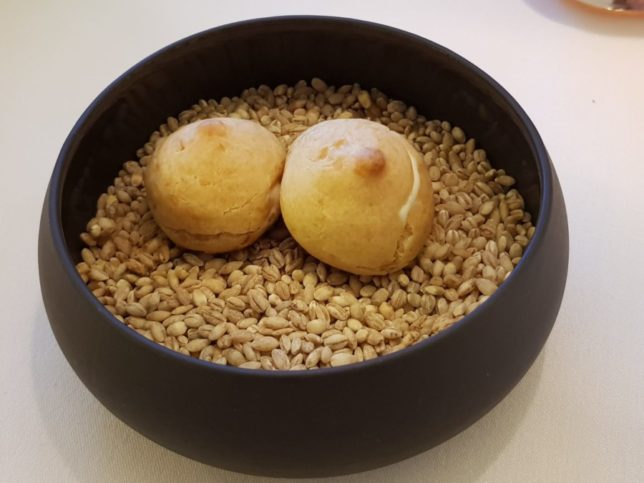 To complete our amuse bouche and welcome us to the world of James Sommerin we tried Tapioca crisp topped with taramasalata which was a perfect combination of textures and flavour.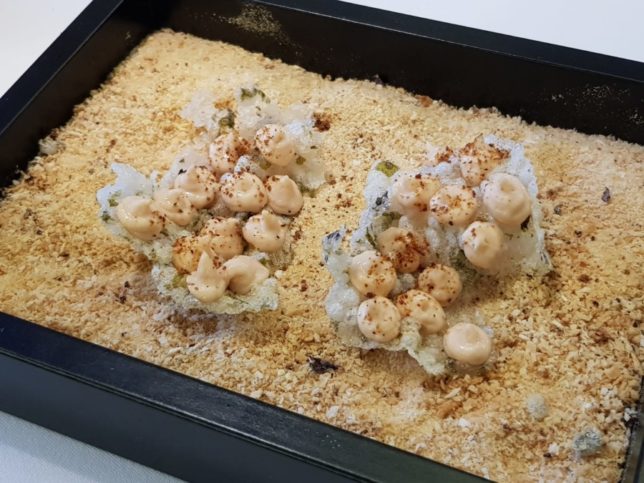 Here's a bird's eye view of these appetizing openers to our Surprise Tasting Menu with an Old Fashioned made from Woodford Reserve…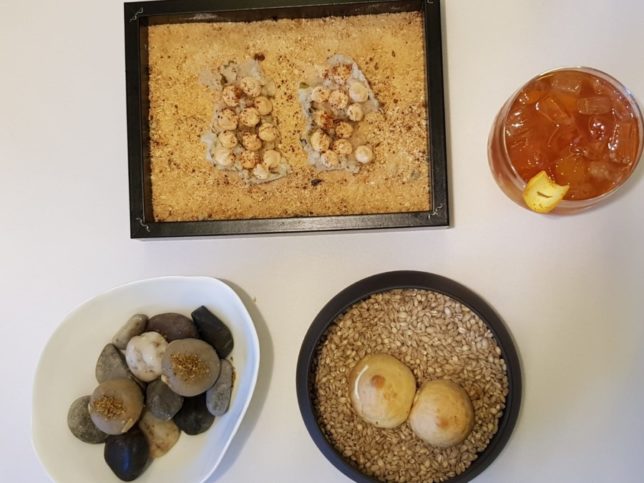 To start, we were treated to Liquid Pea Ravioli – James Sommerin's signature dish. The pasta housed an explosion of pea flavour which was light, airy and intriguing.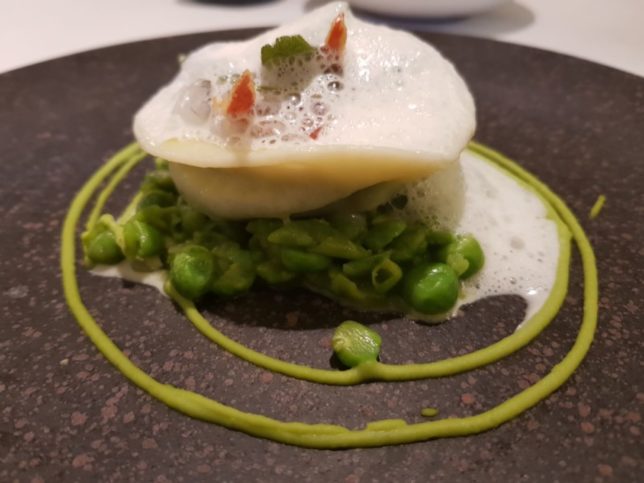 To continue our culinary journey on the Surprise Tasting Menu we had Wood pigeon with black pudding puree, beetroot and port sauce. This was a rich and gamey dish, the flavours all worked well with each other. The earthiness of the beetroot was contrasted with the richness of the jus and the succulence of the wood pigeon.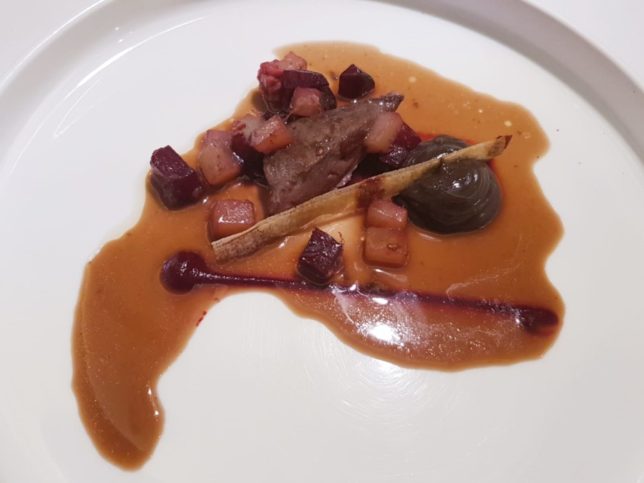 From air to sea we tried another delicious treat. The dish was made up of poached hake with salsify and lemongrass sauce. The light taste of lemongrass was enough to give a citrus bite but left room for the meaty flavours of the hake to come to the forefront. Another star dish that keeps you coming back for more.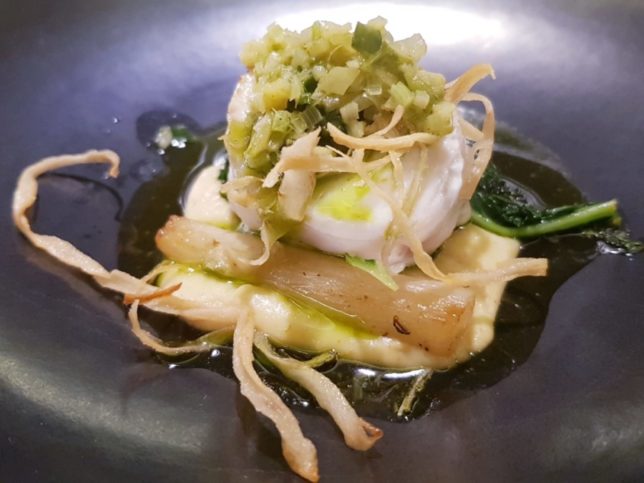 Next up was a very familiar Welsh dish – Lamb shoulder with confit coconut, butternut squash and bok choi served with cumin and mint sauce. The lamb had a nice strong flavour and was soft and juicy. It worked really well with the butternut squash and the rich jus. The confit coconut was a light taste but one that made the dish interesting and keeps you searching for new flavours.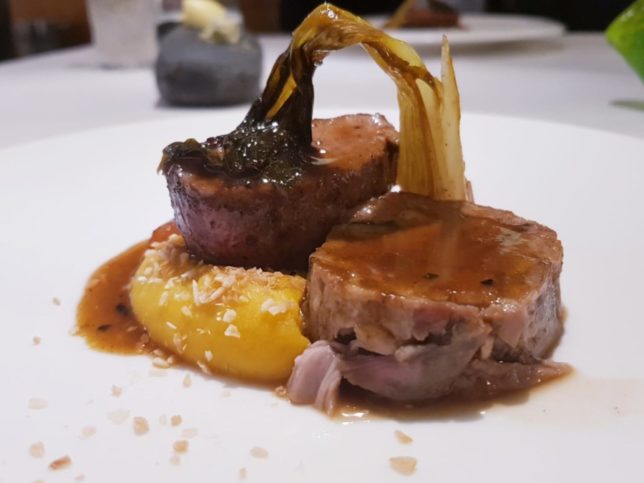 To finish we were treated to two desserts! In keeping with the British summer what better way to celebrate such a fantastic meal than to indulge in James' take on strawberries and cream. He used Wye Valley strawberry with basil coconut ice cream and basil espuma. The dish was light but so fresh it felt like a ray of sunshine on the palate.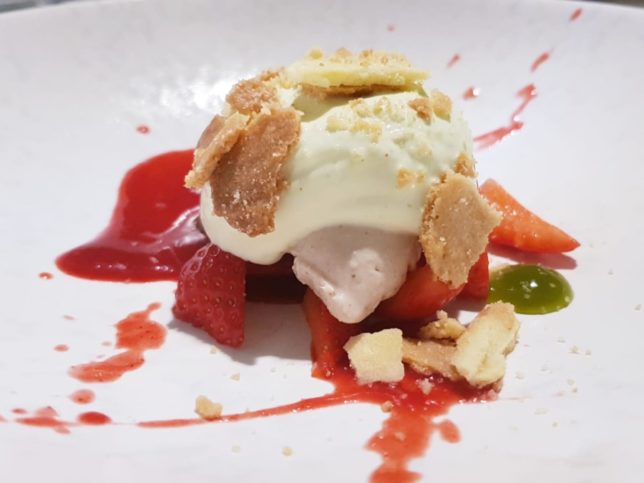 The final instalment was a show stopper – Raspberry soufflé with raspberry compote and violet ice cream. This was by far the best souffle we have ever tried.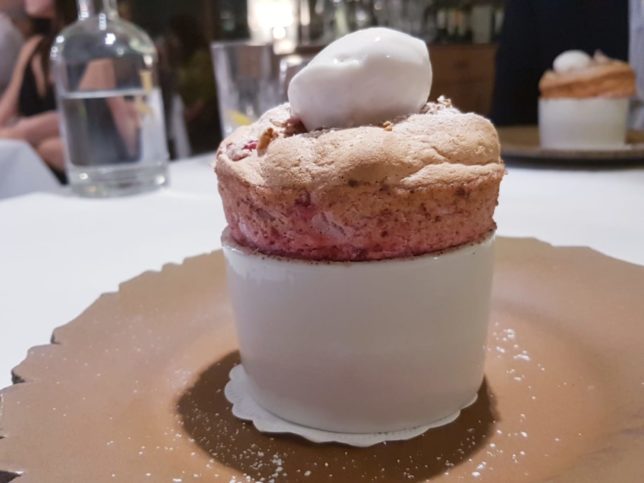 With a texture as light as air the flavour of the soufflé popped on the palate and was a very memorable dish to complete our breathtaking Michelin starred experience. A huge thank you to James and his team for making an evening so delightful.
Generations is the eagerly-anticipated debut cookbook by James Sommerin which goes behind the scenes at RJS. Lavishly photographed with a foreword by Claude Bosi, the book charts James' culinary journey in a self-effacing style that focuses on great food, craftspeople and artisanship, providing a rare insight into the life of a top flight chef. James told us: "I'm delighted to have written my first book. It's a story that focuses on family and food. My grandmother and parents were influential and supportive and in turn I'm encouraging my own children to be part of the restaurant." Check out the RJS website to grab your copy!
Restaurant James Sommerin
The Esplanade, Penarth, Wales CF64 3AU
02920 706 559
www.jamessommerinrestaurant.co.uk
@RestaurantJS @JSommerin