Allegra McEvedy, chef and broadcaster was at the RNLI Tower lifeboat station in London cooking a Fish Supper for the deserving crew on duty to kick-off a new fundraiser for the charity, encouraging people to host a Fish Supper between 9–11 October. What she hadn't planned for was a 'shout' to come in just as she was about to dish up, with all four hungry crew whizzing off to assist an elderly man in need of help at Waterloo Pier.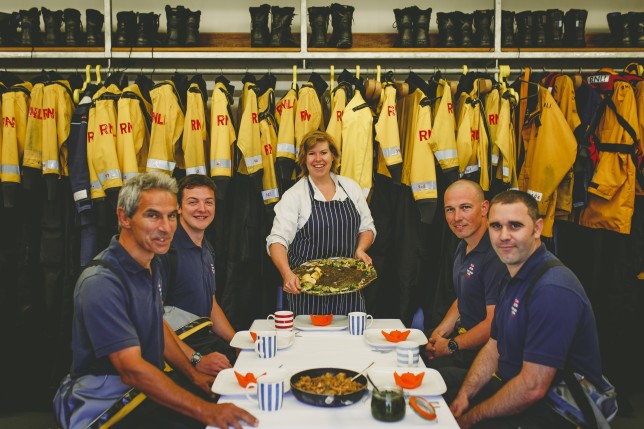 Fish Supper aims to highlight the disrupted dinners RNLI crew experience day-in-day out, and the commitment shown not only by them but their families, who often have an empty place at the dinner table. RNLI volunteers give up their time, comfort and often home cooked meals to respond at a moment's notice when the pagers go off. Last year, RNLI volunteer crew members missed over 8,000 evening meals with their loved ones to brave, cold, angry and often dangerous waters to save lives. Today, the RNLI is releasing new statistics showing over the last three months (June–August), an average of 32 people were rescued each day over the summer.
Back at Tower lifeboat station, the four (hungry) crew members arrived back and went straight to the kit room to be served a gourmet meal by Allegra of turbot, lyonnaise spuds, brown shrimp samphire and chimichurri washed down with mugs of warming tea!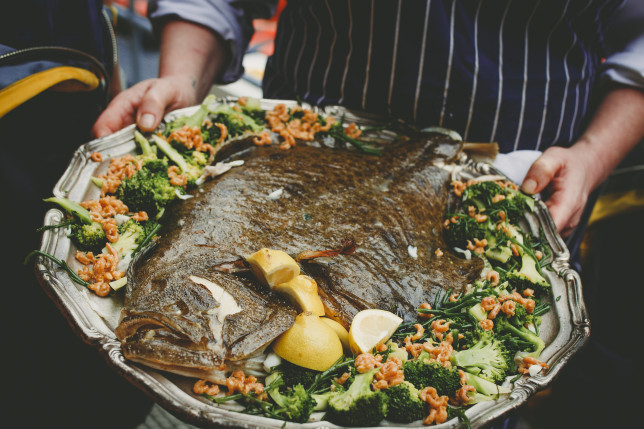 Allegra comments: 'They're ordinary people, doing an extraordinary job, and it has been an honour to cook for these brave lads just back from a shout – the drama experienced today just makes the cause even more real for me. They often risk their own lives to save the lives of others. Gather your friends and family and host your own Fish Supper to raise vital funds for this amazing charity. Sign up now at fishsupper.rnli.org'
Elizabeth Hetterley-Bunney, whose partner Nick has been in the crew at Dungeness Lifeboat Station for the last 8 years has experienced many disrupted dinners: 'I cannot count the number of times we have gone to sit down for dinner and the pager has gone off. Nick used to work away a lot and we would wait weeks, sometimes even months to have a conversation. Then he would come home, switch on his pager and within hours it would be going off and he would be out the door and off into the night. That's why Fish Supper is such a great idea – an opportunity to get families together, enjoy good food, and help the RNLI continue their lifesaving work.'
The RNLI is the charity that saves lives at sea, providing a 24-hour lifeboat search and rescue service around the UK and Ireland, and a lifeguard service on over 220 beaches. The RNLI covers 19,000 miles of the UK coast from 237 lifeboat stations. Since the RNLI was founded in 1824, they have saved more than 141,000 lives. With an average of 23 callouts a day, there's most likely an RNLI lifeboat out on a rescue right now.
London is home to the two busiest lifeboats stations in the UK and Republic of Ireland and, along with a station at Teddington, the crew of London lifeboats saved 27 lives and rescued 231 people – enough to fill 2.5 of the city's iconic red double decker buses.