Hurn & Hurn is an online home & design store with a boutique feel that stocks unique and original homeware, home accessories and gifts for the modern home and stylish individual. Their motto 'Discover the Unusual' describes the company's philosophy and what you can expect to find on their website.
Hurn & Hurn offer an inspirational range of innovative, unusual and unique designs by new designers, smaller brands and leading manufacturers. They stock the latest products in an eclectic but considered collection of styles  suited to city or country living. Hurn & Hurn have a passion for finding items that are different with an obvious focus on style & design, resulting in a unique range ideal for those looking for something unusual and individual such as this impressive oversized Suck UK Rocket Salt / Pepper Grinder!

This sculptural space rocket design is an unusual yet inspired shape which is perfect for as a pepper grinder or salt mill. Designed by Suck UK and available from the Hurn & Hurn website, this kitchen conversation piece is made of high quality genuine beech wood at an impressive 36cm in height.
Tall enough to keep the busiest of cooks in salt or pepper for months, it makes an eye-catching addition to any contemporary kitchen or modern dining table yet has a retro feel so would suit both Millennials and older fans of Sixties chic.
The Suck UK Rocket Salt / Pepper Grinder has an easy-to-use adjustable coarseness with a simple twist and comes with a toughened ceramic mechanism guaranteed to last. Fill it with rock salt or whole black peppercorns or why not take things to the next level with some bold mixed peppercorns!
If you're thinking of buying a matching set but are worried how you would tell the difference between the salt and the pepper, Hurn & Hurn have thought this through for you and offer the grinder in both dark beech wood which is perfect for pepper and a natural beech wood which is super for salt!
They look fantastic as a pair and are sure to get your guests talking when brought to the table at your next dinner party. They also look great on your buffet table at garden parties and barbecues.
The Suck UK Rocket Salt / Pepper Grinder also makes an ideal gift for quirky cooks, sci-fi fans and anyone who loves the unusual and wants to stand out from the crowd. It would also make the perfect present for the man in your life who fancies himself as the next Jamie Oliver!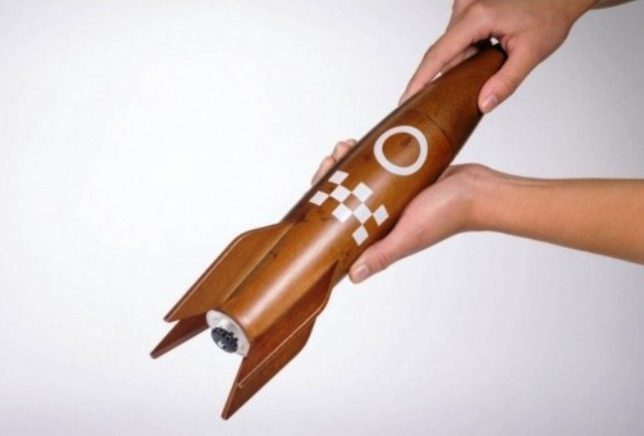 Hurn and Hurn only stock well designed, practical and high quality homeware, home accessories and gifts they believe are original and unusual items perfect for the modern home and stylish individual. Each product has to be great to look at and an inspired design that the owner will immediately fall in love with. The Space Rocket Salt / Pepper Grinder is just one of these covetable, must have, unusual items.
Hurn & Hurn are official authorised stockists of Suck UK and all their other ranges. All products are dispatched promptly, usually within a few hours of ordering online and the utmost care is taken in packing every purchase to ensure safe delivery.
Having served over 18000 customers, this family run business based in Norwich prides itself on excellent customer service which makes it stand out from other online retailers. Hurn & Hurn treats its customers like individuals rather than a number and are always easy to contact, knowledgeable, friendly and professional.
The Suck UK Rocket Salt / Pepper Grinder is available in natural or dark beech wood for £39 each from www.hurnandhurn.com