It's all in the name 'Rural Wrappings' the influences are rural and the product was wrappings and cards, and that is how it began. Started by Alyson Grant Thorold from her home in Wiltshire with the aim of producing and selling locally with low overheads so that the good quality products represent great value, and that is what she still does.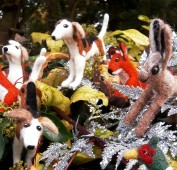 A passionate believer in local community and country life she feels that we should all 'buy local', supporting local businesses and jobs spending our money where it will do just that. A community can be village, a city street or a borough, even a block of flats, anyone can benefit. Over the past 4 years the small company has gone from strength to strength and has customers all over the world.  The range of quirky, good quality stationery has expanded into bags, small gifts and textiles.  All of the products are printed in the UK, and feature the art of two local artists, Tristram Lewis and Caroline Bromley-Gardner, their styles are very different and importantly for Alyson they both ride and know horses and hounds.  She wanted the designs to be different but to be perfectly drawn knowing that all of the customers would know the subject well.  Her ideas for designs and captions are usually the result of a morning out riding or walking the dogs then the artists turn her scribbles into something special.
Her one concession to overseas manufacturing are the hugely popular and adorable needle-felted little Foxes, Hounds, Hares and Pheasants which are made in Nepal to her design, a very special addition to any Christmas tree, wreath or table decoration. Another of this year's best sellers are the skiing foxes in 'vintage style' on the Christmas cards and packs of notecards cards. They make perfect fun stocking fillers for the young to encourage writing 'thank you' notes.  With plenty of wonderful country and hunting art to choose from already, especially on cards Alyson knew her designs had to fill a gap and wanted them to be amusing, and to translate to everyday products to be enjoyed daily. This year she added a range of aprons and tea towels and linen cushions with feather pads using side saddle and quirky fox designs. The cushions have a wonderful old look about them as if they were made in the 1930's.  Rural Wrappings has sponsored several side saddle competitions loving the elegance, skill, courage and dedication of the riders who keep this wonderful art alive.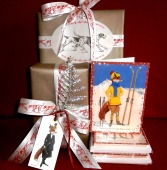 To keep overheads down and prices low the website is simple but seemingly effective and the business has taken over most of the rooms in the rural Mill. The Sherston Village Store and Post Office are stockists of the range and Alyson uses it to send all her orders and even do her banking and shopping.  "The best part about taking the Rural Wrappings Tradestand to Shows is meeting people who 'get it', it's a pleasure being part of their community for the day and sharing my designs with them. I have a very loyal customer base and often get 'thank you' emails which really make my day".