Situated in the heart of Soho on Old Compton Street, independently owned RustiKo is fast establishing itself as a popular institution with locals in the area, thanks to its characterful interior, authentic Italian cuisine and vintage Soho experience swept along by a funky upbeat playlist.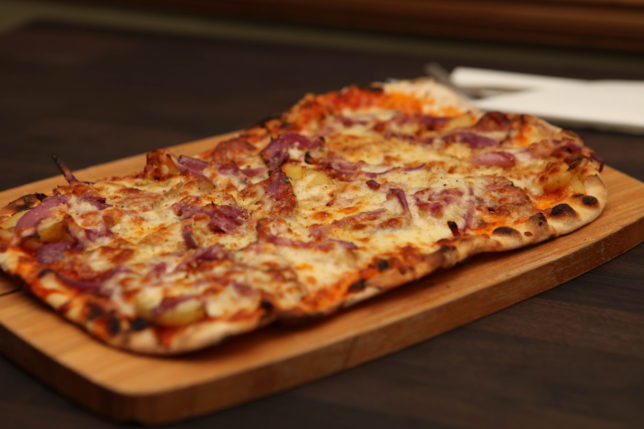 RustiKo opened quietly last year without PR bells & whistles (the naming meaning 'rustic' in Italian, but also derived from the rust exposed throughout the venue – hence the typo) and prides itself on Italian soul food – 'just like mama used to make', and an extensive menu of Italian wines, aperitivo cocktails and hard-to-find liqueurs. The all-day menu, prepared on site daily using seasonal produce, is furnished with weekly specials and regular changes.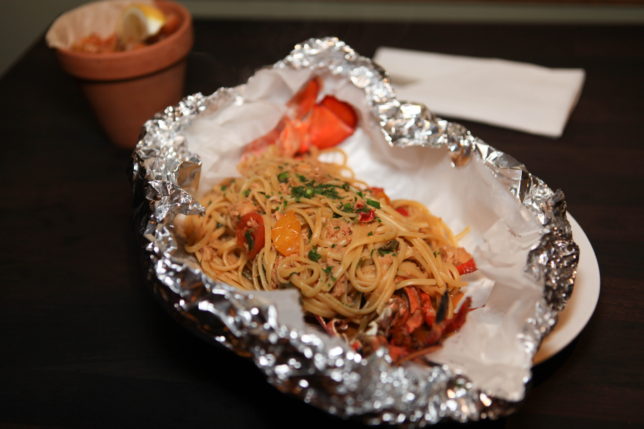 Having been led to the upstairs restaurant at RustiKo, the waitress brought drinks while I perused the menu. Still water is offered for free – brought to the table in a recycled wine bottle (sustainable and a nice touch). I was in a fizzy mood so went for a very Italian San Pellegrino and a very Welsh Ginger Beer from Llanllyr SOURCE crafted from natural ingredients… it distinctive but balanced heat is perfect to whet the appetite.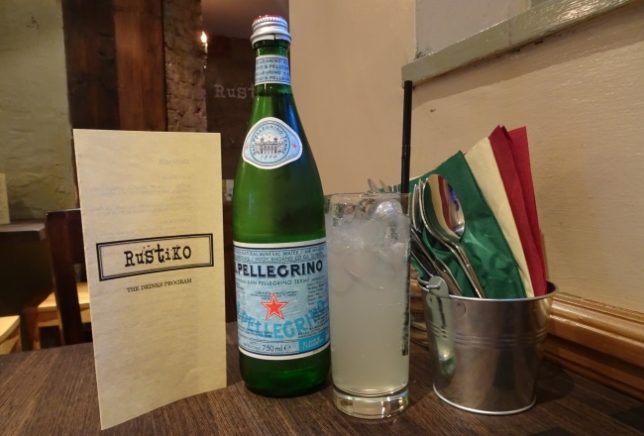 Did you notice the napkins representing the Italian flag Il Tricolore? To start I began with the garlic pizza bread grilled with herbs and pungent garlic butter. To accompany the garlic bread I chose the homemade hummus with tahini paste, chickpeas and lemon juice.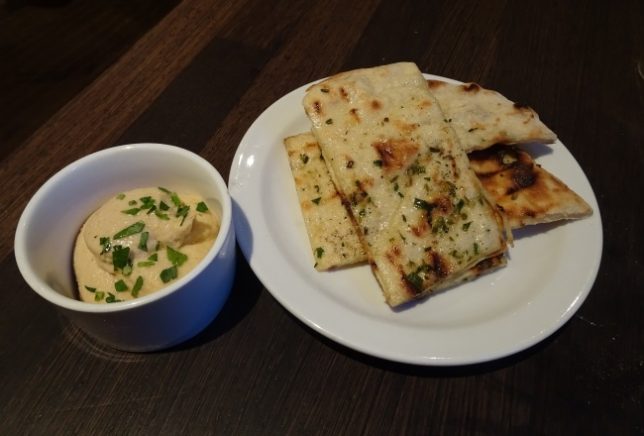 For those looking for light bites or more variety when dining at RustiKo, I would recommend the Piattini dishes designed to be shared with 4 to 5 dishes between two such as the parmigiana, calamari fritti and these delicious bruschetta.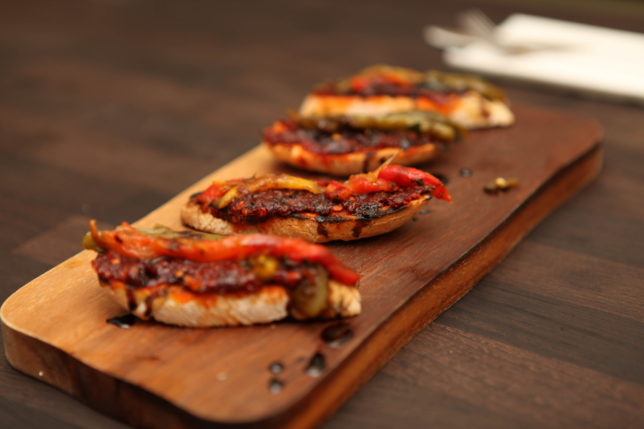 As well as the Piattini, the pots and mugs are the other choice of starter dishes and from this section of the menu I chose the arancini which were delicious rice balls made with Bolognese sauce, mozzarella and peas, coated in golden breadcrumbs and sprinkled with grated parmesan. The chef recently increased the portion to six balls so couples can now share this dish more easily between them.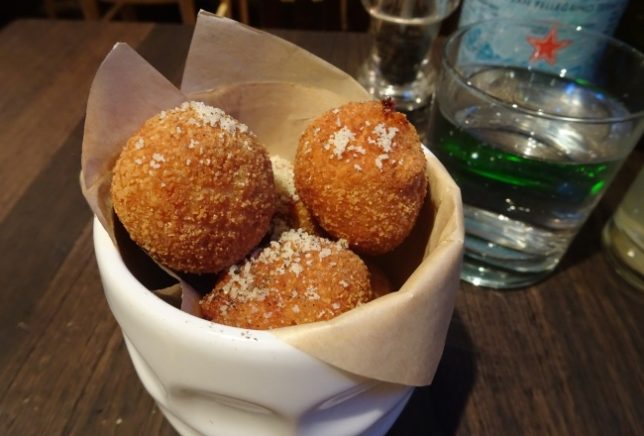 Popular choices of main dishes include the authentic looking pizza and pasta dishes. However I was drawn to the whole grilled seabass served with roasted mixed vegetables, veggie chips and salsa verde. The chargrilled fish was fresh, succulent and cooked to perfection complemented by the tender sweetness of roasted peppers, shallots and aubergine contrasted with the crisp earthy vegetable chips and unctuous salsa verde which benefited from a squeeze of fresh lemon to cut through the oil.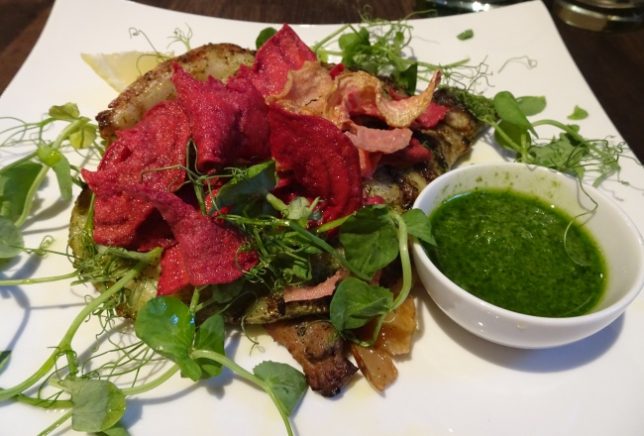 Let's take a closer look at the succulent chargrilled fish that lies underneath those earthy veggie chips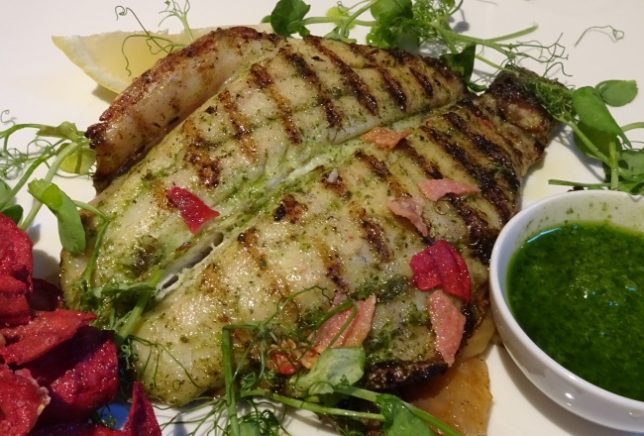 Desserts include classics such as cannoli, tiramisu and panna cotta. But even something as simple as the gelati is delicious and authentically Italian. I sampled the sorbet which was the perfect light summer dessert after our indulgent Italian meal.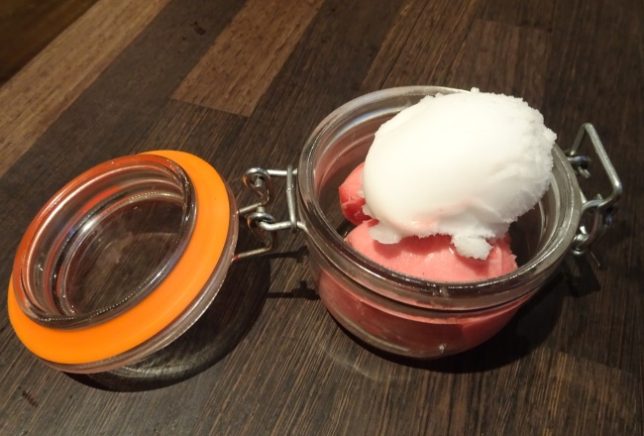 The Sicilian lemon sorbet was smooth with just the right level of acidity balanced by sweetness but I highly recommend the raspberry sorbet which was tangy in taste and pastel in colour.
Giving Londoners a true taste of an old school establishment, in a city full of chain bars and restaurants, RustiKo is an Italian haven of yumminess in the heart of Soho offering a relaxed and charming atmosphere to drink and dine. Definitely a place I will be returning to very soon.
RustiKo
7 Old Compton Street, London W1D 5JY
020 7734 6361
www.rustikosoho.com
@Rustiko_Soho
[mappress mapid="22″]