Samarkand is one of the oldest inhabited cities in Central Asia of which Alexander the Great is quoted as saying, "Everything I have heard about the beauty of Samarkand is true, except that it is even more beautiful than I could have imagined". A similar sentiment came to my mind when we recently had lunch at the Uzbekistan restaurant Samarkand, tucked away off Charlotte Street round the corner from Roka and opposite the Rathborne Hotel in London.
Having discovered the entrance on Rathbone Street, exotic beats led us down the stairs into a modern day Aladdin's Cave of 21st Century statement lighting and sophisticated furniture. As , we perused the menu, I looked across to the open kitchen where the talented chefs were busy preparing the last of the lunch orders. The trend for open kitchens in restaurants allows guests to enjoy the theatrical culinary experience of dining out and I find that the sounds and smells from an open kitchen really help work up the appetite.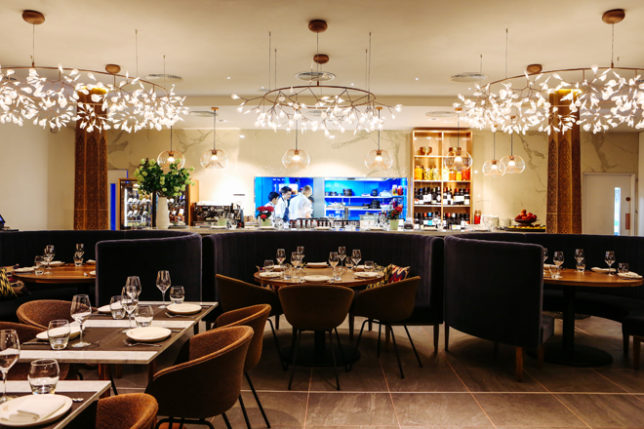 Samarkand also incorporates design features that are suggestive of its Uzbekistan roots. The restaurant is named after the Uzbek city of Samarkand which was a major destination at the heart of the ancient Silk Road trade route connecting China to the Middle East and the Roman Empire. All around us are geometric tiles and motifs with exotic looking pillars. Even some of the tables are octagon shaped reminding us of the tilework in ancient mosques and Eastern palaces. Stretching across one wall is a map detailing the Silk Road and highlighting Samarkand's central location to this ancient trade route.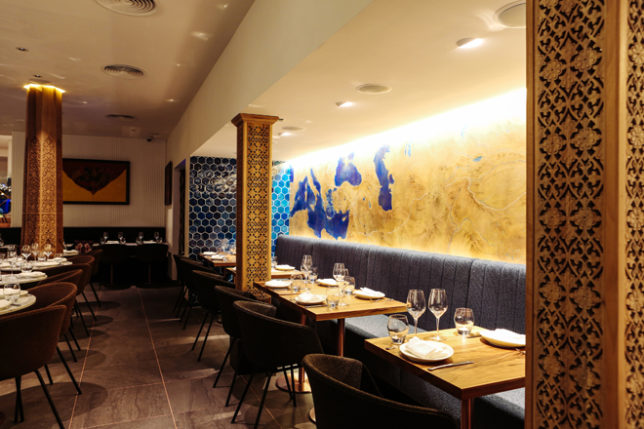 The menu at Samarkand showcases the flavours of Central Asian cuisine – a cuisine that not many of us are familiar with which is a shame as Uzbek flavours are mild and welcoming for those put off by the heat of Thai or Indian dishes. On our visit we sampled the Express Lunch Menu which promises to have you in and out within the hour, making it the perfect introduction to contemporary Uzbek dining you can fit into a typical lunch break. Starters include Tashkent Salad made with poached fillet of veal, heritage radish and white cabbage. Or try the Baklajon which is a form of smoked aubergine caviar beautifully presented scattered with edible flowers.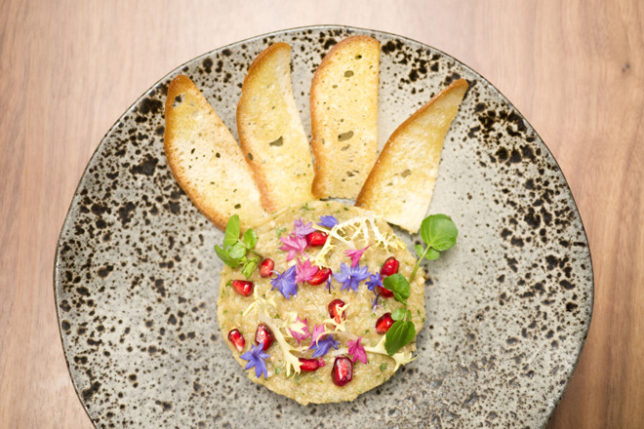 As our starter course, we enjoyed the Somsa – crisp and comforting hand-made pastry filled with fragrant beef & lamb or if you are vegetarian you can substitute this for a lightly spiced pumpkin filling.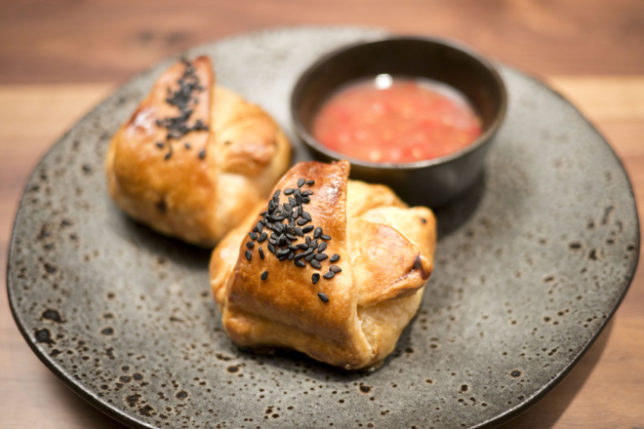 We also chose the Manti – – traditional Uzbek dumplings again with a filling of beef & lamb laced with warming cumin. A really comforting winter warmer during the colder months served with a sour tomato dipping sauce.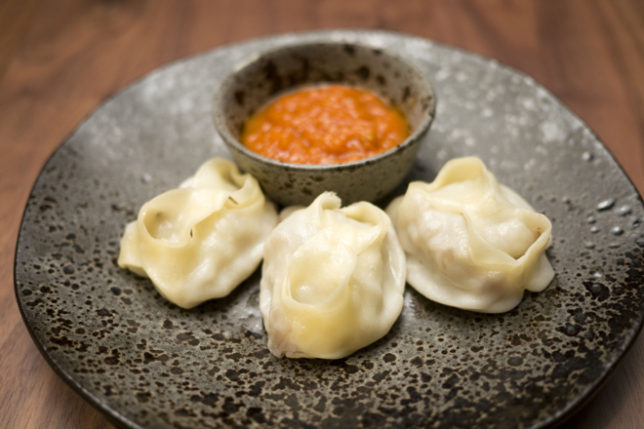 The Express Menu main dishes include Buttermilk marinated lamb shashlik, Grilled fillet of rainbow trout and Stuffed summer squash. We sampled the Jiz Biz – rack of lamb seasoned with authentic Uzbeki flavours served with potato cake and fresh herb & onion salad.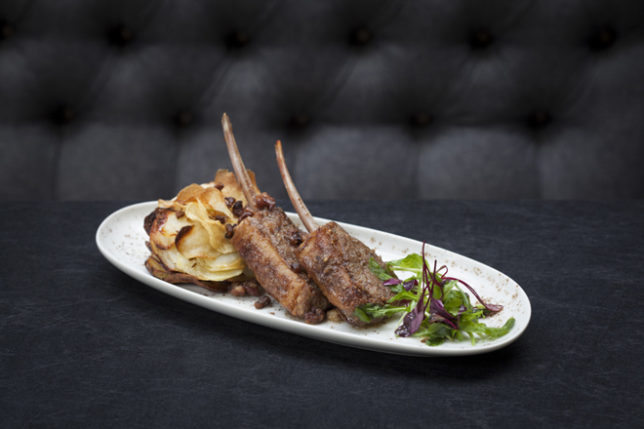 We also tried the Supreme Chicken Tabaka which was beautifully moist and succulent flavoured with cumin and served with Samarkand Rice which is a special blend of white and wild rice cooked to nutty perfection.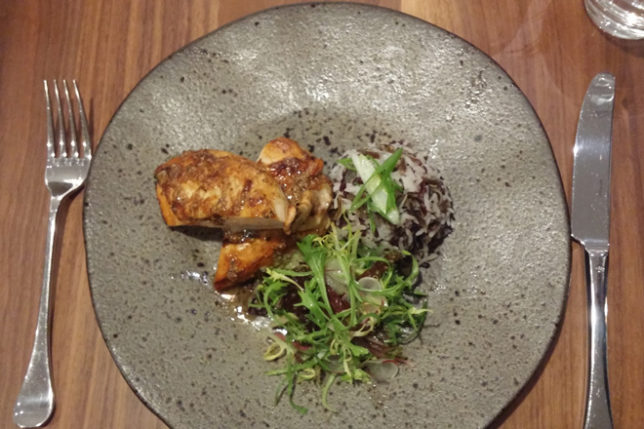 Moving towards the conclusion of our Express Lunch, it was time for dessert. In addition to a range of ice creams and sorbets, the Samarkand Express Lunch Dessert Menu also features a chocolate texture dessert and our choice of Chilli & Thyme Poached Pear which had beautiful layers of heady flavour to complement the sweet texture of the poached Pear.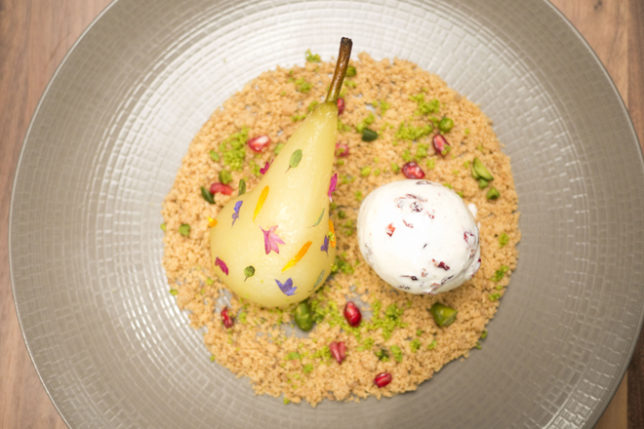 We also enjoyed the Baklava Cake which is quite different to the baklava one is already familiar with from Turkey and Greece. At Samarkand the baklava cake is not made from filo pastry but instead a shortcrust pastry is used to create a pastry layer on the top and bottom in between which is a dense generous filling of finely chopped nuts. The drier texture of this dish compared to syrupy Turkish baklava benefits from being served with cream or ice cream.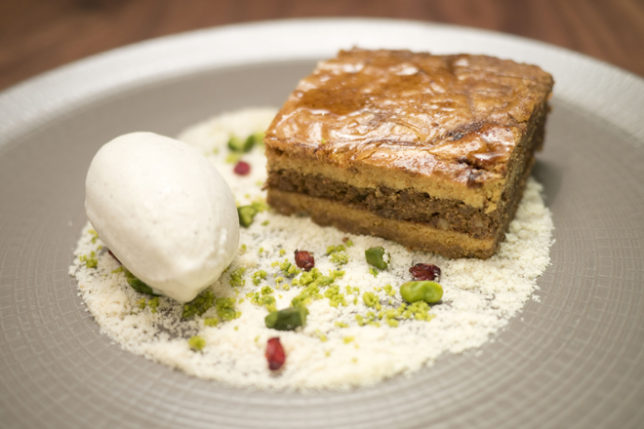 The extensive drinks menu highlights Uzbek favourites – vodka and tea. There are also some interesting non-alcoholic cocktails such as the Tarragon Soda – so heady and woody you'd be mistaken for thinking that it contained vodka. The Tarragon Soda, like everything else at Samarkand was an Uzbek-inspired feast for the senses served with flawless style… note the metal straw and the dusting of powdered sugar on the dehydrated fruit garnish.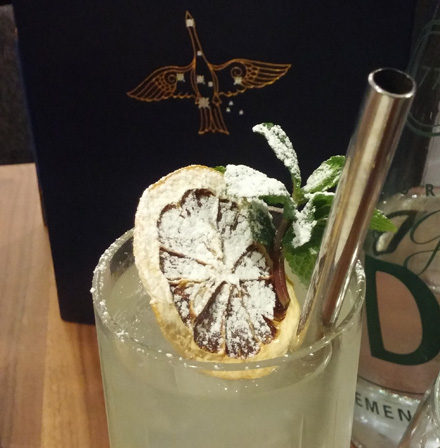 Do something different in your lunch hour this week and take your taste buds on a express culinary adventure into the delectable delights of contemporary Uzbekistan with the Express Lunch Menu at Samarkand.  With apologies to Alexander the Great, I have to say that everything I heard about the beauty of Samarkand is true, except that the restaurant and the food are even more beautiful than I could have imagined!
Samarkand's Express Lunch Menu costs £15 for two courses or £18 for three courses.
Samarkand
33 Charlotte Street, London W1T 3RR
020 3871 4969
www.samarkand.london
@SamarkandLondon