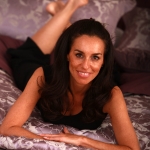 BY SAMMY MARGO
The New Year is the time to kick-start a healthy diet regime and weight loss programme. But what if your quality of sleep were to influence the results you see on the scales? Research shows that the number of hours we sleep greatly influences our risk of obesity and diabetes, and the less we sleep, the greater the risk.
You may have changed your diet, you may be getting to the gym but are you sleeping well?
 Sleep and Weight
Sleep expert Sammy Margo suggests that the connection may be due to two hormones: leptin, which suppresses appetite, and ghrelin, which increases appetite. When your body is experiencing sleep deprivation the leptin levels are lowered whilst the ghrelin levels rise, making you feel hungry. In addition to altering your hormone levels, sleep deprivation can also be responsible for influencing your food choices, making us crave foods high in sugar and carbohydrate, which can lead to weight gain and an increased risk of insulin resistance and diabetes. All this suggests that sleep deprivation can be detrimental to your weight loss regime because it causes your body to work against you!
A Good Nights Sleep Can Aid Weight Loss!
A good nights sleep certainly isn't a quick fix, and of course you have to combine it with a healthy diet and regular exercise, but quality of sleep may have more to do with successful weight loss and weight management than you ever thought possible!
Apart from the hormone shifts that occur with sleep deprivation, increasing your likelihood of gaining weight, logic would seem to suggest that:
The more hours you are awake, the more hours you have to visit the fridge
The less sleep you get, the more exhausted you are and the less inclined to cook properly and exercise regularly
The more tired you are, the more likely you are to comfort eat so before you become disenchanted with your diet programme, look into your sleep habits and aim for a good night's sleep. It could be the answer to getting yourself slim.
Sammy Margo (www.sammymargophysiotherapy.com) qualified as Chartered Physiotherapist in 1988 from West Middlesex University Hospital and started her career in the NHS at Barnet General Hospital whilst becoming England's first female Physiotherapist to work in professional football at Barnet Football Club.

After finishing her Masters in Musculoskeletal Dysfunction at University College Hospital London and the Middlesex Hospitals, she then worked as a Physiotherapist in France, USA, Japan and Israel. She then returned to the UK 20 years ago to establish her Physiotherapy and Pilates Practice in NW London where 8 physiotherapists are now based. Patients are seen both at the practice and in their homes and range from post-operative cases, chest infections, falls, acute back pain at home to a range of musculoskeletal complaints in the clinic with a focus of spinal and lower limb work.

Sammy is actively involved in the media as a spokesperson for the Chartered Society of Physiotherapy and appears frequently on radio and television as well as in newspapers including the Daily Mail and magazines whilst maintaining her clinical input. Sammy Margo is the author of The Good Sleep Guide and The Good Sleep Guide for Kids.