The San Carlo Group is one of the UK's most dynamic hospitality brands with 21 restaurants across the UK, the Middle East and Thailand. They have now launched an eponymous fine dining restaurant in one of London's most stylish neighbourhoods with one of Italy's most celebrated Michelin-starred chefs at the helm.
Chef Alberico Penati heads up the kitchen at San Carlo London on Regent Street in St James's as the next stage in an illustrious career which has seen him delight diners at some of the most renowned establishments on the planet, among them Ristorante Carpaccio, the first Italian restaurant in France to win a Michelin star; Harry's Bar at Annabel's; Alberico at Aspinalls and private members' club, 5 Hertford Street, in Mayfair.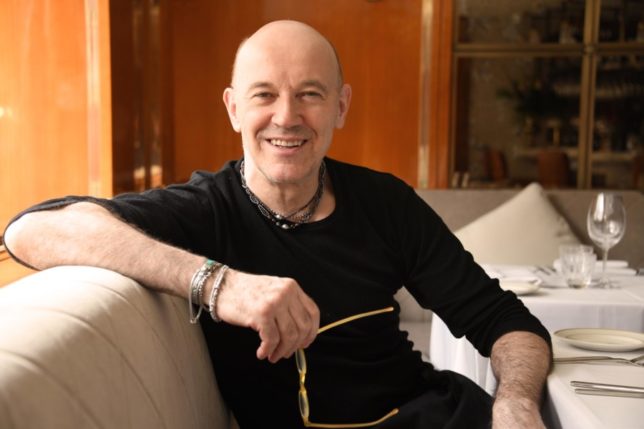 With its impressive surroundings and stunning decor, San Carlo London's two intimate spaces feature interiors that have been months in design and creation with specially commissioned master craftsmen using some of the finest materials to be seen on the London restaurant scene.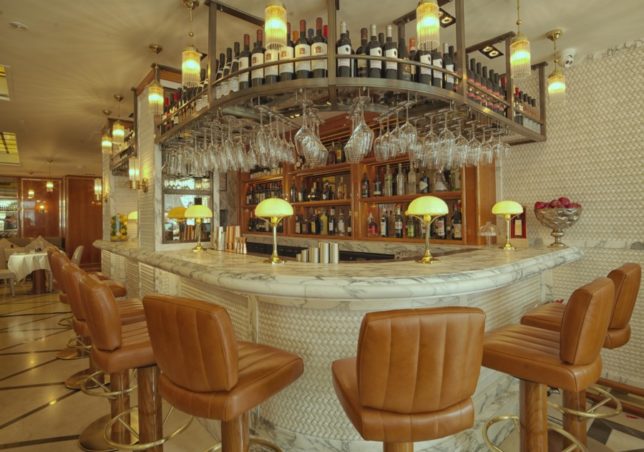 Honed Arabescato marble has been cut from specially selected blocks and steamed beech has been given a high gloss lacquered finish which is more usually found on board superyachts. Rare stones such as brown Collemandina marble and Crema Marfil, one of the most highly valued marbles in the world, have been combined to create a truly stunning floor.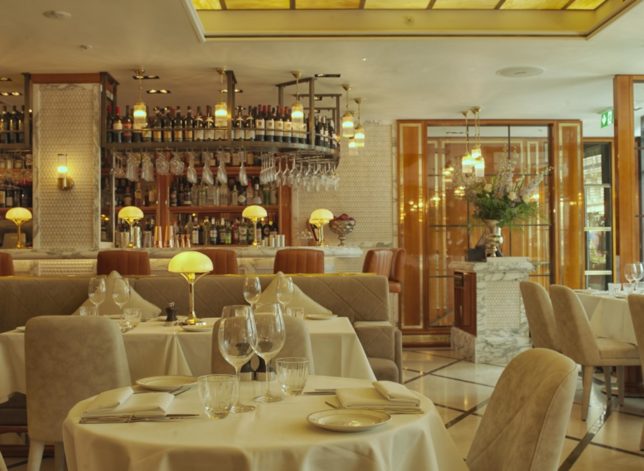 The design team has also incorporated over 600 brass rosettes, handmade by one of the UK's most sought-after artisan metal workers. Such attention to detail carries through to the bespoke furniture created in Italy and fabrics and wall coverings by Christian Lacroix, together with some of Italy's finest leather suppliers.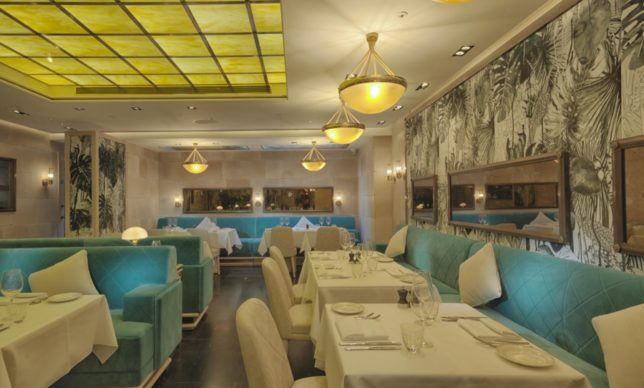 Using only the finest Italian produce, be it veal from Tuscany, beef from Piemonte or tomatoes from Sicily, Alberico's new summer menus include seasonal choices served alongside classic regional dishes. We couldn't wait to sample what San Carlo London had to offer.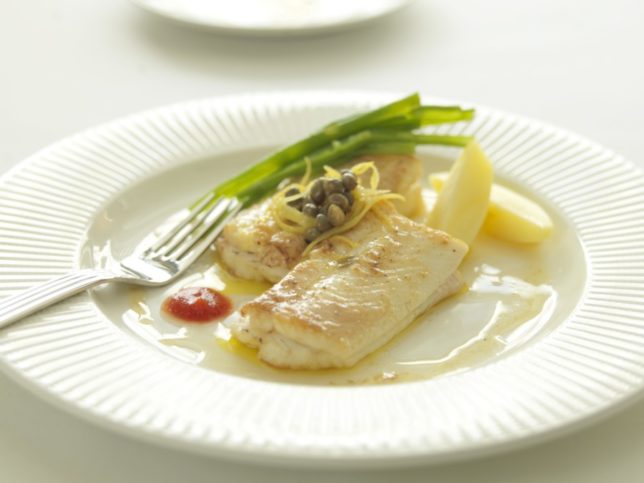 After a warm welcome from the Restaurant Manager and his Front-of-House team, we took our seats at a table by the window overlooking Regent Street and San Carlo's impressive window display of fresh fish, seafood and other produce including an impressive wheel of Parmigano Reggiano and garlands of dried chilli peppers. An aperitivo was definitely in order as we perused the menu – the classic Aperol Spritz and an inventive non-alcoholic concoction for my dining companion whisked up by the bartender.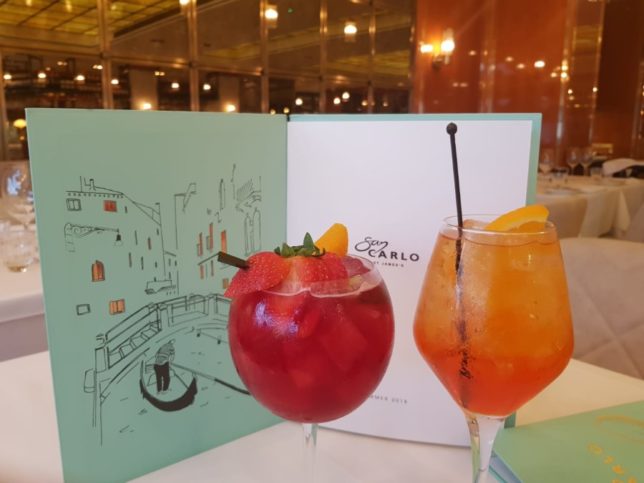 A basket of various breads was served with the finest Italian olive oil for dipping and a moreish seafood paste that was heads and shoulders above ubiquitous butter.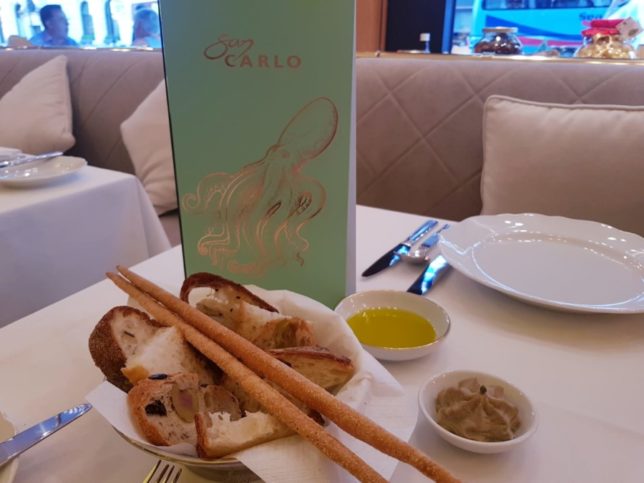 For the Antipasti course, we ordered the Gran Fritto di Pesce e Crostacei con Zucchine to share between two. This usually main course dish of tasty morsels of mixed fried fish and shellfish including delicate tentacles of tender baby calamari is served with a heap of moreish zucchine fritte – salted shredded courgette also fried in a coating of light crispy batter just like the fish. The mouthwatering flavours kept us both coming back for more.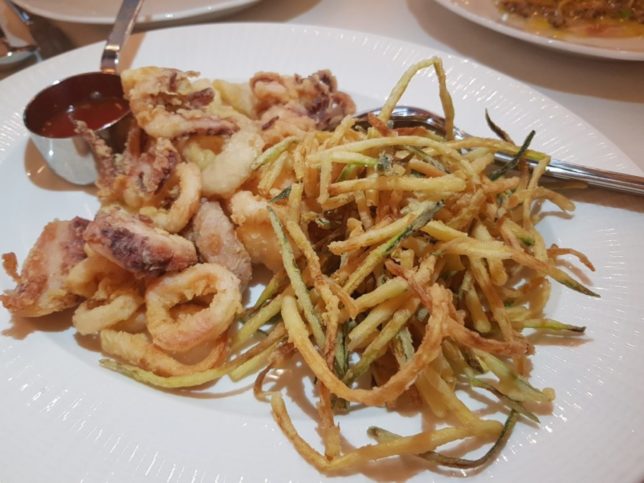 We also couldn't resist one of the Crudi dishes – Carpaccio Di Branzino Con Salmoriglio Siciliano was a mouthwatering plate of melt-in-the-mouth Seabass Carpaccio dressed with fennel seeds, olives, capers, lemon zest and herb oil – the Sicilian dish was an explosion of flavour on the taste buds with the each ingredient of the Salmoriglio sauce in harmony with the rest yet each one discernable in their own right on the palate. You must try it!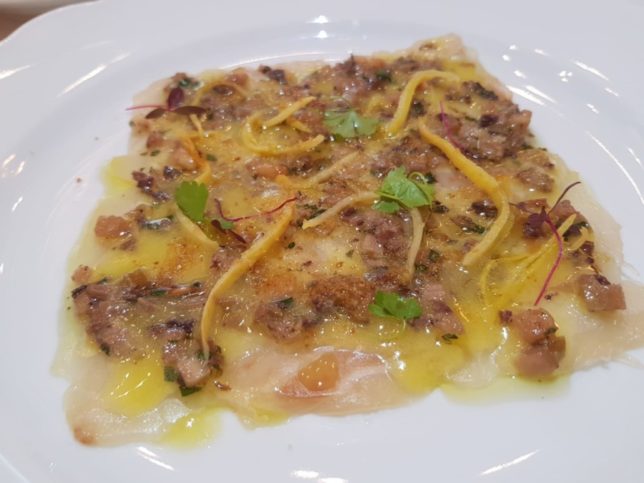 Moving on to the Primi course, I chose Linguine Cav. Cocco Classiche alle Vongole. Said to be the best and most traditional Italian artisanal pasta available, Cav. Giuseppe Cocco pasta features heavily on the menu. This classic linguine dish made with large juicy black clams  was a sheer delight with seriously al dente texture to the pasta – just the way I like it!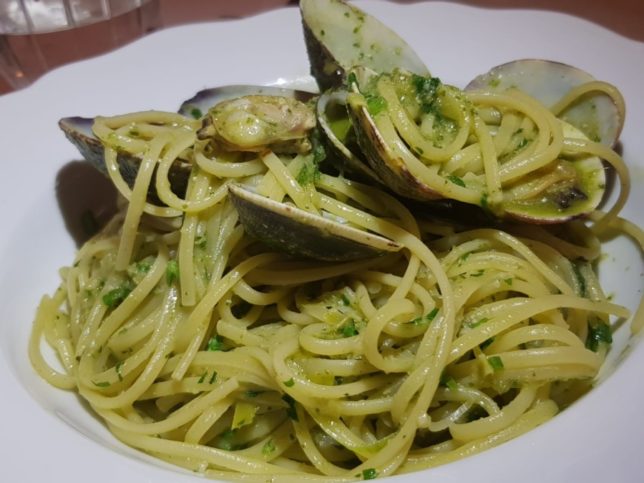 My dining companion was also drawn to another Cav. Giuseppe Cocco pasta dish (naturally!). The Paccheri con Gamberi e Zucchine al Coccio is a well-known regional dish using the broad shapes of paccheri pasta enrobed in a fresh-tasting sauce dotted with plump king prawns and crisp slices of courgette.  Legend has it that the paccheri shape was invented as a way for Italian farmers to smuggle garlic cloves into Austria when the Prussian governments banned trade in Italian garlic. My friend certainly didn't have to smuggle any forkfuls of this dish to fool his appetite!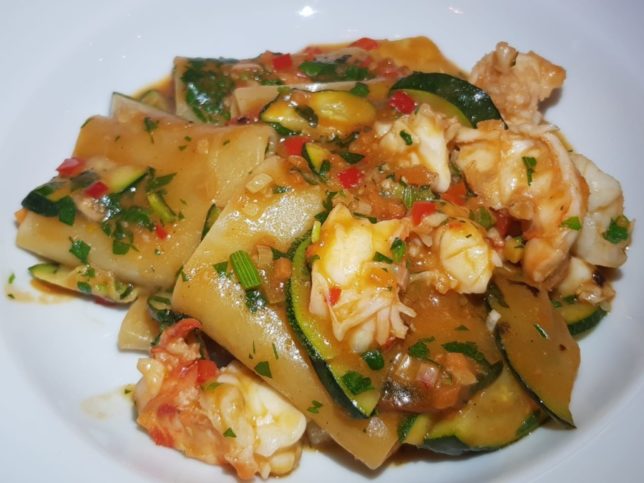 It was then time for the Secondi course in true Italian dining style. I ordered one of the lighter dishes from the Pesci e Crostacei menu – Capesante su Asparagi alla Parmigiana – Three plump king scallops beautifully seared and served alongside tender stems of asparagus  with shavings of the finest parmesan. The flavours and textures of this scallop dish took a restaurant classic to the next level.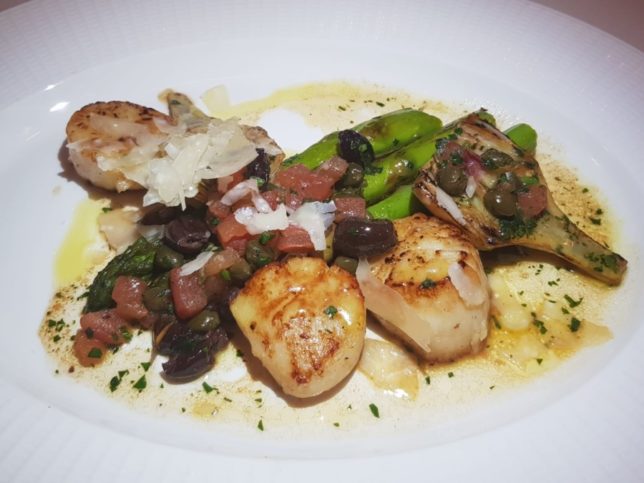 Being a fan of Venetian cuisine, my dining companion was recommended to try one of San Carlo's classic dishes from the region – Fegato Di Vitello Alla Veneziana Con Polenta. Thinly sliced strips of delicately cooked calves liver are served with sauteed onion, parsley and a thick slice of grilled polenta with the unmistakable flavour of parmesan tantalising the taste buds. Again, the technical brilliance of the chef's cooking methods together with the authentic Italian flavours on the palate, took this liver and onions dish to new heights never seen on the British dining table of our childhood!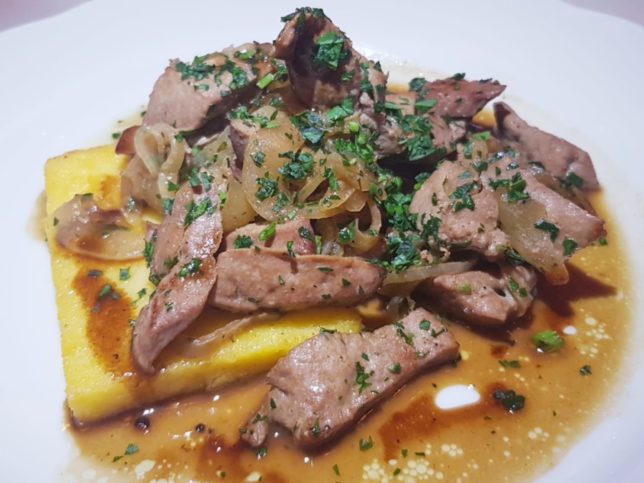 Neither of us have a sweet tooth but for those who can't resist ending their meal with something special from the Dolci menu, there is a selection of regional Italian desserts and ice cream all made by San Carlo London's master patissier from Venetian style Tiramisu and Neapolitan Baba with Limoncello to Sicilian Citrus Sorbet and Tutto Pistacchio – a pistachio sponge cake served with pistachio ice cream and pistachio sauce that really is literally "All Pistachio"!
As one of the world's most celebrated Italian chefs, Alberico Penati has brought his culinary excellence to San Carlo London delivering authentic Italian flavours across a delightful summer menu of regional and seasonal dishes with the gastronomic flair we've come to expect from the San Carlo Group. The new St James's restaurant is a welcome addition to the San Carlo stable and one we will definitely be coming back to very soon.
San Carlo London
2 Regent Street, St. James's, London SW1Y 4LR
sancarlo.co.uk/restaurants/san-carlo-london/
020 3778 0768
@sancarlo_group