Savse (pronounced Sav-Say) is a unique selection of super smoothies; full of fresh flavours, bursting with great taste and natural goodness, and guaranteed to leave you feeling healthy on the inside and out. Boost your health, tantalise your taste buds and shake up your wellbeing with this mouth-watering selection of super-smoothies.
Based on authentic family recipes created by Nina, the mother of Savse's founder Guka Tavberidze to help cure an iron deficiency during a difficult pregnancy in the 1980s, Savse is the ideal fix for those looking for something deliciously healthy and naturally tasty. What's more, each low-calorie bottle offers an amazing two of your five-a-day.
Savse, meaning 'crammed' in Georgian – where the family originates from – is filled to the brim with 100% natural super fruits and antioxidant-rich vegetables, to ensure the tastiest, healthiest raw smoothies, with no added sugars, colourings or water.
Introducing a more enjoyable way to drink your greens, the Savse range comprises of five award winning flavours, which include: Super Green – one of the UK's lowest calorie smoothies (broccoli, pear, spinach, kale, kiwi, lemon apple and banana); Super Purple (beetroot, apple, lemon, lime and mango); Super Red (strawberry, broccoli, celery, kale, orange and spinach); Super Blue (blueberries, kale, beetroot, spinach, blackberries and apple) and Super Orange (mango, passion fruit, apple, celery, orange and carrot).
Since its introduction, Savse has well and truly shaken up the smoothie market. Unlike other smoothie brands, Savse uniquely cold-presses all of its ingredients to retain the essential goodness of the full fruit and vegetables. High Pressure Processing (HPP) is the sophisticated preservation technique used to ensure that all vital nutrients are locked into each bottle and removes any nasties, without compromising on taste or quality by using heat pasteurisation.
To this day, Nina is heavily involved in the recipe testing to ensure that Savse stays true to its roots, so you can enjoy all the authentic freshness and quality of the kitchen, whilst on the go.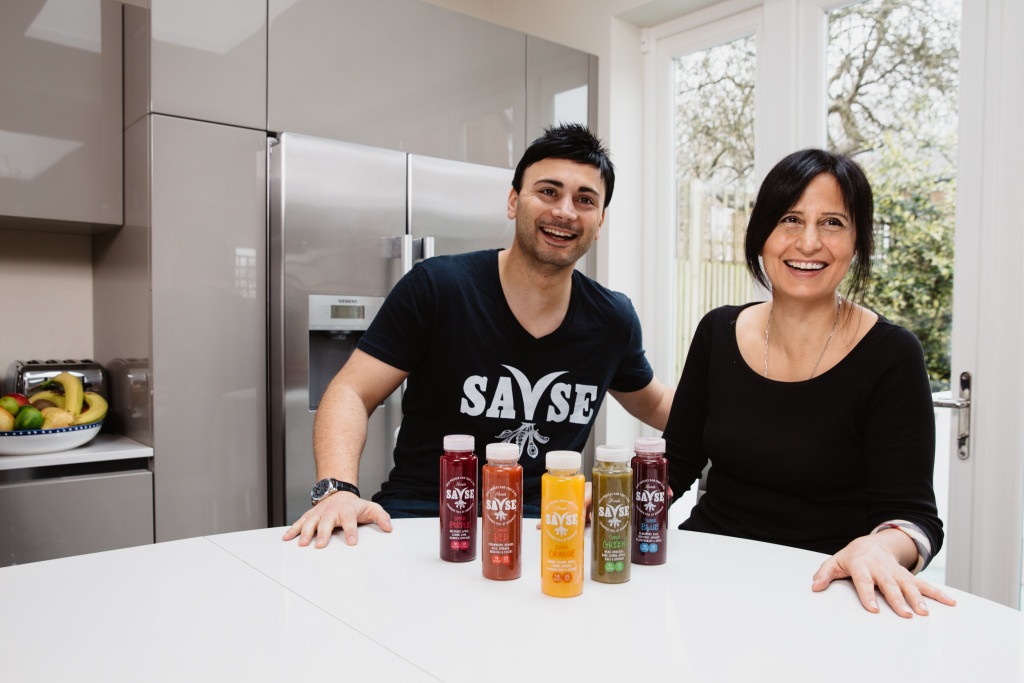 About Savse:
Launching in 2013, Savse's use of HPP (High pressure processing) and its 100% natural ingredients offers an accessible and healthy juice fix. HPP allows the ingredients to retain their natural goodness and ensures Savse tastes like it was made in the kitchen, where it all began.
In 2015 Savse was recognised by UK Government as one of only 50 Food Stars contributing to growth and innovation in the British economy.
Savse is not a diet drink and should be consumed as part of a balanced diet.
Stockists include: Waitrose, ASDA, Boots, Ocado, Harrods, Selfridges, Harvey Nichols, Planet Organic and Wholefoods. Available to buy online: www.ocado.com RRP: £2.29 for 250ml bottles. Also available in 750 ml bottles RRP: £3.99
Savse's delicious flavours include:
Super Green – One of Britain's lowest calorie smoothies, containing just 95 calories in a 250ml bottle, is packed with broccoli, pear, spinach, kale, kiwi, lemon and banana
Super Purple – packed full of energising ingredients, it contains beetroot, officially classed as a 'super-food', which is rich in fibre and helps to lower cholesterol. Also contains apple, avocado, lime, mango and lemon – the ideal post-workout smoothie to replenish your body with much needed goodness
Super Red – bursting with Vitamin C to boost your immune system and keep you fighting fit whatever the weather, Super Red ingredients include strawberry, broccoli, celery, kale, orange and spinach
Super Blue – crammed full of super antioxidants, which strengthen your ability to fight infection and keep cells healthy. This smoothie is full to the brim with scrumptious blueberries, kale, beetroot, spinach, blackberries and apple which leave you feeling energised and radiant
Super Orange – a breakfast favourite bringing a splash of sunshine to your life all year round, this zesty flavour is jam packed with exotic fruits such as mango and passion fruit as well as apple, celery, orange and carrot
Savse's range of award wins includes:
Super Green – Healthy Food and Drink Awards 2015: Low Calorie Drink (Silver)
Super Blue – Healthy Food and Drink Awards 2015: Smoothies (Bronze)
Super Blue – Free From Awards 2014: Raw Foods and Super Foods (Winner)
Super Blue – The Grocer New Product Awards 2014 (Winner)
Super Purple – The Grocer New Product Awards 2013 (Highly Commended)