Scentered Therapy Balms are a unique range of five all-natural fragrance therapy balms which target a variety of lifestyle concerns from lack of focus to lethargy. They are designed to help busy people cope with the challenges of modern day living and achieve their best at all times.
Scentered and SLOAN! Magazine are giving away the entire range to one lucky winner.
THIS COMPETITION HAS NOW CLOSED.
The balms are made from therapeutic grade essential oils and botanicals chosen for both their proven aromatherapy based wellbeing benefits and their fine fragrances. Each of the balms helps positively address a particular lifestyle challenge; sleep, focus, fatigue, stress, anxiety, grief, relaxation and motivation. Fully portable with a handy twist up stick for an on-the-go remedy, these balms can be used individually to target a specific need or together, as a personal mood and life style support 'tool kit'. Developed with leading British perfumers, each fragrance contains up to 25 essential oils and botanicals, and has been professionally blended to deliver a uniquely glorious natural perfume.
STRESS LESS – CHAMOMILE, NEROLI & MANDARIN
The hero product – a balancing and uplifting balm to ease everyday tensions, soothe the mind and lift the spirits. Take comfort in STRESS LESS when dealing with the demands of modern life, whether it's a hard day at work, family or personal commitments, or the eternal juggle to keep it all in balance. A 100% natural therapy balm to help keep you centred, no matter where you are or what life throws at you.
FOCUS – ROSEMARY, MINT & CLARY SAGE
A stimulating balm to clear the head, awaken the senses and focus the mind. Apply FOCUS before an important meeting, event, sports match, exam, performance or whenever else you need to be mentally alert, fully present and engaged. FOCUS helps you adopt the right frame of mind to perform to the best of your ability. Not recommended for use less than 2 hours before going to bed.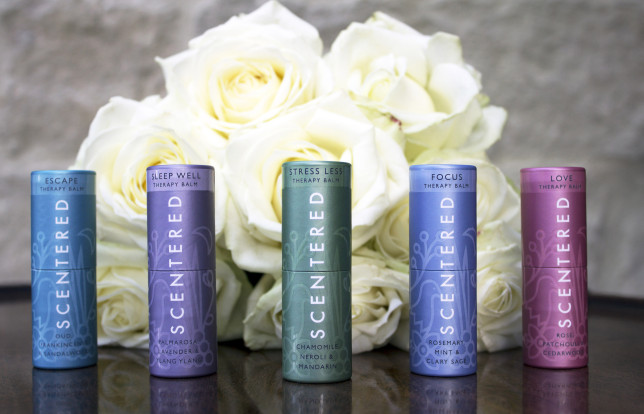 LOVE – ROSE, PATCHOULI & CEDARWOOD
A comforting and calming balm to warm the heart and restore inner peace. Reach for LOVE when you are feeling overwhelmed, emotionally drained or simply out of sorts. A beautiful fragrance to relax and unwind with, and the next best thing to a hug!
ESCAPE – OUD, FRANKINCENSE & SANDALWOOD
An evocative and luxurious balm to indulge and pamper the senses. Apply ESCAPE whenever you yearn for more exotic climes, need a bit of cheering up or crave a few precious moments for yourself. The perfect way to recharge your batteries, gain perspective or inspiration, or let go of everyday frustrations or worries. Be inspired, and creativity and action will follow. Also an excellent aid to meditation or yoga practice.
SLEEP WELL – PALMAROSA, LAVENDER & YLANG YLANG
A therapeutic balm to clear the head and quieten the mind. Relax and prepare for a great night's sleep with a sophisticated floral lavender blend that harnesses the therapeutic benefits of fourteen different essential oils. A 100% natural, portable therapy balm to support restful, restorative sleep at home or away.
10% of the net profits made by Scentered is donated to Women for Women International, an organisation which empowers women to improve their lives and the lives of others. Scentered balms cost £14.50 each from Space NK stores. They are also available online at www.scentered.me, uk.spacenk.com, victoriahealth.com and naturisimo.com