The Ampersand Hotel is one of SLOAN! Magazine's favourite 5-star boutique hotels in the affluent neighbourhood of South Kensington.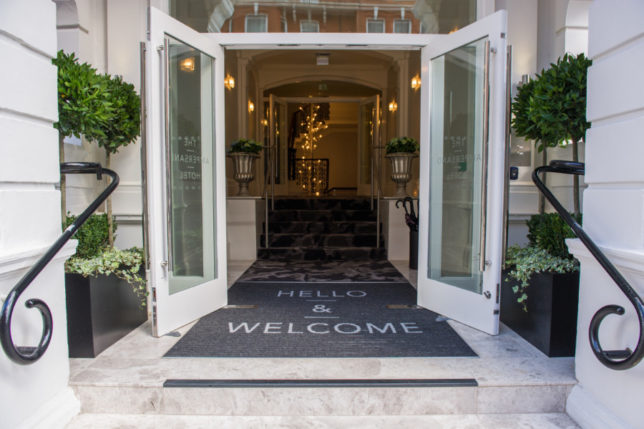 At the heart of the Ampersand Hotel is The Drawing Rooms offering a light and airy patisserie lounge.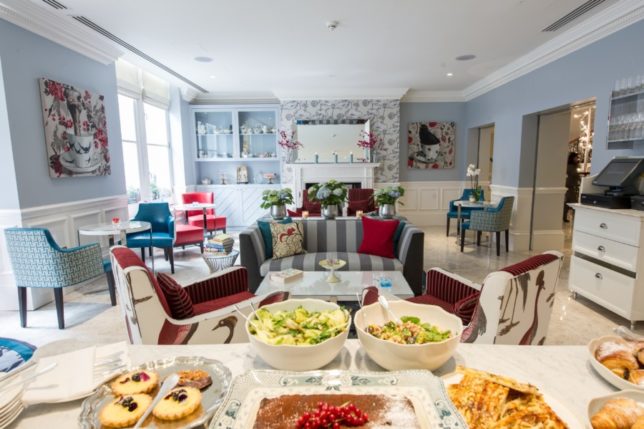 With deep sofas and studded armchairs in scarlet velvets and kingfisher blues, The Drawing Rooms is the perfect place to enjoy pretty pastries, exceptional teas, and freshly-pressed coffees.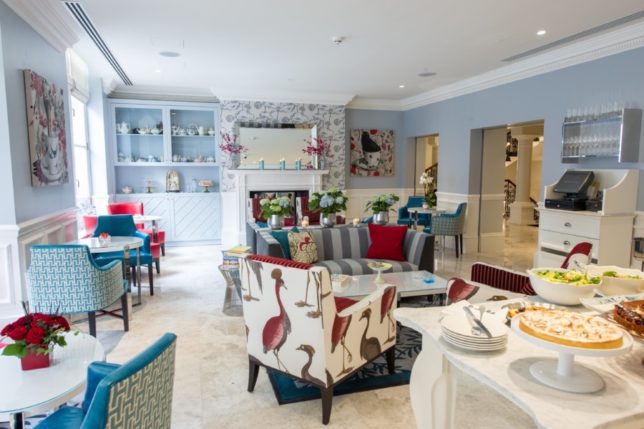 The Drawing Rooms is also home to The Ampersand's award-winning Science Afternoon Tea. Inspired by the neighbouring Natural history and Science Museums, this was crowned 'Best Themed Afternoon Tea' at the Afternoon Tea Awards 2018.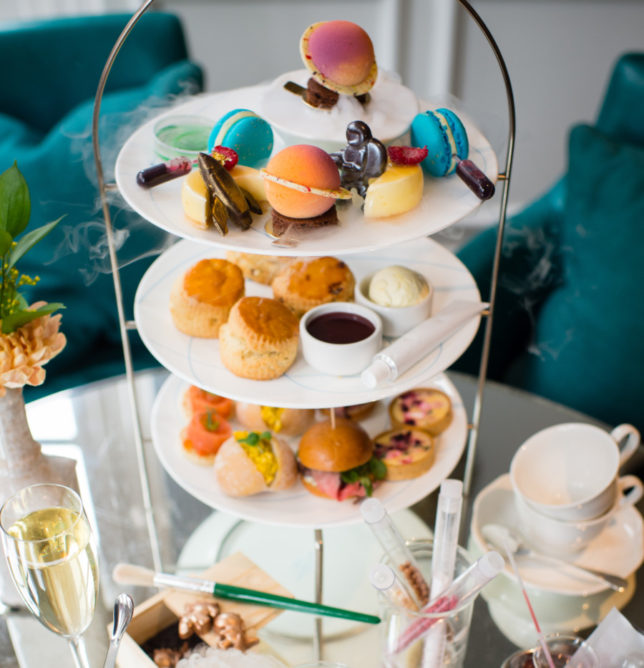 Alongside a delicious selection of seasonal sandwiches, quiches and warm scones, guests can enjoy expertly-crafted pastries including white chocolate coconut sponge with vanilla buttercream, dust for mini dinosaur biscuit 'fossils' hidden beneath chocolate soil, and be transported with Milky Way macaroons and milk chocolate spacemen.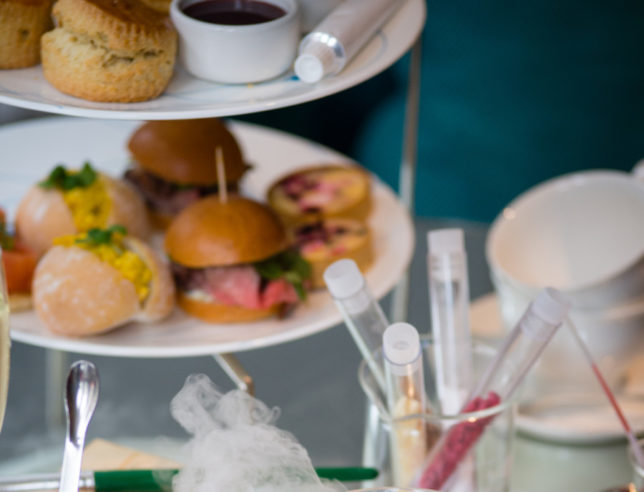 Vegetarian, vegan and gluten-free guests will find menus expertly and creatively crafted to suit their specific dietary requirements. For an extra special treat, add a glass of champagne to sip with your sweet treats for only £49.50 per person.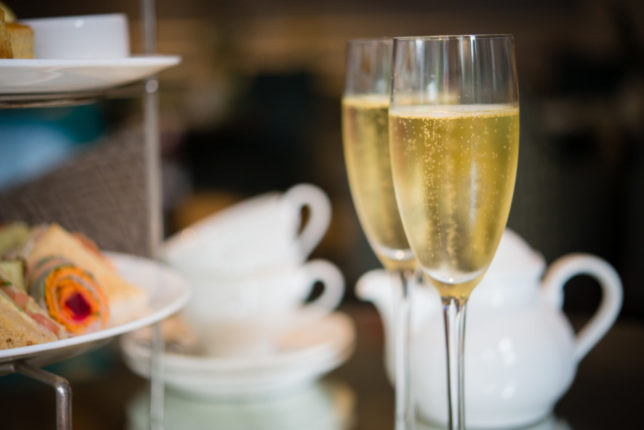 To begin the Science Afternoon Tea at The Ampersand Hotel, celebrity life coach Sloan Sheridan-Williams got scientific… first adding the test tube concoction to the beaker…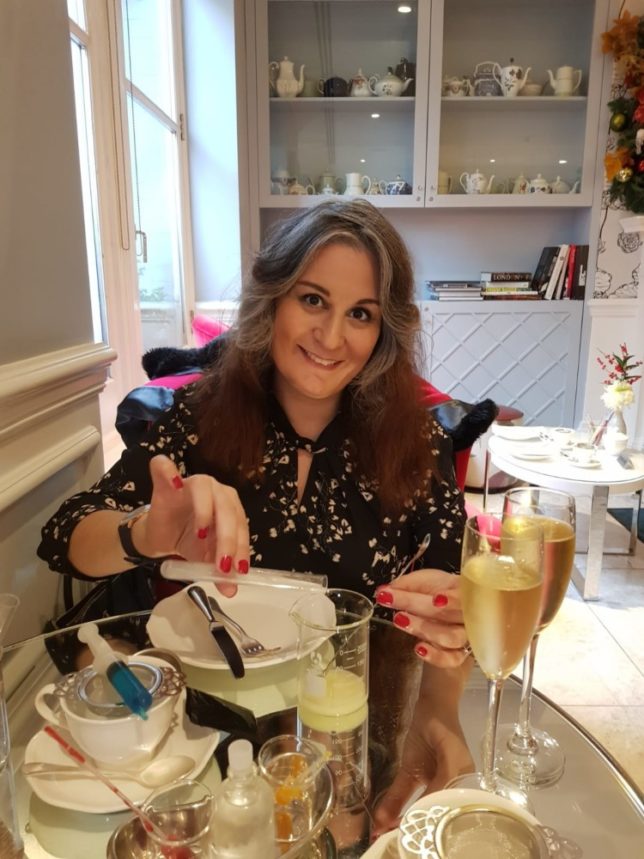 Add H2O and mix the fluid together…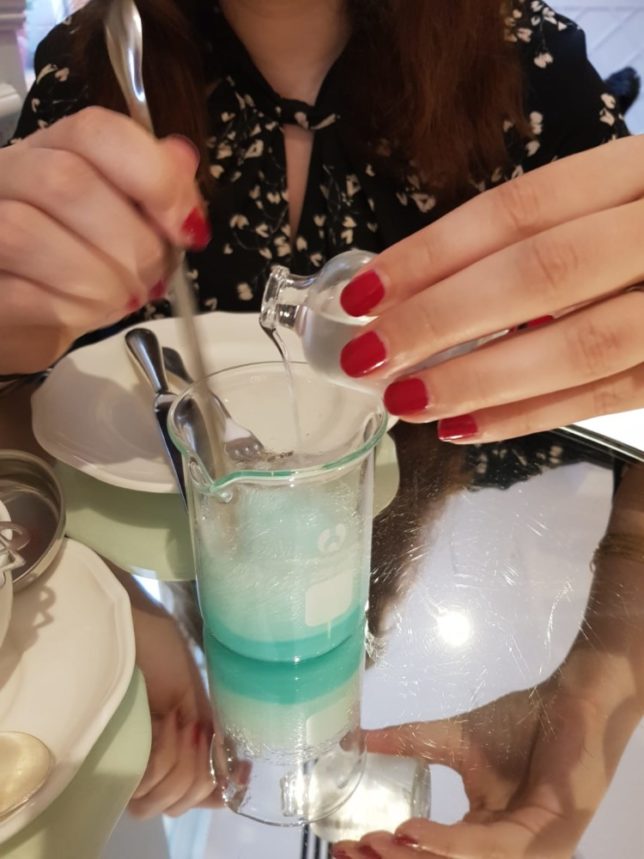 Add the flavouring and colour to get the potion to the correct consistency and drink!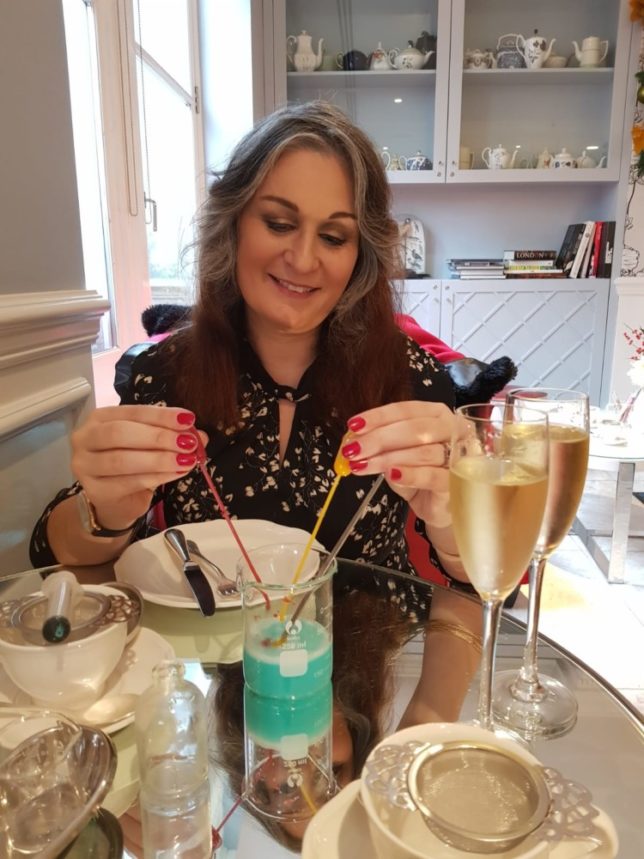 What a fantastic Afternoon Tea ahead of us. Who could resist these sumptuous looking sweet treats!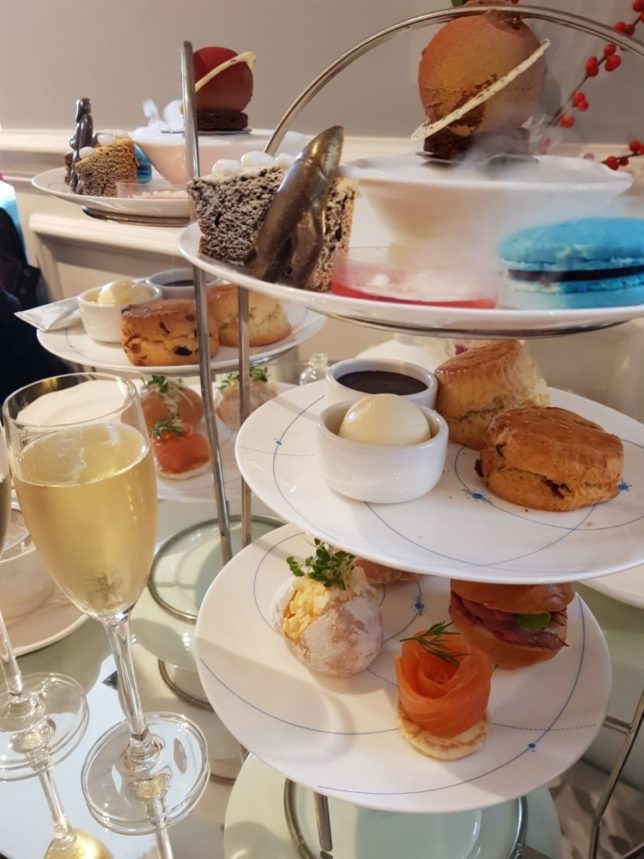 We loved the dark chocolate & raspberry planet mousse, chocolate spaceman, Blueberry & yuzu macaroon, Chocolate & coconut half-moon cake and Strawberry & elderflower jelly petri dish. The dish had an eerie out of this world feeling with the dry ice poured around the planet mousse making you feel like one has just landed!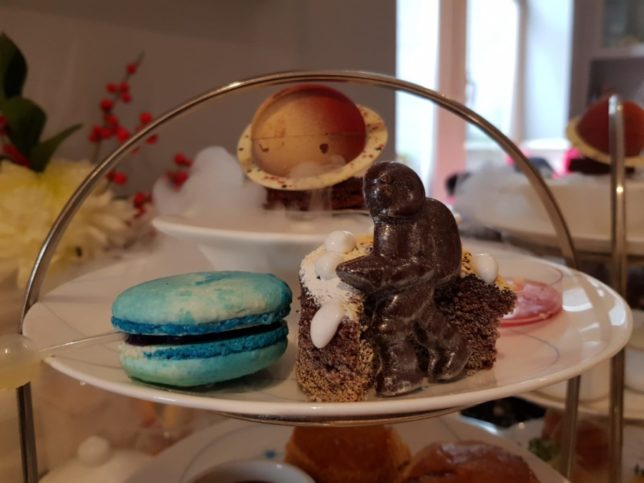 The savoury offering includes Smoked salmon & avocado on blinis and Brioche with roast beef, watercress, cornichons.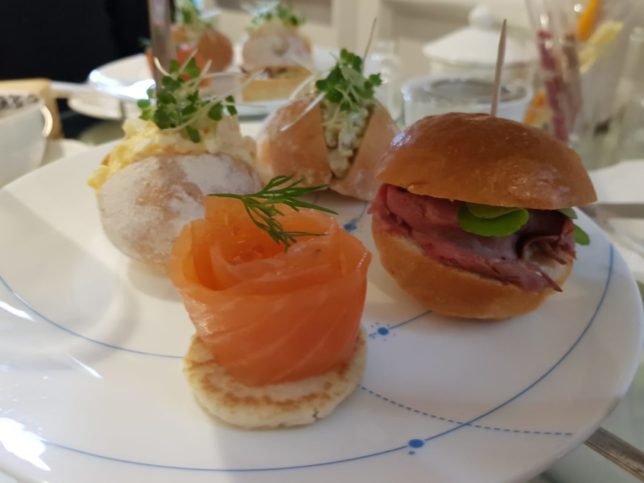 Even a Science Afternoon Tea would not be complete without the quintessentially British scone. At the Ampersand Hotel, these were homemade white chocolate and cranberry & plain scones served with Devonshire clotted cream, homemade strawberry preserve and Lemon curd squeeze tube. We were also able to add freeze-dried raspberry, freeze-dried pineapple, and crunchy caramel toppings.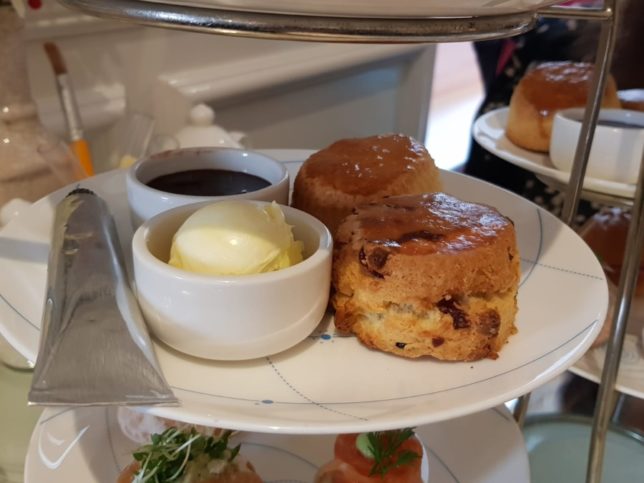 The Chicken with basil & lemon mayonnaise and Truffle egg mayonnaise buns were packed full of irresistible flavour and tasty textures.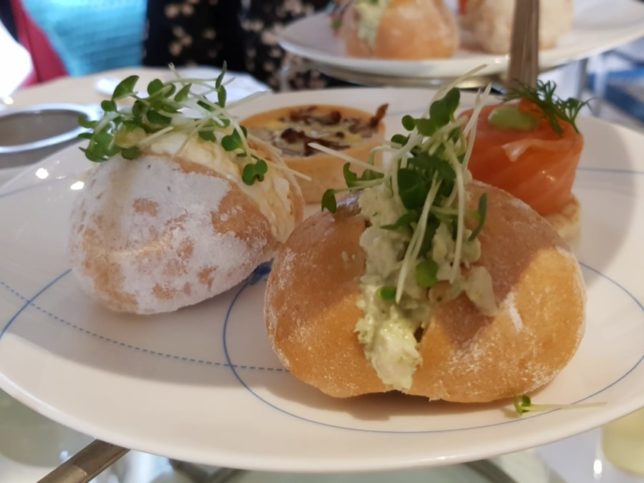 Science Afternoon Tea is served from 12.30-9.00pm, Monday to Saturday and 12.30-6pm on Sundays. £39.50pp or £49.50pp with a glass of champagne.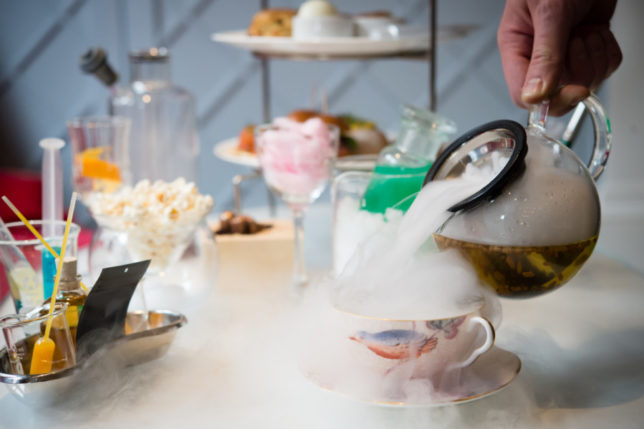 If you'd like to try this Science Afternoon Tea with a twist, The Drawing Rooms also offers a tipsy Science Teapot Tales menu which sees afternoon tea favourites served alongside a cocktail flight including Darwin's Draught – a refreshing mix of Lalani & Co Earl Grey infused Chase vodka, Kamm & Sons, cucumber, apple and ginger.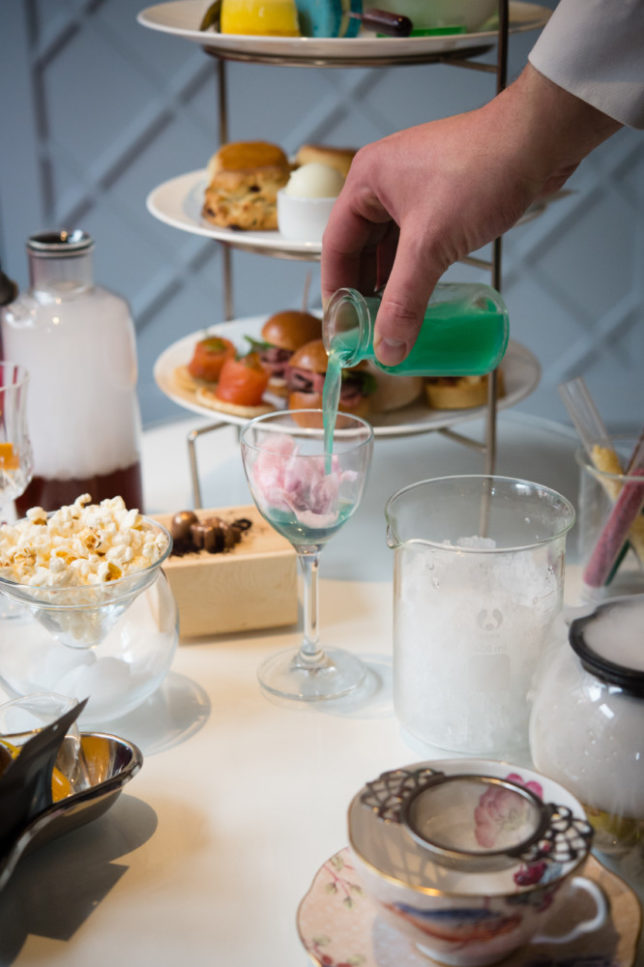 Also on the cocktail flight is Marie Cure-All – Lalani & Co Premium Genmaicha infused rum with Aperol, Antica Formula & Amer Picon – will be served alongside perennial afternoon tea favourites. The Science Teapot Tales menu is served from 12.30-9.00pm, Monday to Saturday and 12.30-6pm on Sundays. £49.50pp.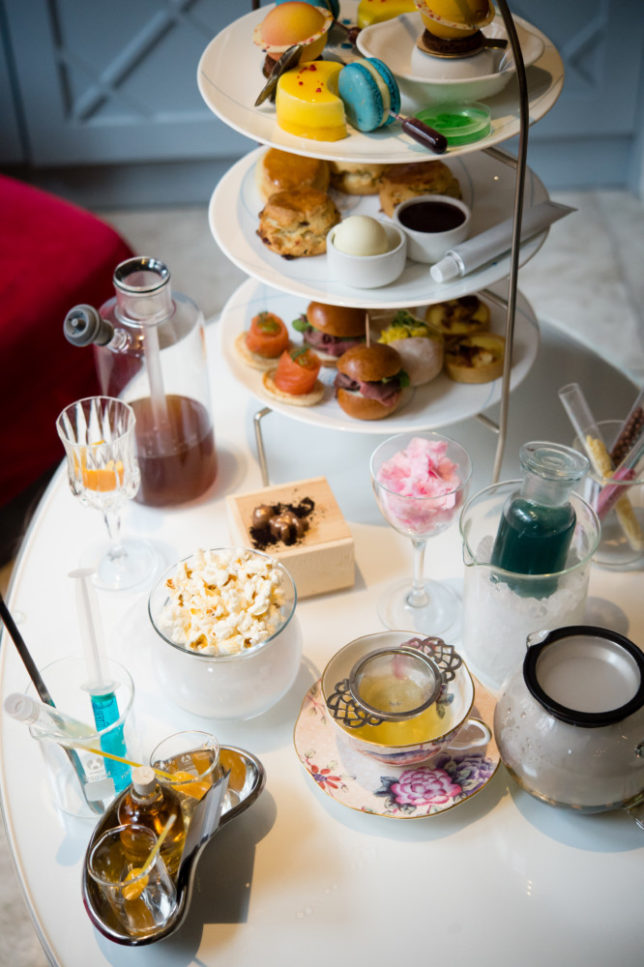 For a playful Kid's Sci-Fi Tea menuThe Kid's Sci-Fi Tea adds an immersive twist to the Science Afternoon Tea. Served on brightly coloured rocket stands, the menu offers a special selection of children's favourites.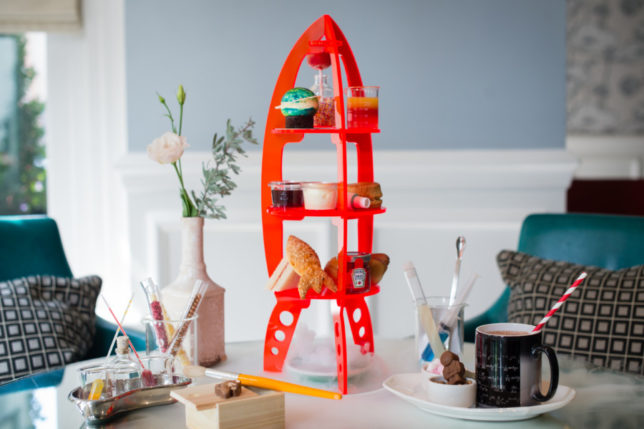 These include mini hot dogs, and kids are encouraged to experiment by topping white chocolate & cranberry scones with lemon curd served in squeeze tubes, freeze-dried raspberry pieces & crunchy caramel balls.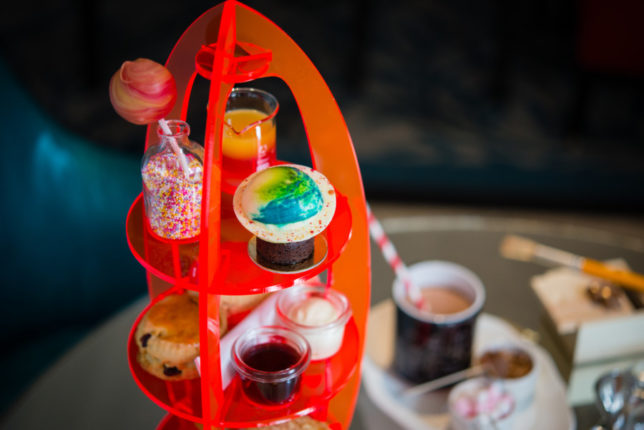 Kid's Sci-Fi Tea is served from 12.30-9.00pm, Monday to Saturday and 12.30-6pm on Sundays. £29.50pp.
The Ampersand Hotel
10 Harrington Rd, Kensington, London SW7 3ER
+44 (0) 207 589 5895
ampersandhotel.com/whats-on/luxury-afternoon-tea
@ampersandhotel