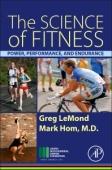 A new book on sport and fitness was published recently by Elsevier called The Science of Fitness: Power, Performance, and Endurance co-authored by Greg LeMond, a three-time winner of the Tour de France, and Mark Hom, MD, a Johns Hopkins University trained biologist.
Athletes seeking optimal results are often enticed by the promises that the latest health, diet and fitness strategies offer, forgetting that science actually holds the keys to their success. The Science of Fitness explains the connection between exercise, nutrition, and physiology in layman's terms, ideal for the experienced and amateur athlete, as well as trainers, and all those interested in developing a serious exercise and fitness regimen. Readers will find important medical and fitness advice about the right exercise and nutrition for enhanced athletic performance, higher quality of life, disease prevention and slowing of the aging process. In addition:
Legendary cyclist Greg LeMond recounts his own athletic journey and conditioning for world class endurance races
The book presents important information about general nutrition, sports nutrition and exercise physiology in a reader-friendly, straightforward style
Co-author Dr. Mark Hom discusses the scientific basis for mitochondrial functions and their relationship to fitness, protein synthesis, quality of life and the aging process
The book synthesizes the latest research on nutrition, sports nutrition, super foods and the brain/body connection
The Science of Fitness is an ideal book for athletic trainers, competitive and elite athletes, recreational athletes, students of nutrition, physiology, physical therapy, medicine, and biology, as well as primary care physicians and endocrinologists dealing with diabetes and obesity patients.
"As a biologist, physician, and avid fitness enthusiast, I searched in vain for the one book that would answer all my questions about exercise, fitness, nutrition and preventative healthcare. During my research, the focus always came back to mitochondria, the dynamos that power every human endeavor," said Dr. Hom. "I recalled how Greg LeMond's dominating fitness, dramatic comeback from devastating injury, and premature retirement from racing were also explained by mitochondrial biology. Together, Greg and I have written a revolutionary new book that will forever change how athletes of all types will think about fitness. We go deeper than any previous fitness book into human physiology and cell biology to explain the true source of human energy and how athletes – and ordinary people – can tap into their inner power."
About the Co-authors
Greg LeMond is a legendary and pioneering cyclist, three-time winner of the Tour de France (1986, 1989 and 1990), three-time World Cycling Champion (1979, 1983 and 1989), author, owner of GregLeMond.com, a bicycle technology innovator and fitness expert. He is the founder of LeMond Fitness, and is a leader in the manufacture of the latest training equipment. LeMond works closely with leading sports physiologists (such as Adrie Van Diemen, physiologist for Team Garmin) in the development of power training devices. In addition, he contributes in many cycling periodicals, most recently Cycling News.
Dr. Mark Hom is a Johns Hopkins University trained biologist, an award-winning medical illustrator, an interventional radiologist applying high technology to the diagnosis and treatment of his patients, an educator of young doctors, and an avid fitness cyclist. Dr. Hom's work explains how the human body, various organ systems, and individual cells function in the biologic process of exercise. He is currently a member of the Department of Radiology at Virginia Commonwealth University in Richmond, VA.