Kitchen worktops are one of the most difficult spaces to style. So often now the kitchen is the hub of the home and with this comes endless amounts of charging cables, bills, paperwork and homework files. Not to mention kitchen appliances, utensils and cookbooks.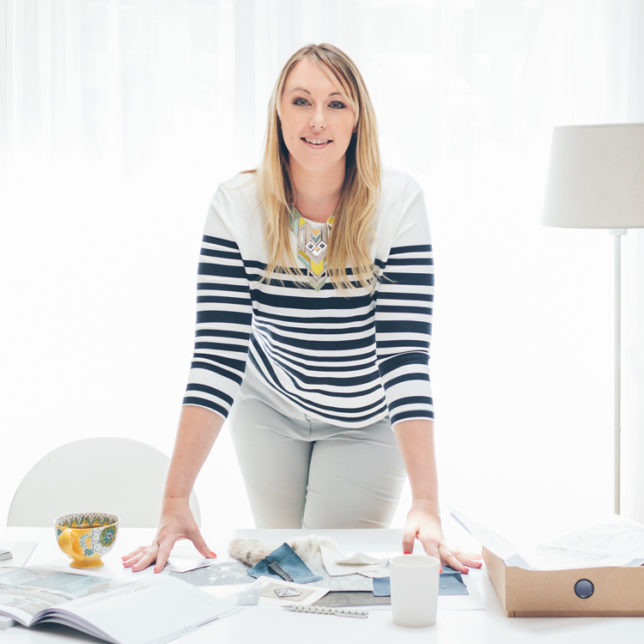 The kitchen, more than any other room, needs to to be practical first and foremost. The kitchen counter needs to serve a valuable purpose and so counter space needs to be kept clear and practical for the preparation of food – meaning that styling it with items that are fragile or likely to get stained is not really a very sensible option.
Below are seven suggestions to inspire you to create a stylish kitchen.
1. Purge!
The first stage to styling your space is to purge! Think of it as a spring clean and move everything that you have onto one space, such as your kitchen table or island. This way, you can completely start from scratch as re-assess each item for its own merit. You may notice you have some appliances that have been gathering dust on the counter that could be dismantled and tidied away out of sight. As well as noticing which practical items aren't needed, you will be able to start to re-style the space with a clean slate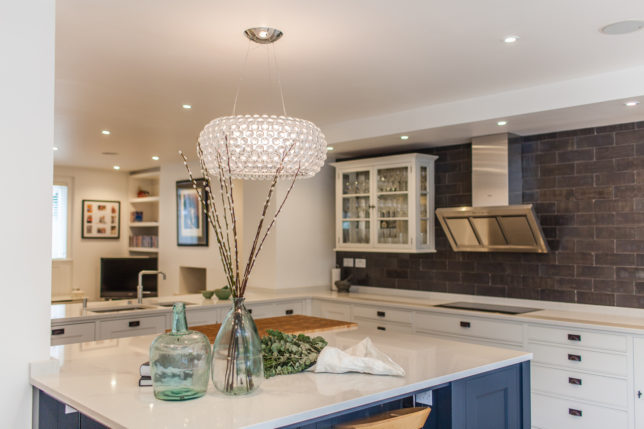 2. Create groupings
Create groupings of objects to avoid your surfaces looking too cluttered. Using trays to ground the objects will make it look more thought out. You can group together various items, from vases and glass jars to cookery books. A small rule of thumb is to never include items smaller than a mug unless they are part of a larger collection as items this small can end up looking cluttered. On shelves, remember that books don't need to be stacked vertically all of the time. In fact, they can look great horizontally with perhaps a 'topper' such as a bowl or plant on the top. If you have a strong colour scheme in your kitchen and one of your cookery books doesn't suit the scheme, try removing the sleeve to see what the cover is underneath.
3. Add natural elements
When it comes to styling, bringing the outside in is always a good idea. Nothing brings life to a space quicker than a bit of green in the form of a houseplant. Whether it's succulents, a fig leaf tree or some fresh potted herbs,, you can't really go wrong with incorporating some greenery to inject some colour and life. As well as plants, add in wooden elements such as chopping boards against the backsplash to add height and warmth.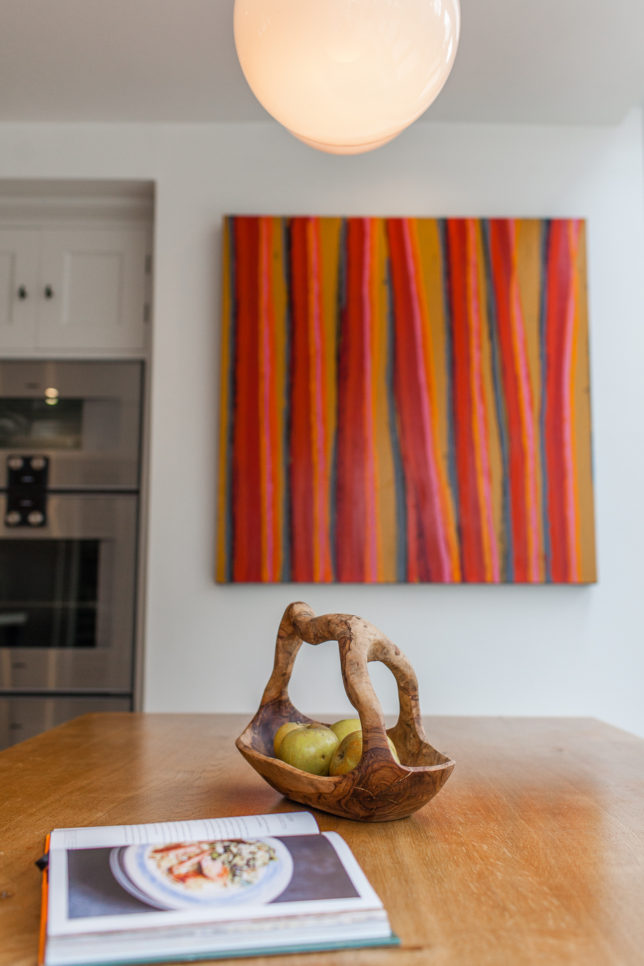 4. Scale
If in doubt, I say go bigger! Scale can make a huge difference – I'd much rather have one big, impressive item than a group of small cluttered pieces. If you have a large kitchen island it can be tricky to style this without feeling like the decorative items are getting in the way. Consider using large glass vases as they add scale without being overpowering. Long wooden bowls filled with fruit look great along a long island.. Try to remember when choosing the items that they should look good when they are empty as well, I like using natural teak bowls for their interesting shapes and textures.
5. Be personal
Create vignettes that reflect your personality. There's nothing wrong with using a look you love as inspiration, but be sure your add personal touches that give clues about who you are, not just your favourite shop. Lean artwork against the backsplash (away from the hob and sink) or on shelves behind stacked crockery. Have a large noticeboard made with a fabric of your choice and fill it with family photographs and notes or install a large blackboard for family doodles and shopping lists.
6. Think practically
The kitchen does, first and foremost, have to be practical but keep an eye out for ways that you can make these practical elements more stylish. Store oils and utensils near to the stove but keep the utensils uniform by perhaps only sticking to one or two finishes (for example, wood and stainless steel). Find a nice container to keep beside the sink to store dishcloths and sponges in. Glass jars are a lovely way to have essential ingredients right at your fingertips – use them to store things such as pasta, rice and flour.
7. Edit
Finally, edit. You won't get it right first time, it may take a few different re-shuffles before you are happy with the finished result.  Stand back, assess and edit. Live with it for a while, or go and have a cup of tea and come back to it if you feel you're going cross eyed! Know that less is more. Be careful not to over accessorise every corner – the blank space around a home is as important as the spaces where you have grouped items together. There is a famous Coco Chanel quote about taking off the last piece of jewelry you put on and I think this applies when styling in the home too!
About Lauren Gilberthorpe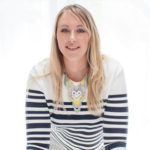 Lauren Gilberthorpe Interiors provides full service interior design throughout the Cotswolds and nationwide. Lauren oversees all of the projects creating stylish, timeless interiors with warmth, dedication and passion.