In her new book, Land of Fish and Rice, Fuschia Dunlop explains basic cooking techniques, typical cooking methods and the principal ingredients of the Jiangnan region of China with its modern capital Shanghai. Her recipes are a mixture of simple rustic cooking and rich delicacies from this plentiful region whose cuisine that is renowned in China for its delicacy and beauty. Fuschia shares below her recipe for one such beautiful dish…
Shanghai eight-treasure glutinous rice (ba bao fan  八宝饭) is a glistening dome of sweet, sticky rice with a jewel-like pattern of dried fruits and seeds and a dark, secret heart of red bean paste. This gorgeous pudding is a favourite dish in Shanghai and a traditional festive sweetmeat across the region. The 'eight treasures' are the fruits, nuts and seeds used to ornament the dish. Traditionally, the pudding is enriched with lard, but I prefer to use coconut oil, which gives it a delicate, enticing aroma and makes it suitable for vegetarians.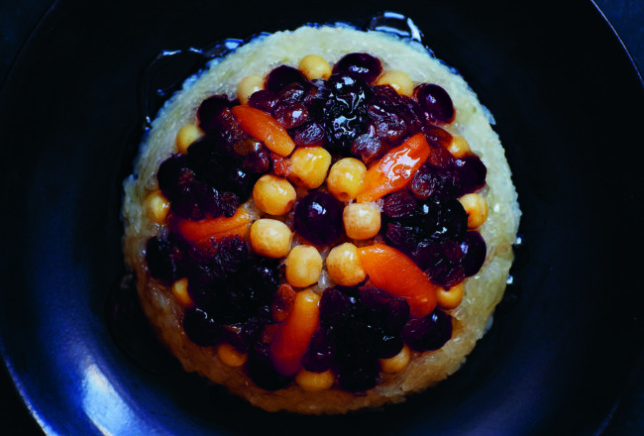 Feel free to express your creativity with the decorations. In the picture above, I used five dried jujubes and five dried apricots, a handful of sultanas, some glacé cherries and a handful of ready-to-use lotus seeds – but do experiment. Many Chinese cooks add pine nuts or strands of multi-coloured candied fruit; old-fashioned candied angelica would work well. One of my favourite versions of this dish is the one served at the Fu 1088 restaurant in Shanghai, where they use a mixture of black and white glutinous rice and fill the pudding with jujube paste; it is served in tiny individual portions, each with an accompanying cupful of warm walnut cream.
You'll need a steamer, some muslin and a heatproof bowl just large enough to hold the ingredients – around 750ml.
Ingredients
250g Japanese sweet rice
100g caster sugar, plus 3–4 tbsp
40g lard or coconut oil, or 4 tbsp groundnut oil, plus a little extra
150g red bean paste
An assortment of dried fruits and nuts or seeds for decoration (see recipe introduction)
Rinse the rice in several changes of water until the water runs clear. Cover it in cold water and soak for at least 4 hours or overnight. If you are using very dry dried fruits, cover them in hot water and leave to soften. Cut any large fruits such as jujubes in half and remove the stones.
Line a steamer basket with muslin. Drain the rice and put it in the steamer, spreading it out in an even layer, but without packing it tightly. Steam over a high flame for 20 minutes, until tender. While the rice is still hot, turn it out into a bowl, add 3–4 tablespoons sugar to taste, along with the lard, coconut oil or groundnut oil, and mix thoroughly.
Grease the inside of a heatproof bowl with a little lard, coconut oil or groundnut oil. Arrange the fruits and nuts or seeds in a pretty pattern around the base of the bowl. Carefully place about half the rice in the bowl. Take the red bean paste and pat it with your hands into a circle that will fit onto the layer of rice, with a little space around the edge. Put the bean paste on the rice, then fill the bowl with the rest of the rice and press it down over the bean paste to create a flat surface. Cover the bowl with a small plate and steam over a high flame for 25 minutes.
While the pudding is steaming, melt the remaining 100g sugar in 100ml water over a gentle flame, then boil for 1–2 minutes until syrupy. When the rice is ready, remove the plate and replace it with a serving plate. Carefully invert the bowl and turn the pudding out onto the plate. Pour over the syrup and serve.
Extract taken from Land of Fish and Rice by Fuchsia Dunlop, published by Bloomsbury, £26 hardback. Photography © Yuki Sugiura