SLOAN! Magazine is delighted to announce that award-winning Restaurateur Simon Rogan is opening Aulis London, an intimate eight-seater chef's table this Autumn. Marking Rogan's return to London, Aulis London will offer guests a dynamic and interactive dining experience.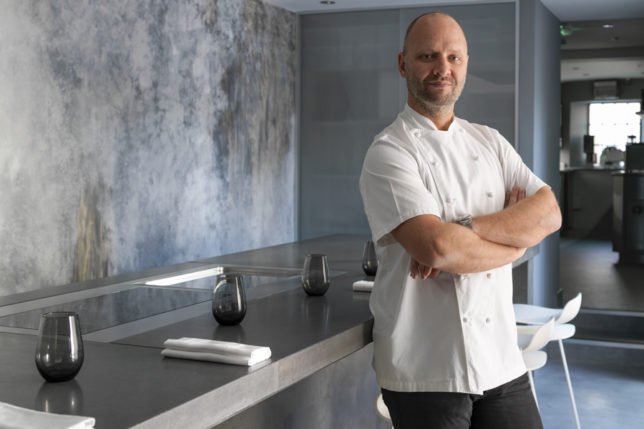 Aulis London will mirror the Aulis concept in Cartmel that is currently serving as the development kitchen for Rogan's two Michelin star restaurant, L'Enclume. Aulis London will house the experimental hub for Simon and his team of chefs for his upcoming venture, Roganic, opening in Marylebone later this year. Although by day a culinary workshop, by night Aulis London will be open to the public. This clandestine kitchen will be found in the heart of London via its unassuming doors to a select eight people at a time for the ultimate personal dining experience.
Those dining at Aulis London will experience truly uncompromising gastronomy at the hands of the chefs as they will be the first to taste the newest of Simon Rogan and his team's innovative dishes. They will be created using cutting edge technique, the imagination of Rogan's chefs and the finest ingredients, sourced from the best suppliers from around the country, including Rogan's Our Farm.
With just eight seats available, guests have the opportunity to book individual spaces or the table in its entirety to get exclusive access to a personalised evening with the chefs as they create and serve the multi-course dinner tasting menus. With no menu to choose from, guests can prepare for a food and wine pairing menu selected by the chefs that day.
Rogan said "I am really excited that Aulis will be returning to London and we've found the perfect spot for it. Aulis is an integral part of our operation in the Lake District and it will be no different in London. We're also very excited to be launching Roganic in Marylebone later this year, and Aulis London will offer guests the opportunity to sample dishes not yet seen on Roganic menus. With only eight seats, Aulis London can give our customers a really up close and personal insight into how we operate. We are going to have a lot of fun there."
Working with Simon once more, and heading up Aulis London will be Chef Rafael Cagali who brings with him the expertise of working at Michelin starred establishments such as Quique Dacosta, Fat Duck and Fera at Claridge's. He will be supported by Head of Development Harry Guy, who trained at Saison in San Francisco and was the winner of the 2016 Roux Scholarship.
Over the past 25 years Simon Rogan has developed his distinctive and inventive cooking style that has led
to awards, Michelin stars and worldwide acclaim. Building a culinary destination in Cartmel, in the southern Lake District, Simon opened L'Enclume, a restaurant with rooms in 2002, followed by Rogan & Company in 2008. Developing his commitment to the area, since 2009 Simon has had his own farm just outside Cartmel.
L'Enclume currently holds 2 Michelin stars, and was named Good Food Guide's number 1 Restaurant for 2017, the fourth consecutive year with a score of 10/10. Simon Rogan has recently been named the AA Chef of the Year 2017 and holder of 5 AA Rosettes at L'Enclume and 3 AA Rosettes at Rogan & Company.
The Aulis London experience is priced at £250, which includes a tasting menu with wine pairing, selected by sommelier Pierre Brunelli. All other details, including location and timings will be revealed to guests only upon making a reservation.
Reservations can be made by email – AulisLondon@SimonRogan.co.uk