Advanced Nutrition Programme™ has introduced a new supersize pouch of its patent-pending supplement, Skin Accumax™, a product specially formulated for problem skin. The new pack size made our 90-day product trial even easier with only two packs taking up minimal space on the shelf. See below for details about the trial and the amazing results.
Skin Accumax™ is a vitamin phyto-nutrient based product. Results can take at least four months depending on the severity of the skin problem so for those taking four capsules a day (the recommended starting dose), the new supersize pack will last 45 days. The larger pack means you can manage expectations as it takes around 12-14 weeks to see optimal results and this ensures total commitment to the protocol.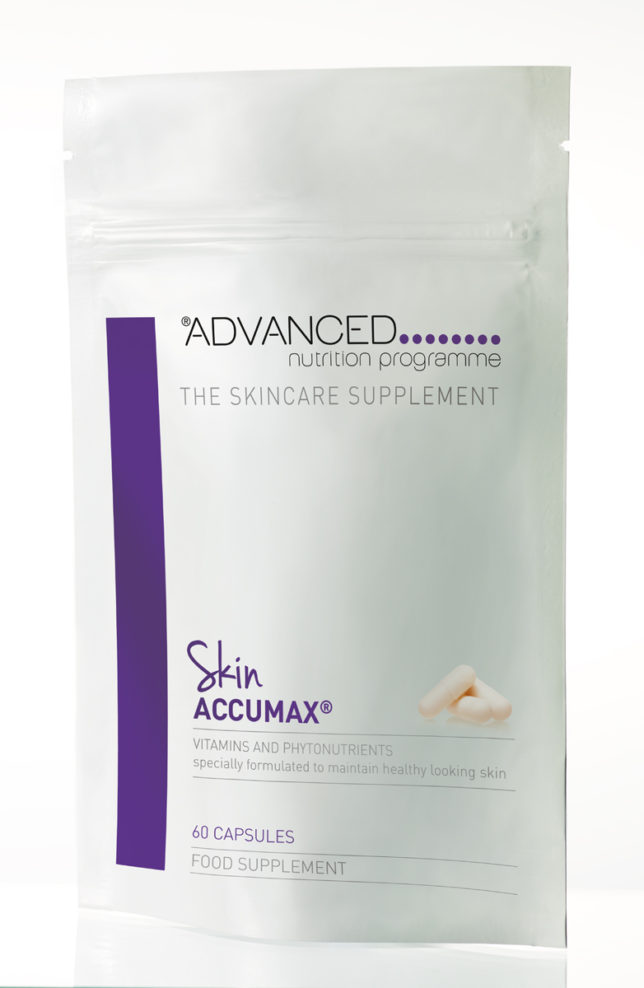 Head of Nutrition at iiaa, the company behind the breakthrough formulation, Lorraine Perretta says, "This new size pack is a more convenient way for people to buy Skin Accumax™, saving them money and reducing the amount of packaging whilst helping people to achieve long-term results for their skin."
Skin Accumax™ 90-Day  Trial – Starting Out
Skin problems can be a reflection of an internal imbalance, so it makes sense to target the source from the inside. Skin Accumax™ contains a special combination of vitamins A, C and E, which support skin health, plus an active phyto-nutrient component called Diindolylmethane from BioResponse DIM®. Diindolylmethane is an active nutrient compound identified in broccoli.
As a vegan who is intolerant to dairy, gluten and yeast, it was reassuring to know that the Skin Accumax™ formulation does not contain wheat, gluten, yeast, dairy products, artificial colourings or flavourings, and is suitable for vegetarians and vegans. The ingredients are also scrupulously screened for quality and purity.
The handy supersize pouch is hardly noticeable on the shelf and eliminates the usual bulky tubs of supplements that health-conscious individuals tend to have taking up valuable space – which was great given my 90-day supply of 360 capsules!
I started  with two capsules twice a day, taken with food, as recommend by Advanced Nutrition Programme™ in order to get the full benefit of Skin Accumax™.
Skin Accumax™ 90-Day Trial – After 30 Days
Taking the capsules was easy as they were not large tablets like some skin supplements and taking two at a time was simple and comfortable. I didn't experience any unwanted side effects like the capsules repeating on me or other digestive troubles. It was clear that the ingredients were of a high quality as one would expect from iiaa, one of the UK's leading skincare companies who also distributes skincare brand Environ and mineral cosmetics range jane iredale, enabling clients to adopt an inside and out approach to maintaining great skin.
I wasn't expecting immediate results as we all know it takes at least 90 days before one sees optimal results from any supplement working from the inside out. Therefore I wasn't surprised to see little difference in my skin after 30 days. However the new supersize pack meant that I still had 2 weeks to go before the first pack ended which made a difference psychologically, helping to manage my expectations and allowed me to be totally committed to the protocol of 2 capsules twice daily.
Skin problems don't suddenly appear overnight and they don't disappear overnight either, so its important to remember that when tackling a long-term problem like acne-prone skin.
Skin Accumax™ 90-Day Trial – After 60 Days
The ingredients in Skin Accumax™ have been carefully formulated in a specific ratio to work in synergy for maximum results in the maintenance of normal healthy skin and collagen formation. Vitamin A contributes to the maintenance of normal skin while Vitamin C contributes to normal collagen formation for the normal function of the skin.
Having taken Skin Accumax™ as directed, I noticed a visible difference in my skin after 60 days. My skin was clearer not just on my face but on other areas of my body which were prone to breakouts such as my shoulders and back.
Skin Accumax™ 90-Day Trial – Final Results
What makes Skin Accumax™ different is the inclusion of Diindolylmethane (also known as DIM) in the breakthrough formulation. DIM has been shown to have a beneficial effect on hormonal acne and it has also been shown to have a balancing effect on testosterone. Increased levels of testosterone cause the skin's sebaceous glands to produce much more sebum than the skin needs which in turn blocks pores and causes blackheads, whiteheads and acne.
At the end of the 90-day trial I was amazed by the results. My skin was much clearer and there were no breakouts on my face. The problem skin on my back had completely cleared and my skin had never looked healthier. I also had a greater feeling of general well-being.
I put the results achieved on my 90-day trial to the amazing benefits of DIM and the additional Vitamins A & C in the  Skin Accumax™ formulation. This is backed up by the research I conducted before starting the trial. You should always be armed with as much information as possible before taking any supplement or medication – speak to your health practitioner if you are unsure of anything.
Where to buy Skin Accumax™
Skin Accumax™ costs £89.95 for 180 capsules in a pouch. Designed to provide higher economies of scale, the pouch gives a saving of £30 compared to buying 3 single pouches of Skin Accumax™ at £39.95 per unit. Plus, with less packaging, one large pouch compared to three is also better for the environment.
It is part of a cutting edge range of Advanced Nutrition Programme™ supplements that support skincare regimes, enhancing topical approaches to skin health and overall wellbeing.
The product is available at www.advancednutritionprogramme.com and nationally through beauty salons, clinics, Harvey Nichols and other outlets.
Skin Accumax™ can be found on social media at @AdvancedNutritionProgramme