Having heard the rumours that Skinade's fans allegedly included Millie Mackintosh, Sienna Miller, David Gandy, Kim Kardashian, Tom Ford, Ashley Judd and January Jones, we contacted Skinade for a 30-day trial of their collagen drinks and new travel-sized sachets to see if the product really did significantly increase collagen levels to reduce the appearance of fine lines and wrinkles. Skinade also claim that the collagen drink kick starts your bodies natural production of hyaluronic acid which is responsible for the skins hydration and therefore ideal to gain hydrated and glowing skin throughout the changeable British weather.
Drinking Skinade is said to have a three-fold effect: increasing collagen in the bloodstream by adding the 7000mg of hydrolysed marine collagen in each bottle (daily dose) of Skinade as well as triggering the body's own collagen production by firing up the fibroblasts (in layman's speak, our own collagen factories). Increasing collagen in the bloodstream also is said to trigger the body's production of hyaluronic acid which is responsible the optimising skin hydration. To optimise skin health, we must work from the inside out, as well as the outside in. That's why drinking plenty of water is one of the easiest and cheapest beauty secrets that everyone from top models to beauty editors swear by.
Not only does Skinade claim to reduce the appearance of fine lines and wrinkles but it also claims to increase the skin's hydration levels, meaning it can be beneficial to dry skin conditions, such as eczema and psoriasis of the whole body. However to see the benefits of Skinade, the drink must be drunk daily for a minimum 30 day period and it is recommend that optimal results are seen after 12 weeks as this is the time it takes for the new nourished skin cells to work their way up through the dermis to reveal the full effects of any skin supplement.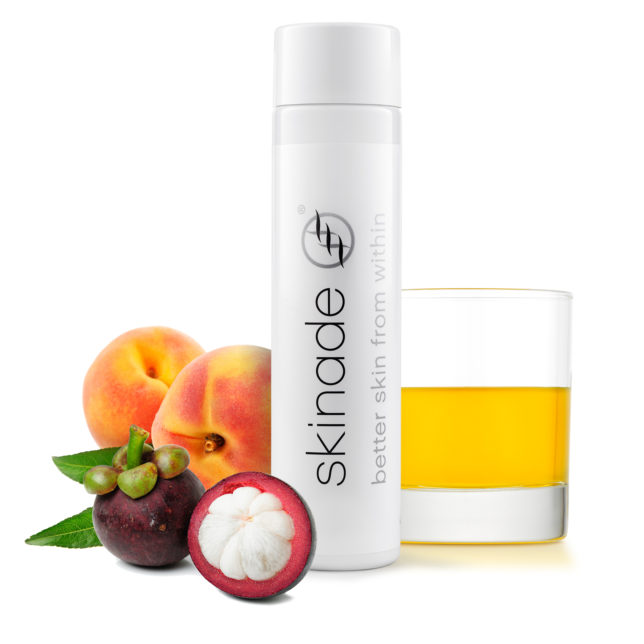 Paul Banwell, one of the UK's most well known plastic surgeons, recommends Skinade as a collagen boosting beauty drink. He says, "For improved efficacy, the skin supplement needs to be absorbed appropriately; this is dependent upon both its bioavailability of the supplement and molecular weight of the collagen. To maximise the bioavailability and benefits of collagen, it is critical that the total product is completely in solution and that the molecular weight of collagen is as small as possible. The smaller the molecular weight, the more likely it is to be absorbed into the bloodstream. It is also important to note that the stability and benefits of a product formulated in complete solution cannot necessarily be replicated with home-use tablets and powders suspended in liquid so research thoroughly before you stock these products for your patients and clients."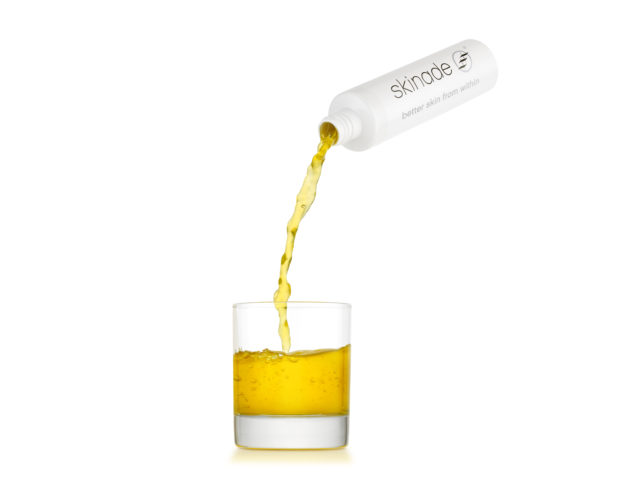 I tried the Skinade 30 day supply of 150ml bottles and 15ml sachets. The drink tastes of Peach and Mangosteen (which some may find an acquired taste) and is packed full of vitamins, with just 1.5grams of fructose sugar, no artificial colours and fewer than 38 calories per 15omg bottle.
For me, Skinade has a strong somewhat unusual flavour which some may find takes a little time to get used to. I found that it was best to drink it chilled over ice as it then tasted like a tropical cocktail and the smell is not so pronounced when it is chilled. I also found it easiest to drink it all in one go just before breakfast.
After taking Skinade for 30 days I did see some improvement in my skin – it looked plumper, softer to the touch and felt more hydrated. My complexion looked clearer although fine lines were still there. It's quick and convenient to use as the new sachets when you're out and about as they just mix in water and can easily be carried in a handbag or can be taken on holiday. Skinade takes time to work but that is to be expected since it's working from the inside out. After the 4 weeks, my skin did look better.
In terms of aesthetics, the white plastic bottle doesn't look very appealing – more like a bottle of something you would find in your bathroom cabinet rather than your fridge. But the plastic makes it lightweight and keeps the contents away from direct sunlight which must have been a consideration by the company that makes Skinade as the bottles are larger than other collagen drinks we've reviewed like LQ Health and GOLD COLLAGEN.
So why drink collagen rather than take a pill? Is there a difference between pills and potions? The experts from Skinade certainly believe there is a difference based on their research which shows the difference in absorption rates mean 20 collagen pills equate to the levels of collagen found in one bottle of Skinade.
When it comes to collagen, the two most common delivery methods are either tablets or liquids – each working very differently to deliver collagen to the body. The main difference that separates liquids and tablets is the absorption rate of ingredients. The Physicians Desk Reference puts the absorption rate of tablets at between 10-20% as opposed to liquids, which are listed at a much higher absorption rate of over 95%. The reason for this huge discrepancy is that, while nutrition drinks in solution can pass through the lining of the stomach and enter the bloodstream directly, pills and tablets must pass through the digestive system where a great deal of the ingredients are simply passed through the body without being properly absorbed.
Another key difference is the mode of absorption and how this affects the collagen you are trying to absorb. While collagen tablets are broken down into their base amino acids by the digestive system, in a drink like Skinade, the collagen avoids this fate by being directly absorbed into the bloodstream. In fact, this process happens from the second the liquid enters your mouth.
An equally important consideration is ease of use and digestion. Tablets can often be difficult to digest, especially for those with sensitive stomachs or poor digestive systems. It is also significantly easier to drink your nutrition than try to swallow handfuls of hard pills. With the difference in absorption rates, you would need to take at least 20 large pills to match the same levels of collagen found in just one bottle of Skinade.
Skinade costs £99 for a full 30 day supply and is available from skinade.com