SLOAN! asked Amy Gordinier-Regan, CEO of Canadian skincare company Skinfix Inc., for some helpful advice on solving dry skin problems ready for the summer. Here are her top tips and suggestions…
Raisin or grape – what does your skin look and feel like? Dry, flaky, deflated and itchy skin are all clues that your body is dehydrated and that you have a compromised skin barrier. Ninety percent of all skin irritations are due to a compromised skin barrier and replenishing the skin's natural lipids is the key to skin health. Think of your skin barrier like a brick wall, the bricks are the skin cells and the mortar in between are the lipids. A compromised skin barrier is missing pieces of the mortar, which lets irritants in and internal moisture out, making skin dry and itchy year round. Whether it is spending too much time in the sun, in chlorine pools, air conditioning or indoor heating, there are a number of year round environmental factors that can zap the natural moisture from your skin. For those with sensitive or eczema prone skin, keeping the skin barrier healthy is even more important to minimize flare-ups.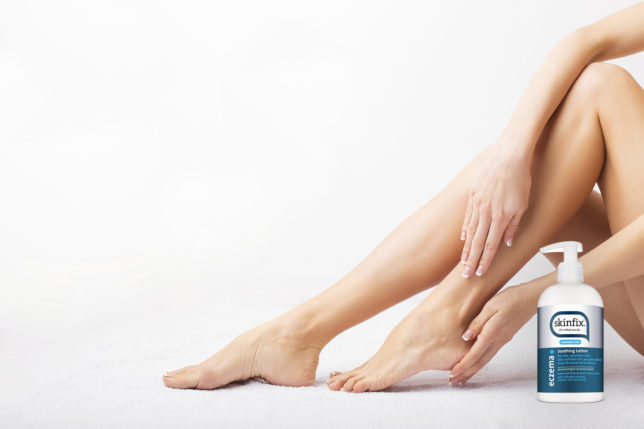 Moisturize with Emollient Oils
Not all moisturizers are created equal. Look for moisturizers that are fragrance free and have a combination of natural humectants and emollient oils on the ingredient list.  Humectants such as aloe vera and glycerin, pull moisture into the skin and plump it up.  Natural emollients oils including shea butter, coconut oil, sunflower oil, and jojoba oil help fill in any cracks in the skin barrier leaving skin protected and feeling soft and smooth. Fragrance is one of the top skin irritants. For those with sensitive, eczema prone skin heavily fragranced shower washes and lotions should be avoided!
Amy's Six Skin Hydrating Tips
Creating a daily skincare regimen is key to banishing dry skin. Here are the top 6 tips and things to look for in your moisturizing routine to have soft, plump and glowing skin year round.
1. Don't wash your natural skin lipids down the drain
Warm showers are the key – if water is too hot you can potentially irritate skin and loosen the natural lipids — basically washing your skin's natural protection down the drain. In addition, hot water actually increases the irritancy of harsh soaps and fragranced body washes.
2. Ditch fragranced soaps and reach for cleansing oil washes
Soaps smell great and bubbles may be divine but they can actually irritate your skin. Natural, fragrance-free oil washes actually help replenish the moisture in your skin barrier vs. stripping your skin. Skinfix Soothing Wash (£17.99), uses gentle coconut cleansers that don't strip moisture, plus a combination of jojoba, grapeseed and aloe leaf juice to replenish your skin's barrier – leaving skin looking plumped and feeling supple
3. Lock in moisture immediately after showering
The key is not dry yourself off completely – skin should be damp when applying a daily lotion and it needs to be packed with emollient oils and humectants to really make a difference. Coconut, jojoba and apricot kernel oils are some of Mother Nature's best skin moisturizers! Skinfix Soothing Daily Lotion (£17.99) is 98% natural and is a lightweight texture which is luxurious and super hydrating.
4. Don't Forget Your Hands
Hand washing is a necessity to keep germs at bay but today's hand soaps can really strip your skin and germ killing ingredients potentially irritate when used all day long. Occupational dermatitis and eczema on hands is extremely common, but protective and soothing shea butter, sweet almond oil, jojoba oils are your hands new best friends!  Award-winning Skinfix Hand Repair Cream (£15.99) is a must have for Allure, Shape, Redbook and People magazine beauty editors. This ultra rich formula acts like a protective glove to keep hands moisturized through hand washing.
5. Treat extreme dry spots & eczema flare ups
Whether you are dealing with an eczema flare-up or have dry patches you need soothe, look for rich emollient balm textures to amp up moisturization levels and get skin healthy again. Skinfix Eczema Balm (£14.99) uses a combination of shea butter, coconut and sweet almond oil to replenish skin's natural lipids.
6. Healthy skin starts from the inside out
Drinking plenty of water and limiting your caffeine intake will all help in keeping your skin soft and plump all over the body. In the cold winter months – a humidifier will help put essential moisture back in the air so you don't look and feel chronically dried up.
The entire Skinfix range is available from shop-uk.skinfixinc.com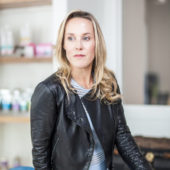 Amy Gordinier-Regan is CEO of Skinfix Inc. – a natural, clinically proven and dermatologist recommended skincare company based in Canada. Amy likes to challenge the status quo and brings over 20 years of beauty and business experience to her role. Previously Marketing Director of SPACE. NK and Crème De La Mer, she has worked with both global and entrepreneurial organizations. Upon discovering the 100 year old healing balms at a small store in her current home town of Halifax, Nova Scotia, Gordinier-Regan saw tremendous potential in the natural, highly efficacious formulas. Identifying the market gap and inherent value in products that heal skin without steroids, irritants and synthetics, she purchased the company with a series of investors in August 2012. She is the first owner not descended from the inventor, an English apothecary who developed the now generations-old secret formulas.