Slendertone Abs7 Unisex Toning Belt uses advanced EMS technology to tone & shape your abs from just 4 weeks. Use our abs belt whilst working out to double the benefits of your exercise routine! Use 5 times a week for 4 weeks to achieve stronger and more toned abs.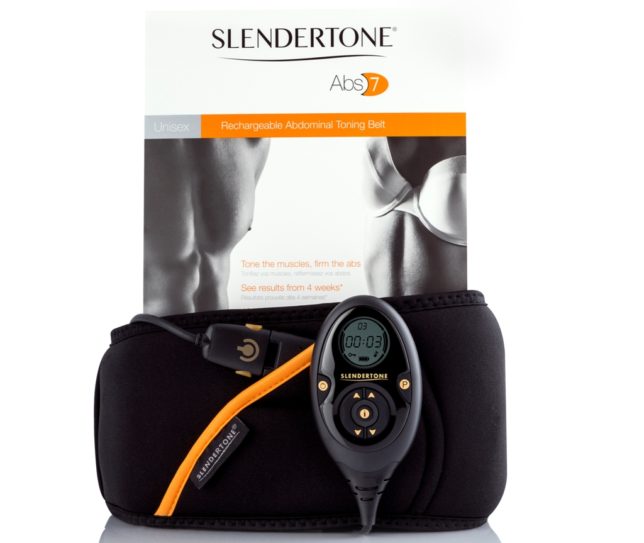 Slendertone Abs7 Unisex Toning Belt is clinically proven to provide toned and stronger abs from just four weeks. Use Slendertone Abs7 five times a week for four weeks to achieve stronger and more toned abs. Slendertone Ab7 Toning Belt uses advanced electronic muscle stimulation (EMS) technology which activates the body's natural muscle movement and ensures all muscles contract, not just those under the pads.
A clinical trial conducted by Dr. John Porcari of University of Wisconsin showed that Slendertone Abs7 Unisex Belt is proven for a firmer and flatter stomach in just 4 weeks. The results of the study showed that 100% of users reporting firmer more toned abs with a 72% increase in abdominal endurance and a 49% increase in abdominal strength. The 20 minutes of EMS workout was equated to an equivalent of doing 120 abdominal crunches.
Slendertone Abs7 Unisex Toning Belt enables you to work your complete abdominal musculature with its patented three pad placement design, positioned around the waist and across the belly button. This targets the rectus abdominus, oblique muscles and activate transversus abdominus that is most effective in flattening your stomach. The muscles simultaneously contract and then relax, similar to the regular muscle contraction experienced during normal exercise like ab crunches. The sensation is powerful enough to recruit all muscles in the targeted region, yet comfortable enough to have a conversation whilst using it.
Slendertone Abs7 Unisex belt is designed to be used as part of a healthy, balanced lifestyle. It fits discreetly under clothing, so you can tone anytime, anywhere.
SLOAN! Magazine conducted a 4-week trial using the Slendertone Abs7 Unisex Toning Belt 5 times a week, once a day Monday through Saturday with a rest day every Sunday. Although Slendertone claim the belt can be used anywhere, we found it most comfortable to use at home first thing in the morning or in the evening after work. The choice of 10 programmes and 150 intensity levels allowed us to start off gently before building up the intensity over the first week. We felt most gain when using the 3 active programmes with physical activity but also appreciated the variety of 7 passive programmes which did not require physical activity so the belt could be used whilst the individual was seated.
The built-in warm up and cool down phases ensured that muscle were not overworked or fatigued and the intelligent training system allows the individual to auto-progress through the programmes at the right pace to maximise EMS training. The belt was a good fit around the waist and was easy to use with the patented 3 pads positioned around waist over the belly button and either side so there was no need to guess where the belt should be placed. The hand held rechargeable & interchangeable controller was simple to use and we were reassured that the device was certified to medical safety standards.
After the 4-week trial there was a noticeable improvement in the firmness and tone of the abdominal muscles and the reviewer commented that they had been able to increase the intensity and duration of the training programmes over the 4 week period as their muscles became stronger and their stamina increased. We would recommend continuing to use the Slendertone Abs7 Unisex Toning Belt after the first 4 weeks of training as part of your weekly exercise regime to maintain and continue firming and toning the abs.
Slendertone Abs7 Unisex Toning Belt costs £149.99 and is available from www.slendertone.com