Slendertone, the number 1 toning brand in the UK provides the ultimate solution to help tone up using advanced EMS technology, which is even used by professional athletes. With over 50 years of heritage, Slendertone products are designed to fit in with busy lifestyles by complementing exercise routines and enhancing the toning element of your fitness regime. So now is the time to tone up and feel fantastic!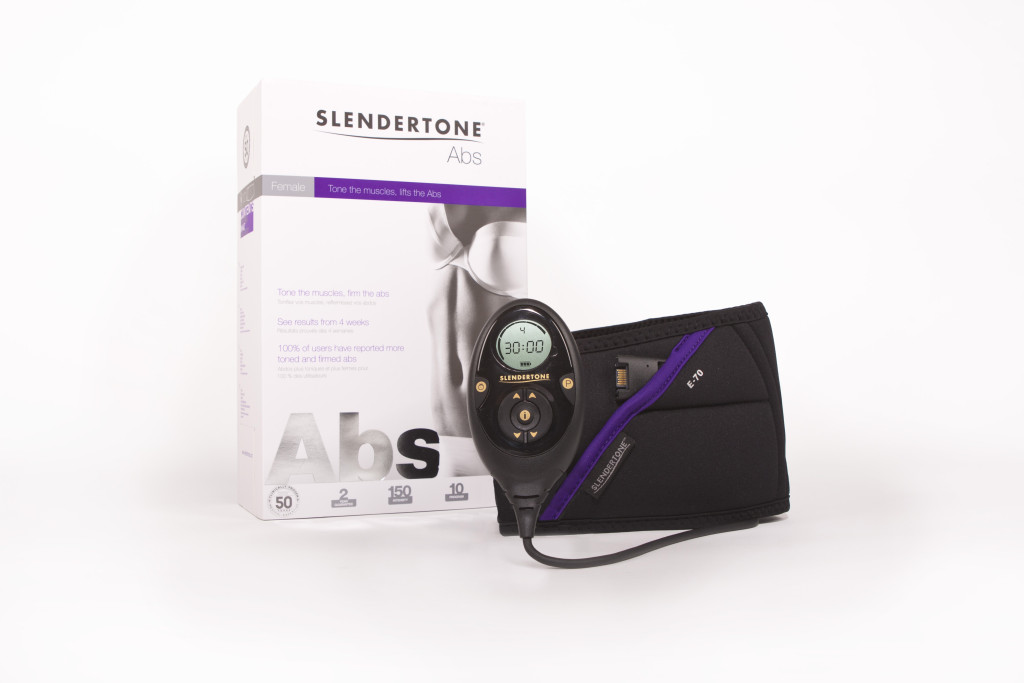 With today's hectic lifestyles, it can be challenging to fit in a workout that delivers the results you want to see. Slendertone has enlisted the help of Nicki Waterman, celebrity personal trainer and Slendertone ambassador, to create three easy-to-follow, 20-minute 'Slendertone Body Blitz' workouts.
These workouts are designed help get your whole body in shape while wearing a Slendertone device to enhance your toning experience, and are easy to incorporate into your gym work out, lunch break or at-home fitness routine.
For maximum results, Slendertone should be used for a minimum of 20 minutes a day, 5 days a week, over at least four weeks to feel the benefits. Nicki recommends keeping the intensity lower (though results will still be maximised) when using whilst exercising, and turn up the intensity when using the device on its own. For maximum results, Slendertone products should be used as part of a healthy, balanced lifestyle.
Blitz that belly with Premium Slendertone Abs Belt
To enhance your workout, put on your Slendertone Abs belt and select programme 1 which will give you a 20 minutes session. Set at a comfortable intensity setting; as you perfect each exercise you can increase the intensity level. Perform each exercise for 5 minutes, with 1 minute of working out followed by 1 minute of rest, continue until complete. Work at your own pace, making sure each exercise consists of controlled and steady movements.
1.Warm up: Lie-down stand up
This all-round exercise works all the main muscle groups in your body and gets your heart rate up. From standing, with your arms across your chest, lie down onto your back with your legs straight. Then stand up, reversing the move.
2.Walking Lunges: Tones and strengthens your legs, buttocks and tummy improving your posture
Holding your hands together at shoulder height in front of you, take a long stride forward; keeping your body upright, step forward with the other leg and carry on 'walking' in lunging steps. Take long strides with your front knee bent at a 90-degree angle over your ankle and not your toes. Remember to keep your shoulders back, head up and hands held out.
3.Chest Flies: Tones and strengthens your chest, arms and tummy
Lie with your shoulders and head resting on a mat, swiss ball, bench or the end/corner of a bed with your knees bent and back flat on the surface. Hold a weight (or half litre bottle of water or cans of beans will do) in each hand, with your arms straight above your chest and palms together. With a slight bend in your elbows, lower your arms sideways until they're in line with your shoulders. Press the weight over your chest to complete the first rep.
4.Bicycles: Tones and strengthens your tummy, waist and upper body
Lie on your back with your knees raised so they're at a 90-degree angle to your hips. Place your fingers behind your head, upper arms in line with your shoulders. Slowly lift your shoulders off the floor, engaging your tummy muscles. Crunch up and bring your right elbow to your left knee, as you extend your right leg. Repeat on the other side.
Premium Slendertone Abs Belt
The premium Slendertone Abs belt (RRP £149.99) allows users to work on their complete abdominal musculature using EMS technology and its patented three pad design, positioned around the waist and across the belly button. This targets the Rectus Abdominus and Oblique muscles, plus the difficult to reach Transversus Abdominus that is key for a flatter stomach. 100% of users felt firmer, more toned abs. For maximum results, the belt should be worn during physical activity to enhance an existing workout or as a part of your exercise regime.
The product delivers impressive results thanks to clinically-proven electronic muscle stimulation (EMS) technology. This technology ensures all abdominal muscles contract, not just those under the pads, by stimulating the nerves supplying each muscle group to help tone and strengthen all abdominal muscles deep into the core. The muscles simultaneously contract and then relax, similar to the regular muscle contraction experienced during normal exercise. This sensation is powerful enough to recruit all muscles in the abdominal region, yet comfortable enough to have a conversation whilst using it.
The Premium Slendertone Abs Belt is available directly from www.slendertone.com, Argos, Boots, Amazon and Littlewoods