For the first time ever a food product will be sold on the alcohol shelf as London confectioners Smith & Sinclair blur the lines between food and drink with its edible alcoholic confection. Launched in Harvey Nichols' stores nationwide in October 2014, the eclectic selection offers delectable cocktail flavours in a range of naturally coloured pastilles. Using high quality spirits, fresh fruit and real spices, each pastille is made by hand for a luxury taste experience. Smith & Sinclair's delicious and revolutionary alcoholic cocktail pastilles will be available in rum, gin and whisky.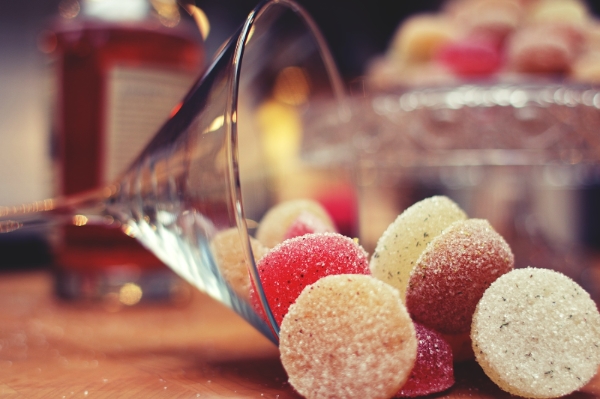 Smith & Sinclair's melt-in-the-mouth alcoholic pastilles are gluten, dairy and preservative free and come in six cocktail flavours using three spirits. Each cocktail recipe has been deconstructed and reconfigured through a complex cooking process, which ensures minimal alcohol is burnt off, delivering layer upon layer of flavour with an alcoholic kick. Twists on classic cocktails include Gin & Tonic (violet infused gin and a lemon sherbet coating), Mixed Berry Daiquiri (with summer berries, dark rum and a pink peppercorn infused coating) and Whisky Sour (with a sour grapefruit coating).
From October 2014, Smith & Sinclair's Cocktail Pastilles will be available across the UK at luxury department store Harvey Nichols and also online at NotOnTheHighStreet.com. The general sale marks the first ever time that a food product will be sold on the alcohol shelf. Each pastille is infused with real alcohol and consuming a whole box would exceed the recommended driving limits at 2.6 alcohol units for all six.
Smith & Sinclair was founded by self-confessed sweet tooth Melanie Goldsmith and acclaimed chef Emile Bernard. Melanie's solid background in business and marketing, paired with Emile's ten years of experience in the food industry and knack for experimentation, has resulted in the world's first cocktail confectionery. Smith and Sinclair have already caused a storm with its sensational selection of pastilles at events including Secret Cinema, Feast and Taste of London and they can now share their innovative confectionery with the whole country.
The SLOAN! Review
When SLOAN! Magazine reviewed this unique and innovative confectionery we were expecting a boozy sweet however the pastilles taste much more elegant than they appear and do not taste overly alcoholic. The chewy texture is pleasant and makes the flavours come to life in the mouth as the pastille is consumed resulting in the feeling that one has been sipping a cocktail. The recipe is expertly executed by chef Emile Bernard to create a sweet treat that is definitely for adults only.
For more information visit www.smithandsinclair.co.uk