All holiday makers aren't as predictable as they used to be, the world offers a more diverse and accessible travel market with previous niches becoming the norm and those hard to reach places becoming reachable. One of the biggest changes is who we go on holiday with, ourselves. It's no longer restricted to family friendly resorts, romantic weekend breaks or a fun-packed getaway with friends – as the world becomes more accessible we are becoming braver and stepping out to explore the world on our own.
All you need do is attend a dinner party or two and you will hear about travels and adventures all over the world, from a stressed out mum needing some 'me time' to a workaholic spending her spa weekend solo. And it seems that even more of us are due to jump on the bandwagon this year, a recent survey by LonelyPlanet.com revealed that 69% of Brits say they'll be flying solo when it comes to their next holiday and that's not all – 29% said they want to explore a new destination – we are feeling brave aren't we?!
Following the French
Not content on simply going it alone, we also don't want to communicate with anyone back in the office while we're busy escaping, 75% of people want to completely unplug from their jobs. We need to doth our beret at the French here who have just won their big unplug movement giving French workers the 'right to disconnect' outside of work hours. The whole point of a holiday is to relax, unwind and forget about the stresses and strains of work so you can go back to normal life refreshed and ready to go. There's even been an increase in retreats that specialise in 'no technology holidays' where all phones, laptops, tablets and anything else with plugs and buttons are banned.
Solo Travel Trend
The biggest statistic from this survey was a massive 230% increase in traffic to women-only travel companies. As the owner of a woman's only retreat in Bali, this resonated with my whole reason for starting this business in understanding there is a real need for women to take more time out. I speak to women every day who have felt the need to escape everything and everyone and to reconnect with themselves. It's like a reset button, women need to stop, and take-stock, refocus and then they're ready to go again. Most women I meet are frantically juggling families, careers, homes, friends and other commitments leaving precious little time for themselves. This fast-paced and demanding lifestyle can only be maintained for so long before we reach burn-out which is exactly what happened to me and why I started Bliss Sanctuary for Women
Four top tips for solo travellers
Do your research – once you've decided where you'd like to go look it up online, Lonely Planet is always reliable or Trip Advisor can be useful. It's also worthwhile reading articles on journalists' experiences in your destination – that will give you a good insight.
There are lots of tour operators, resorts, hotels, packages that cater for solo travellers – just search online along with your chosen destination and you'll find them.
SoloTravelerBlog.com offers tips, resources and destination guides for solo travellers, as well as a free e-book called Travel Alone and Love it!
Use your social media connections to ask for connections where you're travelling. Offer to take local friends of friends out for dinner, and you'll be surprised how many people take you up on it – everyone likes to be tour guide for a night.
About Zoë Watson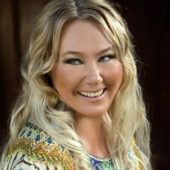 Entrepreneur, philanthropist and founder, Zoë Watson is a successful Australian business woman whose personal journey led her to set up Bliss Sanctuary for Women – three exclusive women's only sanctuary centres in Bali that is a holistic haven of tranquility for women in need of an unparalleled escape from the everyday.
Bliss Sanctuary for Women attracts a diverse clientele, including professionals, mothers and women juggling the stresses of both roles. Zoë has overcome persistent migraines, fibromyalgia and chronic fatigue through creating a balanced lifestyle as founder of Bliss Sanctuary For Women. She's the true embodiment of the Bliss philosophy – helping women break down life's barriers and follow their Bliss, their way.
For more information please visit www.blisssanctuaryforwomen.co.uk