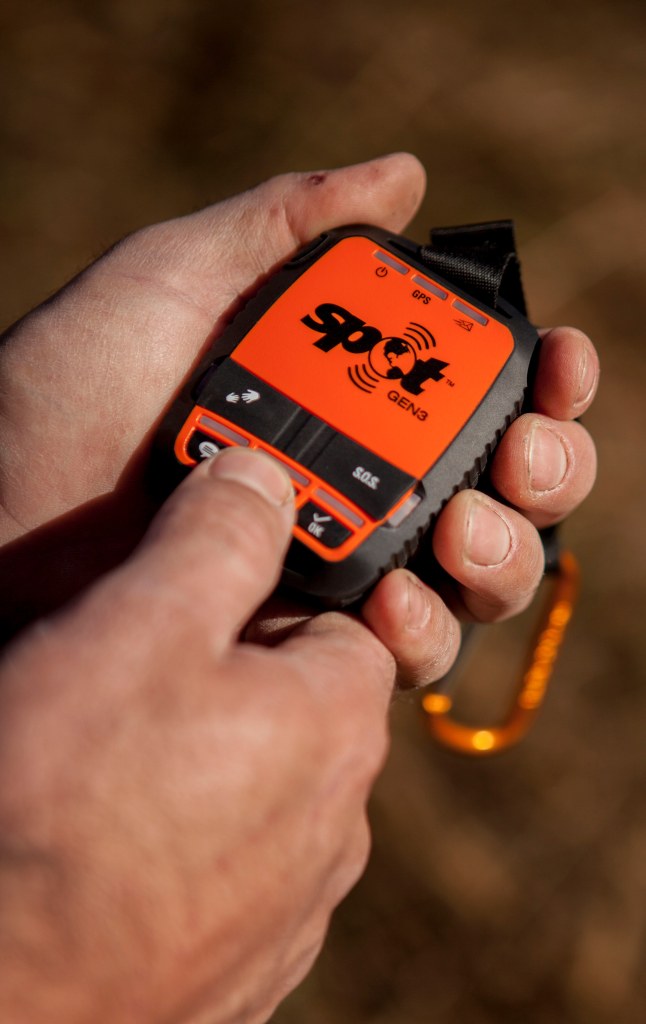 The SPOT Gen3 is the must-have safety gadget for all adventurers. This is a pocket-sized, affordable device for rescue, tracking and messaging where there is no mobile phone network. It's enhanced features including motion-activated tracking and it has a considerably improved battery life with line power option.
SPOT LLC, a wholly owned subsidiary of Globalstar Inc. and leader in satellite messaging and emergency notification technologies, has recently launched SPOT Gen3™, the latest addition to the SPOT family of products. The award-winning SPOT product line provides an affordable and vital line of communication with friends, family and emergency assistance on any adventure, from sailing to hiking, and from snowboarding to paragliding.
SPOT Gen3, the latest version of SPOT's satellite powered personal GPS messenger, is a rugged, pocket-sized consumer-friendly communications device. It delivers even more enhanced functionality than earlier generations with more tracking features, improved battery performance and more power options including rechargeable and USB direct line power. Thanks to the Tracking feature, SPOT automatically updates the user's location on Google Maps™.
Around the globe, over 3,000 rescues have been attributed to SPOT, including life-saving situations (See press release below with more details). With the push of a button, SPOT users can:
Alert for rescue – transmits an SOS notification with GPS location to GEOS International Emergency Response Coordination Centre (IERCC).
Check In – let others know they are OK and have arrived safely.
Track – share their GPS location in real-time via Google Maps.
Message – send custom messages to family and friends regardless of mobile coverage.
New SPOT Gen3 features include:
Unlimited Tracking – Users can pre-set SPOT Gen3 to send messages that track their journey with options to send every 5, 10, 30, or 60 minutes.
Extreme Tracking – All the features of Unlimited Tracking, plus the added ability to vary the track rate down to every 2½ minutes. Perfect for pilots and ultra-outdoor competitors.
Motion-Activated Tracking – SPOT Gen3 sends tracking messages at a chosen rate for as long as the device is turned on and moving. SPOT Gen3 goes into hibernation and is reactivated automatically once movement is detected.
Longer Battery Life – Approximately twice as long as previous SPOT devices with new power options including 4 x AAA Energizer Ultimate Lithium 8 x batteries (L92), 4 x AAA Energizer NiMH rechargeable batteries (NH12), or Line Power with a 5v USB connection. Also, it can be hardwired to a battery source.
"When outdoor adventurers are in extreme environments, they have come to depend on the SPOT line of products time after time," said Gavan Murphy, Director of Marketing, EMEA and LatAm, Globalstar Europe. "The new SPOT Gen3 has a significantly improved battery life, enhanced usability and more robust tracking options to help meet the demands of our loyal customers – now numbering some 250,000 and counting."
Murphy continued: "Globalstar's second-generation satellite network went live in Summer 2013, providing a superior service for our customers. Whether a SPOT user is crossing the Bay of Biscay, climbing in the Alps or on safari in Kenya, they can be assured to get connected, and stay connected."
SPOT satellite coverage spans the world, including Europe, Canada, continental United States, Mexico, Australia, Northern and Central Africa, much of South America and North-Eastern Asia as well as hundreds of thousands of miles offshore of these areas.
For pricing, stockists and further information on SPOT Gen3, visit www.findmespot.eu